As a University with nearly 40,000 students, we realized how important it is to have engaged and dedicated professors. We are excited to share this interview and many others with you with our outstanding faculty in the College of Health and Public Service. We want to recognize a few people that make it academic success possible here at UVU. Meet Sandra Wilson, a professor in our Dental Hygiene Program. 
Tell us a little bit about yourself.
I grew up in a small oilfield town in Colorado. It was what I consider to be an idyllic childhood. We were the stereotypical kids who were tossed outside in the morning, thrown a bologna sandwich around noon and expected to be home for a bath and dinner when the streetlights came on.
I am a first-generation college graduate. My mom and dad didn't graduate from high school, so going to college wasn't expected. However, my mom did receive her GED so I knew education was important. When I was in high school my counselor told me I would never be accepted into college. So, I was both terrified and excited when I opened that acceptance letter.
When I got to college I didn't know how to navigate adding and dropping classes. No one gave me information about degrees or the classes that I needed to take. If you have heard the saying, "fake it, till you make it", that is exactly what I did. The resources that are commonly available in college settings today were not available to me.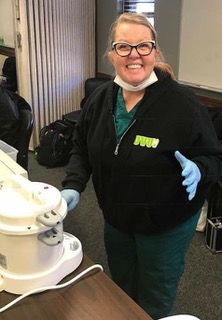 How did you get started in Dental Hygiene?
I heard so many stories about dental hygienists who knew they wanted to be a dental hygienist when they had their first cleaning. My story is so different than that. I love to share it because there are so many students who simply don't know what they want to be when they grow up.
It was one of those fateful "accidents." In my hometown, there was a community college that was known for its dental hygiene program. My dad used to tease me that someday I'd be a dental hygienist. Because it was considered the norm, I fought really hard to NOT become a dental hygienist. I ended up leaving and getting my bachelor's degree in broadcast journalism and then I moved back home and went to work for a local oil company.
When the oil company downsized and my position was eliminated, I was a single mother without a job and a degree that couldn't support me and my young daughter. I began looking at dental hygiene through a different lens. I could see that it was a field where a person could make a decent wage and work reasonable hours. At the time, I had no idea that I was about to embark on a journey that would change my life in the best possible way. I hope that my story will give those students who may not see a clear path a little bit more confidence to keep moving forward.
What do you like most about being a Dental Hygienist?
The clinician/patient relationship is 100 percent the best part of being a dental hygienist. I have met so many wonderful people that make me feel like a part of their family. It's amazing how much I've learned from them while my hands were working in their mouths'. Through these conversations I have been educated on things like the stock market, owning cattle, purchasing a house, and love. Knowing I have been a partner in my patients' health is the icing on the dental hygiene cake!
What do you love about UVU?
Location, location, location! I feel at home when I look at the mountains that surround us. I am also so proud of the direction the university is taking. I can remember when UVU was Utah Technical College. We have grown and evolved not only with education but with community needs. UVU allows generations to stay close to each other by providing so many degrees to help people stay in the valley after they graduate.
What is your favorite part about teaching?
I love those lightbulb moments of observing the second a student "gets it!" Dental hygiene students are required to learn so much in the two years they are in our program. I know they have a steep learning curve to overcome. They usually don't have a problem with the didactic courses. However, many find that the hands-on instrumentation is a foreign expectation. That is something that a lot of them struggle with in the beginning. I love the moments in the clinic when I can see the student grasp a concept and put it into action.
I also love the relationships I have made with so many students over the years! I receive Facebook messages, texts, and emails almost weekly from former students. They ask for my opinion or advice about something or they are just keeping me about their life. I love that after graduation that I am able to regard them as colleagues and friends.
Tell us about some of the engaged learning experiences you've been involved in at UVU?
I have been fortunate to plan and implement several of these engaged learning experiences. We've taken students to nursing homes, health departments, the Utah State Capital, and Title I schools. We've also teamed up with Head Start, Doctors Without Borders, Give Kids a Smile, Team Smile with the Utah Jazz, and the University of Utah Dental School. This is just the tip of the engaged learning iceberg. I'm constantly looking for opportunities to enrich student learning.
With the opening of the Melisa Nellesen Center for Autism on campus last year, I asked the students in my Public Oral Health course to design a program that they could implement for the young elementary age students. Laurie Bowen is the Associate Director of Community Outreach at the Melisa Nellesen Center for Autism. She was so gracious and was willing to partner with us in this interdisciplinary program. She met with my students and provided them with the training they would need when interacting with patients with autism. I handed the reigns to the students and let them do all the heavy lifting. I was so proud of the finished product! We are planning on doing this again this year with a new class. This initial experience helped us to know what worked and what we can do better so next year we can make the class even better.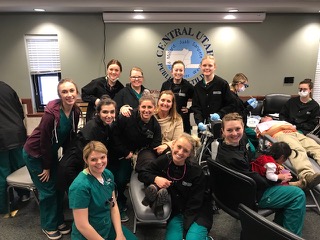 Capitol Reef Field Station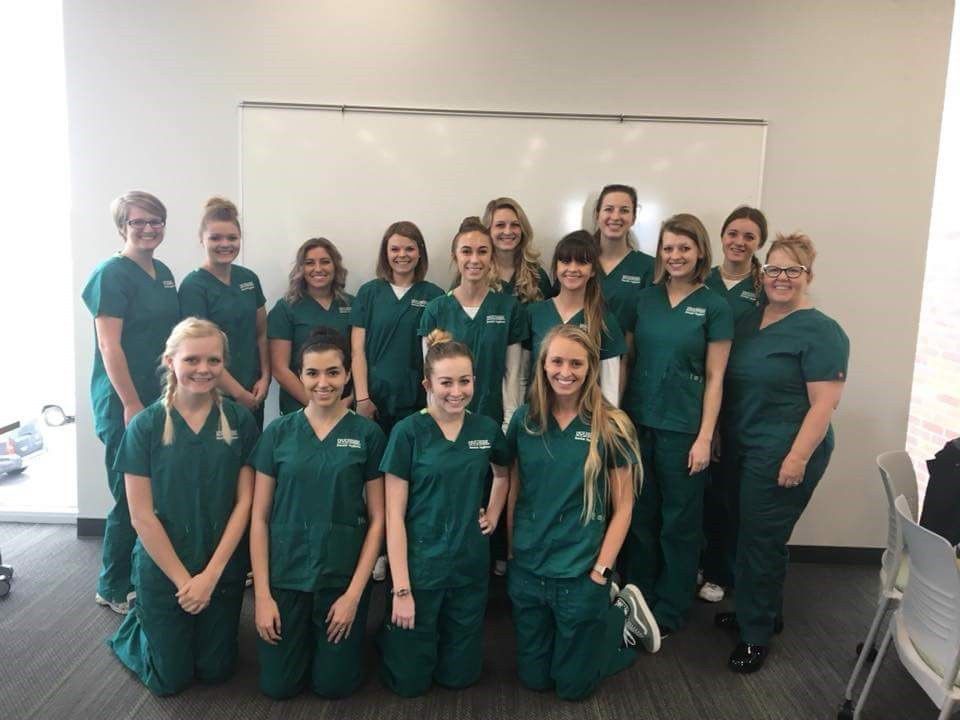 Melisa Nellesen Center for Austim
Why are these experiences important to student success?
These experiences help students see the bigger picture. Many of our students enter the program thinking their education ends at graduation. After they experience a few of these outreach opportunities they quickly understand that their education continues long after they have left UVU. They see that there are other ways that they can provide care. Many of them are inspired to volunteer in free clinics or go to earn a bachelor or master's degree. In dental hygiene, we have the opportunity to work hand in hand with the community to achieve common goals.
What are some pointers for students hoping to succeed in your class/program?
Stay positive because it always works out. There may hiccups along the way, but if students will remain patient and maintain their desire to learn good things will come.
What advice would you give someone interested in a career as a Dental Hygienist?
Don't be afraid of hard work and be prepared for a wild ride! Dental Hygiene is a profession that is rapidly changing. We are respected members of health care teams. We are practicing in a variety of places and our responsibilities are constantly changing We do so much more than clean teeth. We are trained to work with other disciplines to improve the patient's overall health. We monitor blood pressures and perform oral cancer screenings. We have the ability to save lives
What is something your students might be surprised to learn about you?
I was once cast in a movie because I can whistle really loudly. I was at a group audition where we were asked to whistle. I totally nailed it! Somewhere in a defunct video rental store sits a B movie with the sound of my whistle.   
What is your proudest career achievement thus far?
Here are two of my professional achievements that I am really proud of.
I was able to help secure a Senate sponsor for Utah SB 177 to amend Dental Hygiene Practice and broaden access to care. The conversation started in an ethics course I was teaching so it was a quadruple win. My students were able to experience being part of the change to a law that governed their profession. Together we studied the bill, went to Capitol Hill and lobbied our state representatives, sat in on Senate hearings, and followed the bill as it was signed into law. Today, hygienists are able to go into public health settings, with the agreement of a dentist, and provide care. This bill wouldn't have been possible if it weren't for the group effort and pioneering spirit of so many in our profession and those who uphold the laws that govern us.
I am also super proud of being awarded tenure at two Utah universities. Being recognized by my peers and administrations has been very rewarding! I'm especially proud of this achievement because of where I started. I have had to overcome feelings of not belonging and have had to work extra hard to learn about teaching and learning.
If you could have lunch with any one person in the world, who would it be?
Yikes! This is the toughest question so far! Right now I think it would be Christina Tosi. She is the owner of the Milk Bar in New York City. There is currently a documentary about her on Netflix. Last summer I was able to go to the Milk Bar and I'm obsessed with her story and her cereal crunch. She is a great example of doing what she loves and not throwing in the towel when it gets hard.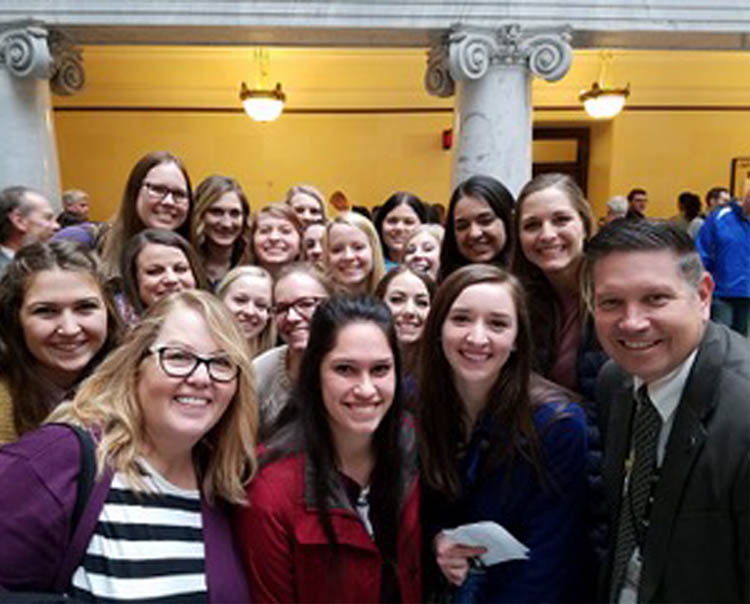 Utah State Capitol with House Rep Val Peterson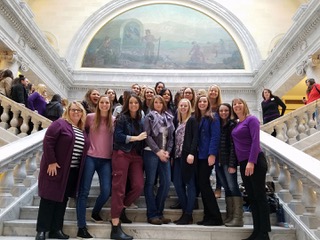 Utah State Capitol
Read more about our dental hygiene students visit to the Melisa Nellesen Center for Austim here.