As a University with nearly 40,000 students, we realized how important it is to have engaged and dedicated professors. We are excited to share this interview and many others with you with our outstanding faculty in the

 
College of Health and Public Service
. We want to recognize a few people that make it academic success possible here at

 
UVU
. Meet Sue Jackson, a professor in the Public and Community Health Department. 
Tell us a little bit about yourself (hobbies, family, background, etc.) 
I am from Lehi, Utah, and have six older brothers and an older sister. I received my bachelor's and master's degrees from Brigham Young University, and my PhD from the University of Utah. My husband Greg and I have been married for ten years. He is also a faculty member at Utah Valley University, in the Department of Integrated Studies. We have three children, ages 8, 7, and 3, who keep us very busy. In my spare time, I like to run and clean.
How did you get started in Public and Community Health? 
I started college at Southern Utah University as a journalism major, but took a nutrition class for my biology credit and quickly realized a new passion of mine. For my sophomore year, I transferred up here, then Utah Valley State College, and took some health class (ironically, in the same department in which I now teach) and got an associate's degree so I could get into the BYU Dietetics program. After a semester or two of chemistry, I quickly realized that I didn't care about how vitamins break down in the body, and instead wanted to focus on why we should eat vitamin-rich foods. At that point, I decided to drop out of college and instead work as a department manager at Target. On a whim, just before the next semester started, I decided to look through the course catalog and pick a couple of courses that sounded interesting. I chose Community Health and Women's Health, and those two courses changed my life trajectory.
What do you like most about Public and Community Health? 
One of the unique things about teaching health is that it is applicable to everyone. Everyone can benefit personally from learning more about behaviors associated with good health and warning signs for serious diseases. It is a profession that has helped me in my personal life more times than I can count—everything from improving my personal diet and exercise habits, to potentially saving my daughter's life. When my daughter Lyla was 22-months-old, I noticed that she was unusually thirsty and was wetting through her diapers. From studying and teaching health, I knew those two symptoms are signs of diabetes. With little family history, and such a young child, I tried initially to dismiss the symptoms. After a day or two, I made an appointment with her doctor. My husband was supportive, but felt it was unnecessary. I asked the doctor to check her for diabetes and he did so, somewhat reluctantly. Her blood sugar came back at 536 (normal is 80-120). Despite the life-altering diagnosis, she was not in diabetic ketoacidosis, a common complication at diagnosis, and was relatively healthy. The doctors attributed her health and uncomplicated diagnosis to her early detection. In the years since she was diagnosed, I have seen numerous stories about children who were diagnosed too late, some of whom have not lived. I am grateful for a profession that is so personally beneficial to me and my family.
What do you love about UVU? 
Having first taught at more traditional universities, I was surprised by the number of non-traditional students at UVU. These students often bring experience and insight to the classroom. They come ready to learn and work hard. They are excited for the opportunity to be there. UVU also has a wide diversity of students—those who could be at ivy league schools and those who barely graduated from high school. I enjoy the challenge of bringing these students together to help them learn.
What is your favorite part about teaching? 
My favorite part about teaching is watching students learn and grow as professionals. Currently, I am teaching the Epidemiology and Biostatistics courses in the major. These are often the most dreaded courses for students, who come into my class nervous, apprehensive, and doubting themselves. Over the course of the semester, I watch them learn new skills and start to succeed. There is nothing more fulfilling as a professor than to watch your previously self-doubting students be successful in a new skill. 
What are some pointers for students hoping to succeed in your class/program? 
I would suggest that students treat their education experience like they would their career. They should arrive on time, be responsible for dates and deadlines, not be distracted by computers or phones, speak with respect to those around them, and take accountability for their own learning and progress. Some students are shortsighted, looking for how to do the minimal amount of work to get a good grade in the class, without realizing that the classes are giving them essential skills that they will need. I would also suggest to students that they get involved in student clubs, especially within their major, and that they get to know faculty and look for opportunities to work with them on research and other projects. Many students fail to recognize how essential it is to know faculty members when wanting recommendations for employment or graduate school.
What advice would you give someone interested in a career in Public and Community Health? 
I often tell my students that they should be out in the community looking for volunteer opportunities in health. Whether they are working at a homeless shelter, a nonprofit health event/agency, with low-income families, or going abroad to focus on international health, they need those experiences to help build their resumes and improve their job prospects. Beyond the resume building though, these opportunities are essential to learning empathy and compassion, and the ability to understand cultures and populations that are different from your own. Having these attributes is essential for a career in public health. 
What is something your students might be surprised to learn about you? 
I've learned to be an extrovert as a teacher, but I am actually very introverted.
What is your proudest career achievement thus far? 
After my daughter was diagnosed with type one diabetes in 2011, I quickly realized that I was in a unique position as a health professor and the parent of a diabetic. I got involved with JDRF, a nonprofit organization that funds research to find a cure for type one diabetes, and began research on the experience of type one diabetes diagnosis.
For the past four years, I have been on the committee to plan the JDRF Walk event for Utah County, serving as the volunteer coordinator. I have recruited 60-80 UVU health students every year to serve as volunteers at the event in Provo. It is incredibly fulfilling to watch students gain real-world experience, volunteering with an organization that is close to my heart. This last year, I took over as the chair of the event, in addition to my role as the volunteer coordinator. I spent most of the summer working to plan the walk—everything from food, entertainment, logistics, and opening ceremonies, to recruiting business sponsorship and mentoring new families who were participating. It was an event with 1,000-2,000 participants, which was overwhelming at times, but I am proud of the contribution I've been able to make and the service I've given. 
In addition, I shifted my research focus after my daughter's diagnosis and conducted a large research study in March 2015 on the experience of diagnosis with type one diabetes. From the data collected, I presented at the American Academy of Pediatrics annual conference last fall, and have been accepted to present at the Society for Public Health Education conference in April. Both presentations have focused on creating more awareness of signs and symptoms of type one to avoid more serious complications at diagnosis. I am also working on several journal articles from the survey dataset that I hope will be published this year.
I've done a lot of neat things during my time at UVU, but nothing has been as fulfilling as my work with type one diabetes. I feel I've been able to make a difference in the lives of many families who struggle with this disease, which is certainly a highlight of my career.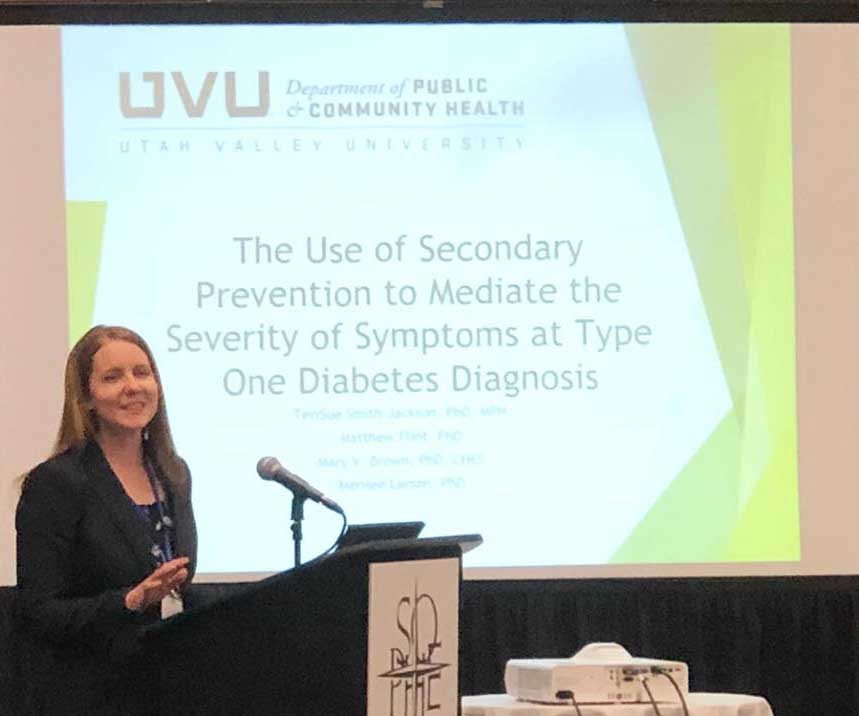 Society for Public Health Education Conference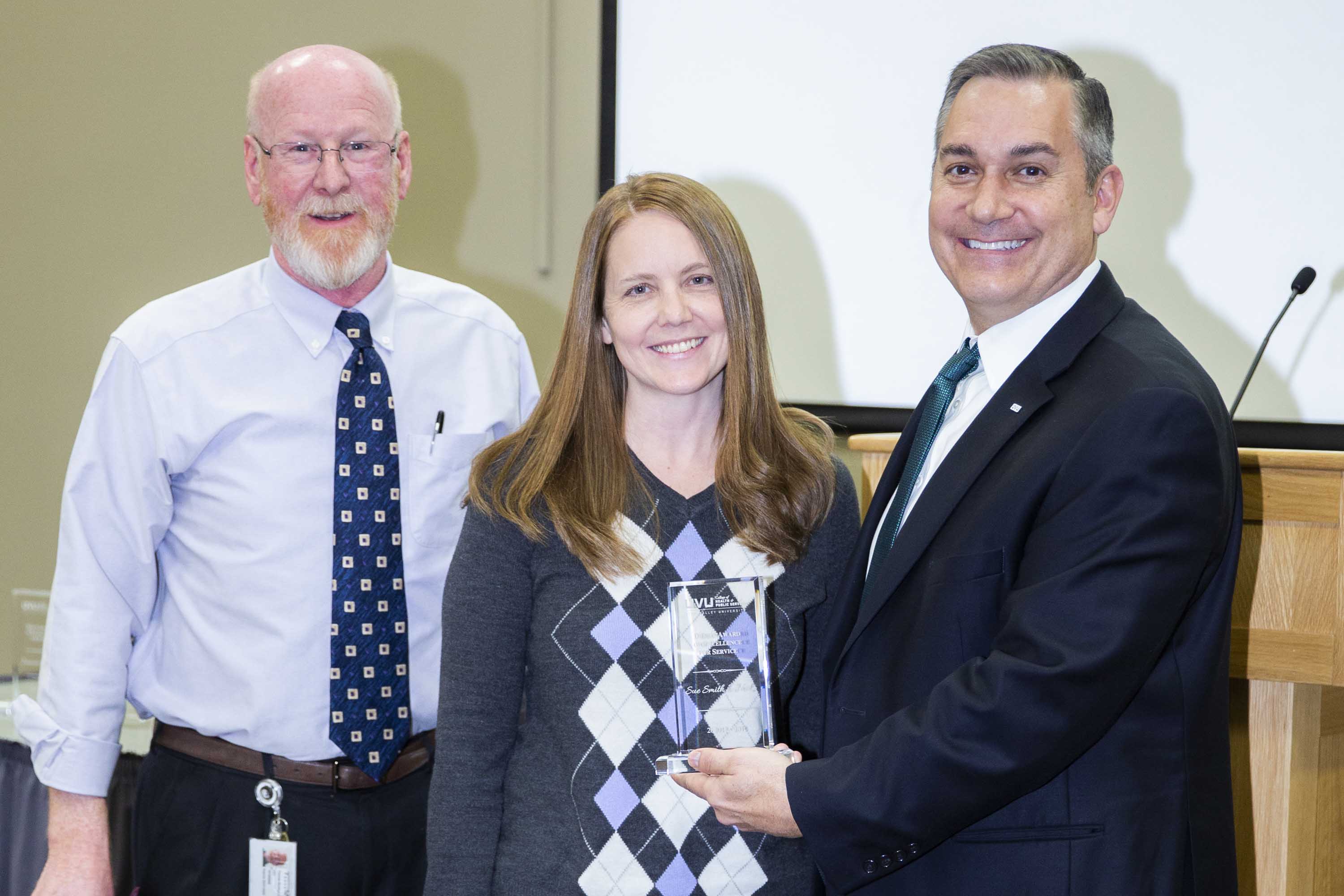 Faculty Senate Faculty Excellence Award
If you could have lunch with any one person in the world, who would it be? 
If I could have lunch with anyone in the world, I would have lunch with Michelle Obama. As the first lady, Michelle worked to change the way in which children think about food, nutrition, and exercise. She started the "Let's Move" campaign and worked to reform school lunch offerings. Throughout my career, I've done research and presentations on body image, weight management, eating disorders and dieting. I currently teach a course every semester on Body Image and Weight Management. I would love to have lunch with the former first lady to better gain insights on the process of national health campaigns and to understand the political barriers that she faced in changing school lunch policies.