Located in Orem, Utah, at the base of the beautiful Wasatch Mountains, the Dental Hygiene program at UVU provides an incredible clinical and academic opportunity for students interested in preventive oral healthcare and the promotion of good health. Through our program, you develop a commitment to lifelong learning, and pride in the profession.
Our program enables you to pursue expanded professional and educational opportunities, emphasizing skill development in critical thinking, ethical decision-making and leadership. We combine the study of dental hygiene theory with supervised clinical practice. You will study the important aspects of dental hygiene care and learn to prevent oral disease, while applying your growing body of theoretical knowledge to the work you do in the clinic. In the state-of-the-art UVU Clinic, you will provide direct care to patients of all ages under the guidance of our dedicated clinical instructors. You will also gain confidence, and refine your interpersonal skills through engaging with the diverse people who visit the clinic for services. We provide services to more than 2,000 patients per year.
As a key member of the healthcare team, the dental hygienist works together with the dentist to meet the oral health needs of patients and thereby improve patients' quality of life. You will also take part in interprofessional education activities that prepare you to work with other future health care professionals to practice comprehensive and collaborative team-based care. You will have opportunities to study with students in medicine, nursing, and respiratory therapy, as well as other community health majors.
Community Outreach
UVU has a unique opportunity to work in the community with portable dental units. This gives students the ability to get out into the community. In the Orem/Provo area, UVU Dental Hygiene has many different facilities where students provide oral care for the oral disparity populations. We work with groups that do not have dental insurance or the funds for expensive dental care. This fills a great need in our community. Our students benefit from this, gaining the knowledge, experience and compassion needed to treat this population.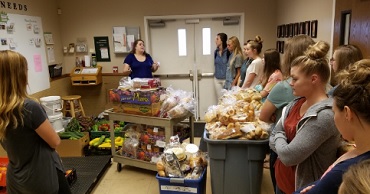 Share-a-Smile
UVU partners with Share-a-Smile and students spend one day a week doing dental services for the patrons of the Food and Care Coalition in their 3-chair clinic.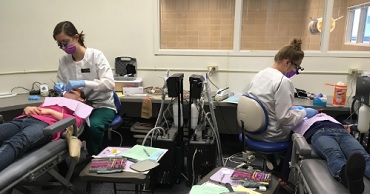 Schools
Our students spend two days a week in the neighboring Title One elementary schools with our portable equipment, doing x-rays, prophylaxis and fluoride on children in grades 2 - 6.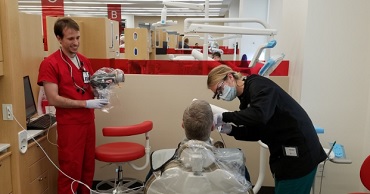 Collaboration
We also have a rotation with the University of Utah School of Dentistry, where both hygiene students and dental students learn how to work together for the enlightenment of both parties.
To schedule a time when UVU Dental Hygiene students can come assist your organization, please call 801-863-7536
Beyond the Classroom
As a UVU dental hygiene student, you also have the opportunity to participate in optional global and regional activities designed to enhance your worldview, and introduce you to diverse populations.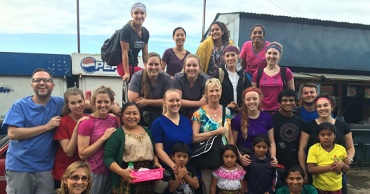 Guatemala Humanitarian Trip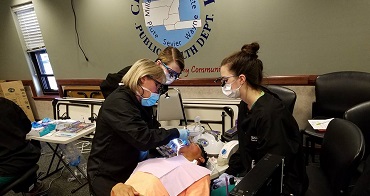 Capitol Reef Excursion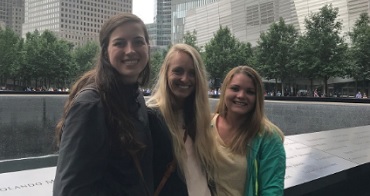 New York Experience
Accreditation
The Dental Hygiene program is accredited by the Commission of Dental Accreditation and has been granted the status of Accreditation without reporting requirements. The Commission is a specialized accrediting body recognized by the U.S. Department of Education. The Commission on Dental Accreditation can be contacted at (312) 440-4653 or at 211 East Chicago Avenue, Chicago 60611.
Department Statistics
Here you can find a collection of data on the Dental Hygiene Program. Check out current and past enrollment numbers, graduation rates, faculty profiles and more.