COVID-19 Modified Operations
Call the Dental Hygiene Clinic to schedule a cleaning appointment at 801-863-7608.

Due to the COVID-19 virus, we will only be accepting patients who do not have flu-like symptoms, and patients under 75. Patients 76 and older will be accepted if they have had 2 covid vaccinations.
For more information, visit the Return to Campus website.
Make an appointment today
Additional Services
$2
Single Periapical X-ray
Full Mouth X-rays | $10
$5
Pit and Fissure Sealants, per tooth
Maximum | $30
$40
Bleaching trays per arch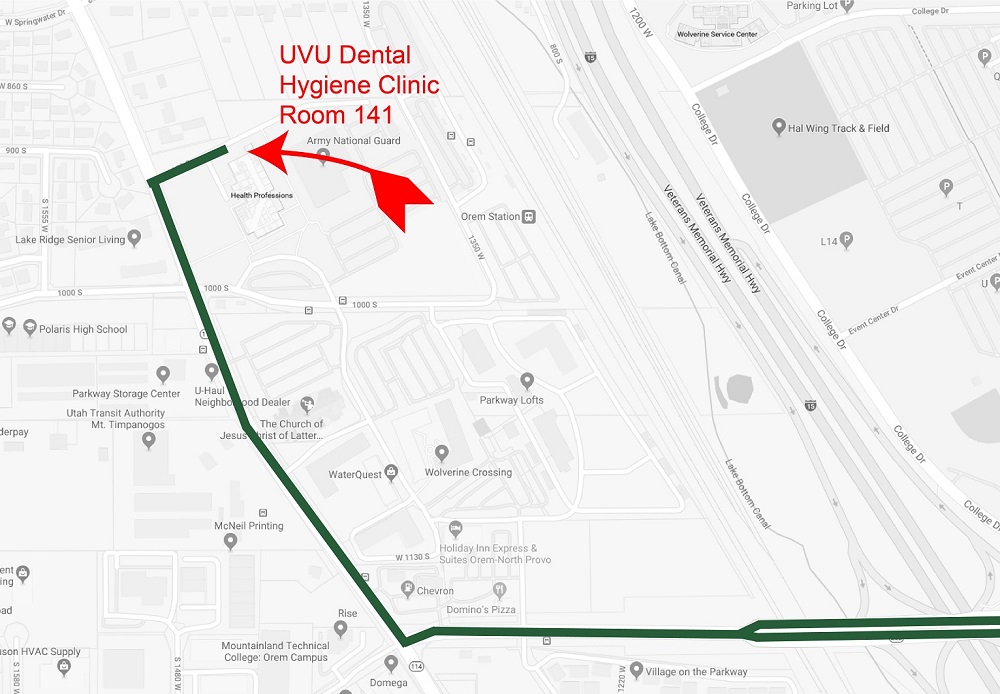 Fall Semester

Clinical sessions begin the last week in August and continue through the 2nd week of December.

 
Tuesday:

8:30am - 11:30am
12:30pm - 3:30pm

Thursday: 

8:30am - 11:30am

12:30pm - 3:30pm
 

 Spring Semester

Clinic resumes in January and continues through the month of April.

 
Monday:
Tuesday:

8:30am - 11:30am
12:30pm - 3:30pm

Wednesday: 

8:30am - 11:30am
12:30pm - 3:30pm

Thursday: 

8:30am - 11:30am
12:30pm - 3:30pm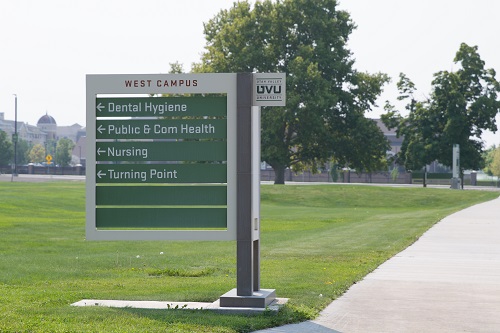 Medical History Form
Before your first appointment, a Health History form must be completed. We request that each patient complete a comprehensive health history (HH) prior to beginning treatment. If you choose to complete this form in the Dental Hygiene Clinic, please arrive 20 minutes early. If you prefer, we have provided a copy of the HH form to download and complete before you arrive.
Our clinic is HIPAA compliant. All dental records are confidential and will be used during the provision of care or for educational purposes. A copy of your records and x-rays can be transferred to your dental office by request of the dentist.
Adult Health History Form
Adulto Formulario para la Historia de Salud
Child Health History Form
Salud Infantil/Formulario para la Historia Dental
Scheduling Information
Call the clinic at 801.863.7608 to schedule an appointment. Appointments usually last 3 hours, as this is a learning environment for the student. This is why you are receiving services for a reduced price. Please remember we are a teaching institution, not a private dental office. If you do not have the time to spend with the student, this is not a good fit for you. Multiple appointments are usually necessary for completion of treatment; patients work with the same student each appointment.
Our primary purpose is to educate dental hygiene students to become competent professionals and to increase public awareness of oral health. Effective use of clinical time is essential. Therefore, if you cancel or miss two or more confirmed appointments, the student will be permitted to discontinue your care. Please cancel at least 24 hours in advance of your scheduled time, so the student may find another patient.
Students and faculty will always strive to provide dental hygiene care in a considerate and respectful manner while providing you with the most current standards of care. At your final appointment we would appreciate your comments about the treatment received. A patient questionnaire is available in the reception area.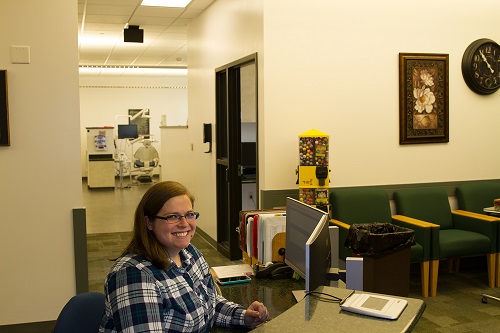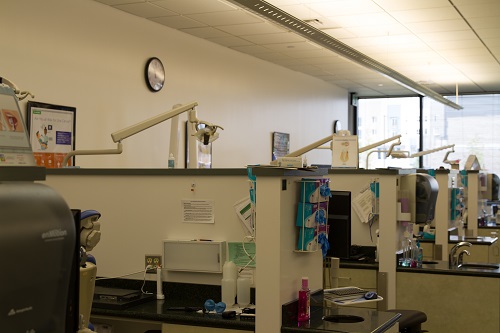 Patient Treatment Rights
After completing an assessment, we will present recommended treatment, treatment alternatives, expected outcomes of various treatments, and the risk of no treatment. Once you understand the information about each procedure, you will be asked for consent. You have the right to refuse treatment at any time. Prior to any services, you will receive a cost estimate.
The student will strive to complete all treatment that has been discussed. When treatment is completed, we will make a referral to your dentist for further case if needed, as we cannot legally perform all dental care (e.g., restorative work fillings, root canal therapy, periodontal gum surgery, etc.). If at any time during or after treatment you wish complete and current information about your care, please contact the clinic receptionist or your student dental hygienist.
The UVU Dental Hygiene Clinic operates using strict infection control practices as recommended by the Centers for Disease Control (CDC) and the Occupational Safety and Health Administration (OSHA). These practices are incorporated to protect you, the patient, as well as the student dental hygienist and faculty.
UVU Department of Dental Hygiene Exposure Control Plan (Bloodborne Pathogens Policy)