MESSAGE FROM OIT 
We have entered a state of affairs that few of us could have imagined. Most of us are working from home, doing everything we can to grease the wheels that drive the University. Those of us who remain at work have very important responsibilities that must be fulfilled on site. 
I want you all to know how much I sincerely appreciate all your efforts, whether on site or at home. Your efforts do not go unnoticed. IT has received kudos and appreciation from all across campus for the great work being done. Each one of you has risen to the challenge of helping departments and individuals, students and employees—really everyone—to adjust and adapt to the ever-changing environment we are in. 
Writing this now on March 25, I recognize that it's very likely things could have changed by the time you read this message. That being said, I know that whatever our status or our state of working, everyone across IT has rallied to support our students, our faculty, our staff, and each other. What a great team! You make a real difference, not just in the work and the schooling of people, but in their very lives. Thank you so much for all you do to keep UVU running.
My wish for you and your families, wherever you or they may be, is to be safe and secure, healthy and well, as well as grateful for the things that are most important in our lives.
Brett McKeachnie
Interim AVP of OIT 
WOLVERINE SIGHTINGS 
Have you seen a UVU staff member offering exceptional service or giving an exemplary performance? Remember to nominate them for the Wolverine Sighting Employee Recognition Award! 
CALENDAR & EVENTS

April Fools' Day  
4/01/2020  
On this day, get wise to the wiles of hoaxers, jokesters, and pranksters (unless of course, you are one). Read up on the debated origins of April Fools' Day.  
Passover  
4/08/2020 - 4/16/2020  
This year, Passover begins on Wednesday, April 8 and lasts until April 16. If you are interested in learning more about this prominent Jewish holiday, you can read about the traditions and history.  
Easter Sunday
4/12/2020 
This year, Easter Sunday falls on April 12. If you are interested in learning more about this international Christian holiday, you can read this article on its origins and history.  
Patriot's Day 
4/19/2020 
Patriot's Day commemorates the battles of Lexington and Concord which were fought near Boston in 1775. This year it falls on April 19. If you're feeling patriotic, you can read up on the history of Patriot's Day. 
Earth Day 
4/22/2020 
Remember that April 22 is the 50th anniversary of Earth Day. Read about the origins of Earth Day and think about how you can play a role in preserving and protecting our natural world. 
Classes end at UVU 
4/23/2020 
Be aware that classes at UVU are scheduled to end on April 23 and it's time to prep for final exams. 
Ramadan
4/23/2020 - 5/23/2020
This year, Ramadan begins on April 23 and continues through May 23. If you are interested in learning more about this important Islamic holiday, you can read about the history and traditions.  
Arbor Day 
4/24/2020 
Remember that the last Friday in April is Arbor Day, and this year it lands on April 24. Read about the origins of Arbor Day and think about the importance of trees. 
Final Exams 
4/27/2020 - 4/30/2020 
Remember that Final Exams are scheduled to run from April 27 to April 30.  They will be held online. 
Spring Semester Ends 
4/30/2020 
April 30 is officially the last day of the Spring 2020 Semester.  
Commencement 
4/30/2020 
Due to the unforeseen impact of COVID-19, all institutions in the Utah System of Higher Education have decided to postpone their 2020 commencement ceremonies. For the protection of our students, their guests, faculty, and staff, UVU will postpone its commencement and convocations that were originally scheduled for April 30 and May 1. A new date will be announced. 
ANNOUNCEMENTS & REMINDERS 
Due to the COVID-19 situation and after careful consideration, the Summer University Executive Committee has cancelled Summer University for 2020. We look forward to having Summer University return in 2021, with all the enjoyable activities and learning opportunities.

UTA has seen a significant decrease in ridership due to the COVID-19 pandemic. Service will be temporarily reduced beginning April 5, 2020. For more information regarding transportation to and from UVU, visit

 

UTA's COVID-19 website

. 

For the safety of the community, UVU will temporar

ily close a majority of the Orem Campus buildings to the public.  For a full list of impacted buildings and services on the Orem Campus, as well as emergency contact information, please visit the campus facilities and services FAQ on

 

uvu.info. 

Employees working on campus must adhere to safety procedures, including social distancing, hand washing, avoidance of face touching, and not coming to campus if ill. No guests or visitors should be in university facilities at this time. 

Effective April 2,

 

only

 

the following buildings will be open Monday-Friday from 8:00 AM - 5:00 PM to UVU students and employees

 

without

 

the use of proximity cards. 

Fulton Library (access is limited to the first two floors only) 
Browning Administration Building 
Facilities Building 
UVU Warehouse 
DEPARTMENT HIGHLIGHTS

Web Development Services
WDS is using this time to focus and complete as many tasks as possible.  With the limited interruptions, this is a great time for us to clean up our processes, tasks, and procedures.  We are very busy working on our top 10 and moving the work forward.  Working remotely has been a bit of a shift. We are working hard to stay connected with one another, to help each other, and to look for ways to continue working as a team. 
Nathan Gerber 
Director of Web Development 
Center for Student Computing 
Due to COVID-19, we have closed all but three labs and we are trying to find new ways students can access computers.  
We were sad to cancel our gaming tournament, but we hope to reschedule sometime in the future when things get back to normal. 
Director of Technology Support Services
IT Operations 
Operations is mostly working from home during the COVID-19 period.  We have staff coming in at specific times during the week to check on the data center and manage backups.  We can be reached by Teams, email, or phone at x5247.  If we are not in the office, our number will forward to an on-call Ops person who can get someone from the Ops team on site if necessary.
Jim Condie
Director of IT Operations 
Network and Telecom Telephone Services 
We are completing a project this week to add full wireless coverage to the UCCU Events Center.  The project is designed to support the 8,000 person maximum capacity of the building and will provide basic high speed internet to all 8,000 people. 
Kurtis Olsen
Director of Network and Telecom Telephone Services 
COVID-19 RESOURCES
As of April 2, there are over 1,000 confirmed cases of COVID-19 in Utah and 213,144 confirmed cases throughout the United States. Everyone has a part to play in slowing the spread of COVID-19. To prevent infection and to slow transmission of COVID-19, the CDC and WHO recommend the following steps: 
Wash your hands regularly with soap and water for at least 20 seconds, or sanitize your hands with an alcohol-based hand rub
Regularly clean surfaces in your home that are frequently touched, such as door handles, faucets, counters, rails, computers, phones, etc. 
Maintain a distance of 2 meters (6 feet) between you and other people 
Avoid touching your face 

Use 

a tissue or your elbow to cover your mouth and nose when coughing or sneezing  
Stay home if you feel sick, no matter what your symptoms are 
Refrain from smoking and other activities that weaken the lungs 
Avoid unnecessary travel 
Avoid 

unnecessary

 

shopping  
Do not attend large gatherings 
Get vaccinated for seasonal flu  
There are many resources for reliable news on COVID-19. It is important to keep calm and stay informed. Below are a few authoritative sources for you to explore:  
Utah Valley University 
Utah State Government 
U.S. Center for Disease Control  
World Health Organization 
TRANSITIONING TO REMOTE WORK 
The last couple of weeks have been a whirlwind of changes. It's hard to imagine where we would be without Teams as a tool to pull us all together. With most of the world working from home, these tools allow us to communicate and do our work. The difficulties of this type of environment are felt not just by those working remotely, but also those working on campus. Wherever you may be, chances are that you have to work with someone who is somewhere else. 
This article from EDUCAUSE contains some really good advice that all of us need to take to heart, whether we work on site or at home.  Please take a moment to read the article and then adjust your working life to stay safe, healthy, and productive! 
https://er.educause.edu/blogs/2020/3/transitioning-to-remote-work
Additionally, we are introducing new guidelines on conducting virtual meetings in order to facilitate better communication between everyone in IT. Please follow these guidelines as you conduct virtual meetings and video conferences.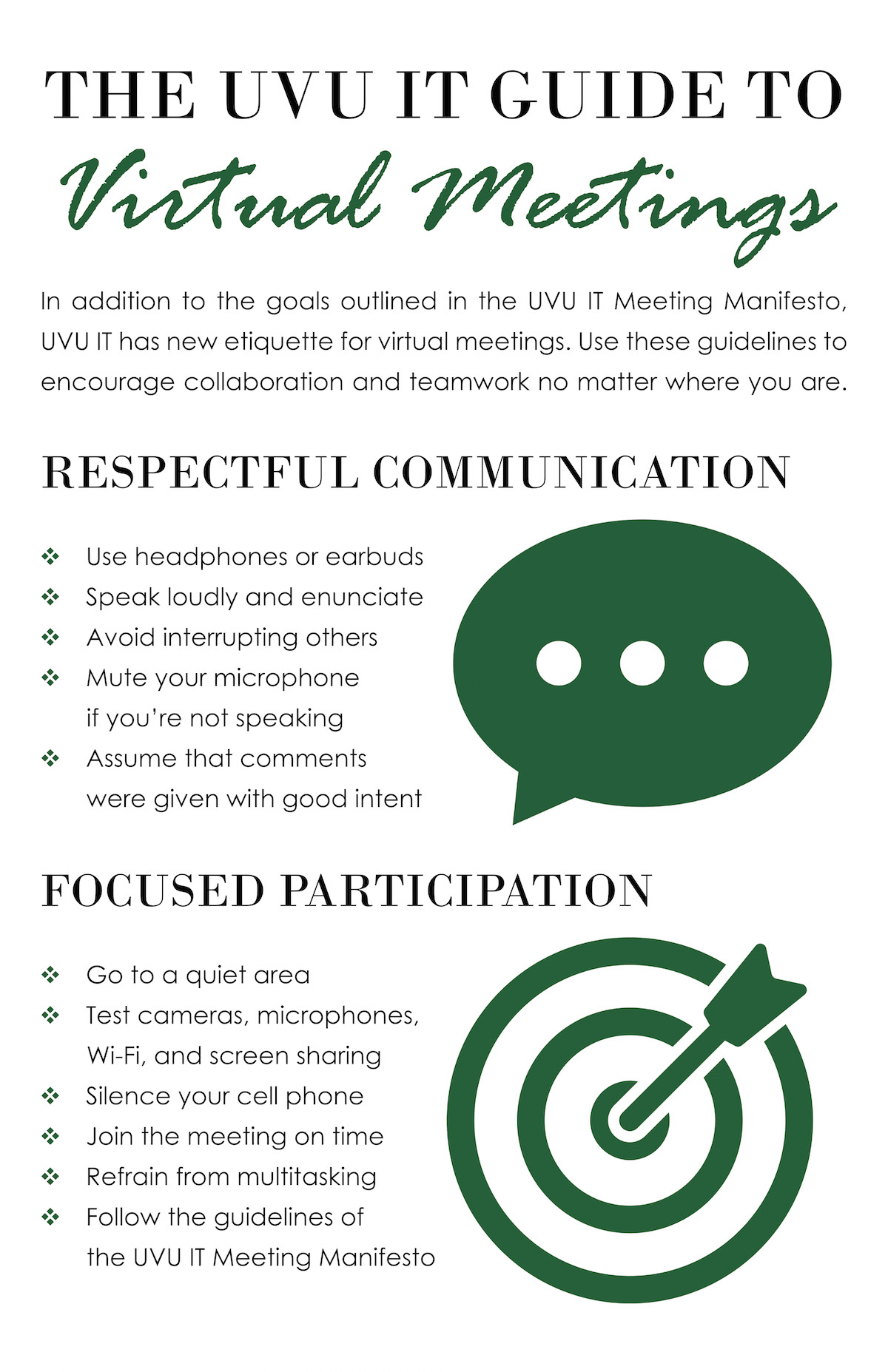 CHARACTER THOUGHT: Dependability vs. Inconsistency
Being dependable means fulfilling what you consent to do, even if it means unexpected personal sacrifice. 
Eddie Sorensen 
Senior Director of Infrastructure Services
EMPLOYEE NEWS

Open Job Positions
The following positions in IT need to be filled. If you know of any individuals who might be a good fit, be sure to send them the link and recommend them to the appropriate department. 
Is there an opening in your division or department that needs to be filled? Get the word out by submitting it to Caitlin Tobler for next month's newsletter.
New Employees
The following individuals have been recently hired by OIT, transferred to a new department, or given a promotion. Be sure to give them a warm welcome.
Semira Kendall

, Web Programmer 

Dylan Berry

, Student Web Support Tech 

Kim Soto

, Student Web Support Tech 

Tyler Ivie

, Web Programmer 

Jacob Ellsworth

, AIS Programmer 

Justin Thorne

, ERP Product Specialist I

Jared Smith

, Desktop Support Technician

Dan Montgomery

, ITAM Technician