WOLVERINE SIGHTINGS 
Have you seen a UVU staff member offering exceptional service or giving an exemplary performance? Remember to nominate them for the Wolverine Sighting Employee Recognition Award! 
CALENDAR & EVENTS

Veterans Day 
11/11/2020 
Veterans Day is Wednesday, November 11. Be sure to extend your gratitude to any veterans you know and read up on the interesting history of Veterans Day.  
Thanksgiving Holidays 
11/25/2020 - 11/27/2020 
Wednesday, November 25,  Thursday, November 26, and Friday, November 27 are all holidays for UVU faculty and staff. Enjoy your Thanksgiving Day and Black Friday activities!  Also, be sure to explore the history and traditions of Thanksgiving!
ANNOUNCEMENTS & REMINDERS 
IT is growing with the addition of ASDS. We will now be known as the "Digital Transformation Division," which includes both OIT and ASDS.

UVU's Microsoft license has been upgraded from the A3 level to the A5 level. This gives UVU access to almost all Microsoft products in some form. 
CHANGE AND INCIDENT MANAGEMENT 

The Operations Department has worked closely with leadership over the last several years in executing the Change and Incident management programs. While we continuously work to improve these processes and learn from outages and incidents, it is important to emphasize the purpose of these processes as our IT culture continually evolves. A key aspect of our culture is trust. Many individuals within IT have been given access to critical systems, either with administrative access or physical keys. If you have access to these systems, you need to appreciate the trust we have placed in you. Please do not make changes to production systems until you have made every reasonable effort to communicate the intended change and tested the change in a non-production environment.
The change system is critical in logging and communicating system changes that may have an impact on our campus community. It helps us to coordinate change scheduling as an effort to not compromise other changes and to not conflict with critical dates on the academic calendar. This scheduling and coordinating also enhances our ability to communicate across IT and to areas outside of IT that may be affected so we can minimize impact and frustration to our customers. 
The Incident Management & Incident retrospective processes occur when our customers have experienced an unexpected IT outage or impact. This provides accountability across IT in our ability to report across the chain when needed but more importantly, we can learn from incidents as an organization in a way that helps us deliver more stability to the campus community. It is important to note that sometimes things just happen, mistakes occur, or we get hit by unknown causes or issues. When that happens, the intent is not about looking for something or someone to blame; we are looking for something to learn and improve upon so we can prevent a re-occurrence wherever possible.
Please remember that we all contribute to the stability and collective reputation of the IT services here at UVU. The real value is not in the cost of the systems that we engineer, build, manage, and fix. The real value is in the people who exercise exceptional care in their daily decisions to serve the UVU community. The hundreds of years of experience that we collectively have are especially valuable when we share our ideas, perspectives, and thoughts for improvement. We are grateful to everyone who exercises exceptional patience with us as we work through the Change, Incident, and Retrospective processes in an effort to help IT improve our ability to deliver consistent utility levels of stability to the UVU community.
Go Team!
Jim Condie 
Director of Infrastructure Services / Operations 
Troy Martin 
Associate Vice President of IT / CIO  
WHAT IS PRODUCT PORTFOLIO MANAGEMENT?

One essential element of UVU's Digital Transformation strategy, as indicated by the recently introduced Strategy Map, is "Practice Exceptional Product Portfolio Management." But what exactly does that mean? I've been asking myself that question and how it applies to what we do in supporting the mission of UVU. Here I'm sharing what I've learned so far, and I invite everyone to learn more about it and share the knowledge you gain.  
Product Management
To understand Product Portfolio Management, we first need to understand Product Management. I learned a lot about Product Management in Higher Education from reading this article: https://er.educause.edu/articles/2015/5/user-advocate-product-management-in-higher-ed. The description from the article serves as a good basis for understanding the role of a Product Manager.
"Like its corporate counterpart, a higher education product manager is responsible for the entire service offering lifecycle, which begins with strategy and product selection, continues through implementation and ongoing management, and finally concludes with the sunsetting of a service. Product managers are service owners in one sense, accountable for the success of the offering. Most importantly, they serve as a single point of contact for anything related to the product (figure 1)."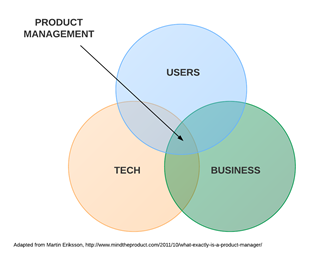 Figure 1. Product manager as a single point of contact
Product Lifecycle
One of the primary purposes of Product Portfolio Management is understanding and working with product lifecycles across all products within your portfolios. The following quote from the EDUCAUSE article I referenced above provides some perspective.
"Every product or service offering follows a natural lifecycle. This isn't a new concept, but as Harvard's Perry Hewitt observed in 2014, 'Currently, too many digital initiatives suffer from a project-only approach. A website or service is stewarded until its launch, but there is little consideration of ongoing development and support.' Project teams often hand off the keep-the-lights-on service management, potentially neglecting opportunities for continuous improvement that can benefit users, IT colleagues, and even budgets."
During my ongoing research on Product Management and Product Portfolio Management, I selected a few quotes and images from https://www.mindtheproduct.com/product-portfolio-management-success-scale/, which I'll share throughout the rest of this article.
"Product management can be hard enough, but when you scale beyond more than one product, product portfolio management is a critical tool to prioritize between multiple products, ensure resources are assigned to the right products, and that you have a pipeline of new product ideas ready to grow."

 

"Most products follow a natural lifecycle from introduction, through growth, to a (hopefully long) period of sustained maturity, followed by an inevitable declining sunset period."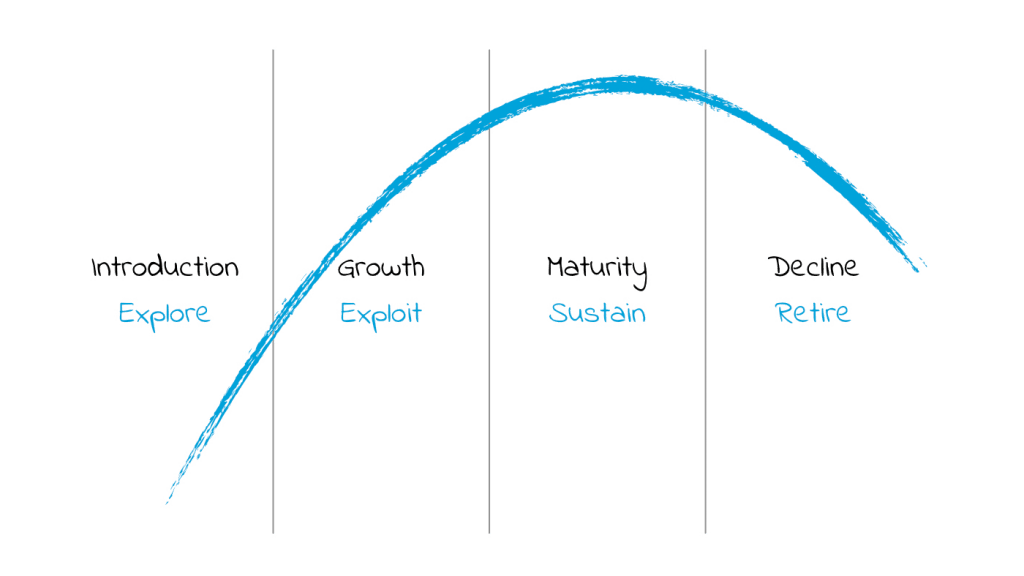 "It's important to remember that product portfolio management is not a linear process. Not every product will make the full journey through the lifecycle, they can fail and drop out at any point in the journey."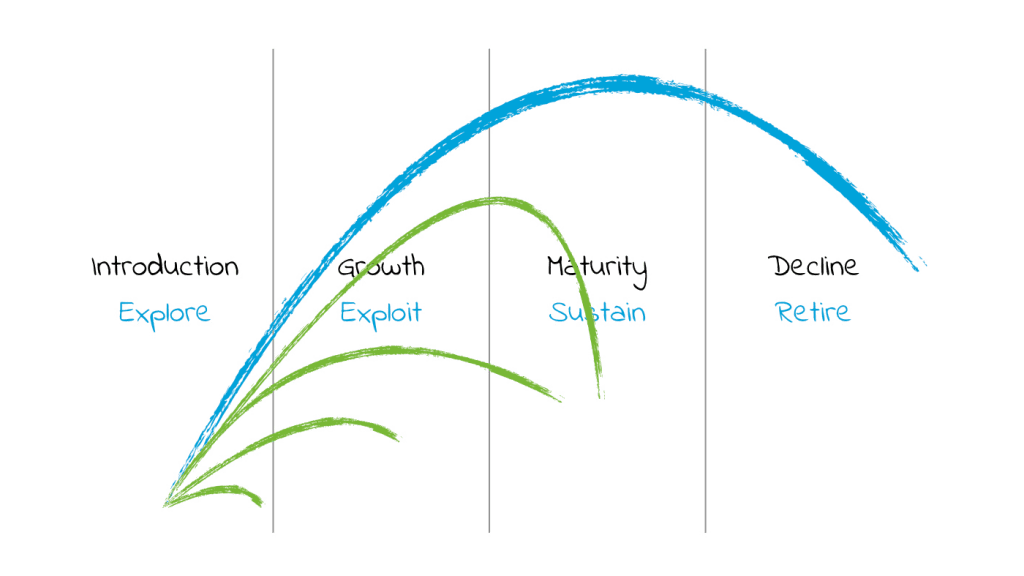 Why Product Portfolio Management Is So Valuable
"

It encourages new ideas.

 In the first stage there will be a lot of ideas that fail – but that's OK. By staging your resource allocation you can ensure that only validated ideas progress from research to product development, and that only validated products progress to the growth and marketing stages."

"

It focuses on learning.

 The early stages should only be measured on knowledge gained. It's only once you have launched a product to the market and gained traction that you even think about measuring on revenue and users."

"And throughout every stage, everything you learn – every assumption, every failed idea, every test, should be stored in a central database. This allows other product managers to access your hard-won knowledge – springboarding them for the next piece of learning they need to make their own product better."

"

It frees up resources.

 Because product ideas don't need developers – but growing products do. And, at some point, the resources being used by a declining product can be reassigned to ensure the growth of the next big idea. Resources are simply assigned when and where appropriate – you don't need Marketing if you're still validating the problem."

"

It reduces risk at every stage.

 Just like a VC you're never investing everything up front, you're only investing as much as the idea or product needs to get to the next stage, answer the next question, or validate the next assumption."

"

It is a great sanity check on your strategy.

 Once you map all your products and ideas against this product portfolio management lifecycle you'll quickly see if you're spending enough time and resources on the front end of the process – generating new ideas and new products. Is your execution matching your strategy?"
I apologize that the content of my article mostly consists of quotes from others. As I said before, I'm just learning this stuff, so I don't have a ton of experience to draw from. However, I have learned a lot from my research. I hope what I've shared here will provide you with a base-level knowledge to understand this new highly prioritized internal process for Digital Transformation at UVU.
Brett McKeachnie 
Director of Portfolio/Project Mgmt. Office
CHARACTER THOUGHTS 
Peace, Joy, and Contentment vs. Covetousness 
Peace, joy, and contentment will free you from worry or restlessness. In this time of Thanksgiving, reflect on and be thankful for what you have. Don't waste the moment by longing to possess something that belongs to someone else. 
Eddie Sorensen 
Senior Director of Infrastructure Services
Deeds, Intentions, and Reputation
Three of my favorite maxims are all from Coach John Wooden:
1.     What is right is more important than who is right.
2.     The smallest good deed is better than the best intention.
3.     Be more concerned with your character than with your reputation.  Character is what you really are; reputation is merely what you are perceived to be.
Joe Belnap 
Senior Director of Special Projects for IT
EMPLOYEE NEWS

Open Job Positions
The following positions in IT are available. If you know someone who might be an appropriate candidate, be sure to recommend them:
Be sure to watch UVU.jobs for more opportunities in IT. 
Is there an opening in your division or department that needs to be filled? Be sure to get it approved according to the Temporary Human Resources Guidelines. Once the position is open, get the word out by submitting it to Caitlin Tobler for next month's newsletter. 
New Employees
No new individuals have been recently hired by DTD, transferred to a new department, or given a promotion at this time.