WOLVERINE SIGHTINGS 
Have you seen a UVU staff member offering exceptional service or giving an exemplary performance? Remember to nominate them for the Wolverine Sighting Employee Recognition Award! The Wolverine Sighting Award is an employee recognition award sponsored by PACE. Nominees must be full- or part-time UVU staff employees, but there is no minimum requirement for years of employment and nominations are accepted year-round.
DX TEAM RECOGNITION
People all across Dx work hard and accomplish amazing things every day. The Dx Team Recognition is a way to let someone in Dx know that their great efforts over the past week have been noticed. During the Half-Time live-stream each Wednesday at 11:45 AM, we recognize a deserving recipient. The selected person receives a certificate to print and a $10 deposit into their GreenBucks account. More importantly, they receive recognition by everyone across Dx for their great work. Nominations for the Dx Team Recognition must be received by 5:00 PM on Tuesday to be considered for the following Wednesday's Half-Time recognition.
To nominate someone for the Team Recognition, navigate to the OIT - Public team in Teams, then go into the Half-Time channel, and select the Team Recognition tab from the top menu. Alternatively, you can click the link here: 
CALENDAR & EVENTS

April Fools' Day 
4/1/2021 
Thursday, April 1 is April Fools' Day, so be on the lookout for tricks and pranks, lest you be fooled! If you're interested, check out the mysterious origins of this holiday.  
Easter & Last Day of Passover  
4/4/2021 
Sunday, April 4 is both the last day of Passover and the celebration of Easter. Both of these events have important religious significance around the world. If you're curious, read about how Easter is celebrated throughout the world and global variations in Passover traditions.
Ramadan Begins
4/12/2021 
Monday, April 12 marks the start of Ramadan, a significant religious holiday around the globe. For those who are interested, you can read about how Ramadan is celebrated across the world. 
Tax Day (Traditional Deadline) 
4/15/2021 
They say there are two certainties in life: death and taxes. April 15 is typically the deadline for filing taxes in the United States; however, this year there has been an extension to May 17. Make sure to read up on the details of the extension. The IRS is still encouraging all taxpayers to file as soon as possible, so file sooner rather than later.
Earth Day 
4/22/2021 
Thursday, April 22 is Earth Day, which is celebrated as a time to raise environmental awareness and discuss conservation efforts. If you want to get involved with local conservation efforts, check out this list of environmental groups in Utah. 
Classes End & Second Block Finals 
4/28/2021 
Wednesday, April 28 is the end of the winter 2021 semester at UVU and the date of second block finals. 
Final Exam Preparation Day 
4/29/2021 
Thursday, April 29 is Final Exam Preparation Day for all students. 
Arbor Day 
4/30/2021 
Friday, April 30 is Arbor Day, a time for promoting the protection of Earth's natural resources and, most famously, planting trees. If you want to learn more, be sure to read about the history of Arbor Day. 
Final Exams 
4/30/2021 - 5/6/2021
Friday, April 30 through Thursday, May 6 is finals week at UVU. We wish the best of luck to everyone who is completing their finals at this time!
ANNOUNCEMENTS & REMINDERS 
There are new features in Jira Service Management, specifically updates to notification behavior for agents and admins. If you're a Jira Service Management agent or admin, and you're added to a request as an agent and as a customer, agent notifications will now be prioritized over customer notifications. Learn more about how notifications work in Jira Service Management.
DEPARTMENT HIGHLIGHTS
Network and Telecom Services
Jeff Nyman has recently received a CWNE certification. The Certified Wireless Network Expert (CWNE) designation is the final step in the CWNP Wi-Fi Program. By successfully completing the CWNE requirements, Jeff has demonstrated that he has the most advanced skills available in today's enterprise Wi-Fi market. Jeff has spent a lot of time and energy learning and growing in his skills to gain this certification. He now has the knowledge, skills, and tools to verify and redesign our wireless installations to provide the best experience we can provide.
https://www.cwnp.com/certifications/cwne
Kurtis Olsen 
Director of Network and Telecom Services
VISUALIZING OUR COMMITMENTS

In last month's newsletter, I contributed an article titled "Committing to our Commitments," in which I promoted our Dx Commitments Dashboard. This article is a companion to that first article. 
We first developed the Dx Commitments Dashboard in a shared Teams spreadsheet. The main downside to that approach was that everyone had to track their efforts in yet another tool, then make regular updates to the spreadsheet to keep leadership up to date. In comparison, our new Dx Commitments Dashboard makes updating a breeze for anyone who uses Jira as their primary tool for tracking work. Since the new Dx Commitments Dashboard is built into Jira, it updates automatically! For anyone who is using another tool to track their work, the effort to update the Dx Commitments Dashboard is different but no more difficult than before.
Starting with the second quarter of 2021 (April), we've moved out of the shared spreadsheet and fully into Jira for our Dx Commitments Dashboard, which is easier to update and provides better access to project information since we can view an issue with just one click. The new Dx Commitments Dashboard utilizes the advanced roadmaps feature of Jira. Although advanced roadmaps used to be a separate app from Atlassian, it was recently incorporated as part of our normal Jira licensing. Unlike the regular roadmaps feature that every project already had access to, advanced roadmaps give us the ability to draw information from any project in Jira. We've already helped every Dx team implement the required changes to their projects so that information can roll up into the Dx Commitments Dashboard. All that is left is to apply the appropriate label and keep a small group of fields up-to-date for each tracked issue.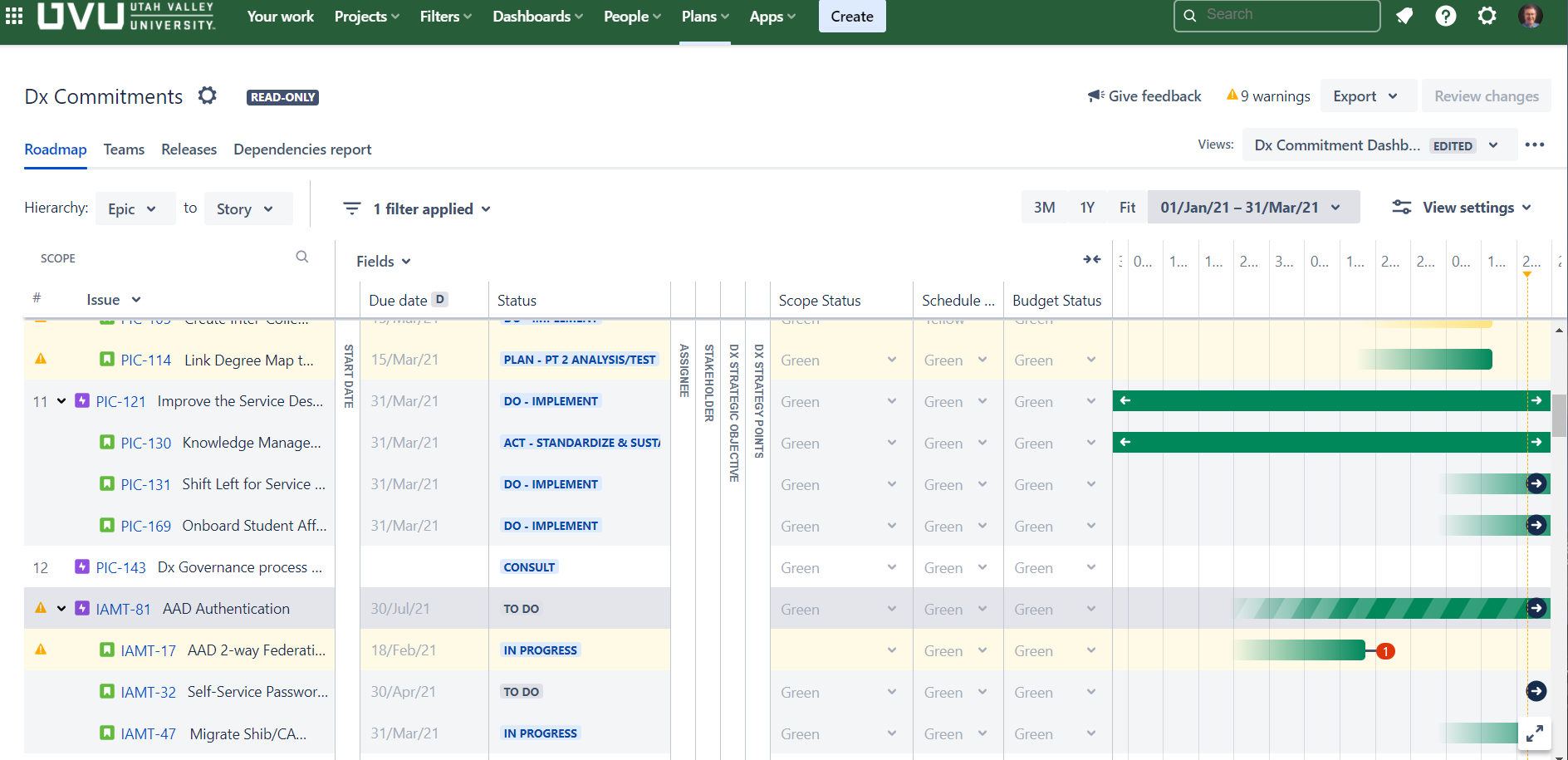 The Dx Commitments Dashboard can be accessed within Jira by selecting "Plans" from the top menu bar, then choosing from the available plans (hopefully, it will be in your "Recent" list). You can control the amount of information displayed on the Dx Commitments Dashboard by applying filters and minimizing columns. All of the columns can be minimized by clicking the title, and most columns can be used to sort or customize the way we look at the data. Filters are available to narrow down the information we view, and visual indicators show when things aren't going well. Of particular importance are the columns indicating the statuses of Scope, Schedule, and Budget. Another nice feature is a visual indicator of timing for each Dx commitment.
Additionally, we have recently developed a concrete definition of what a commitment is, and we encourage everyone in Dx to adopt this definition when discussing commitments and updating them for the Dx Commitments Dashboard. 
The Dx Commitment Definition
A commitment is a project or component of a project requiring 40+ hours that has a deadline.
Dx Commitment Examples

Non-Commitments

Wireframe Designs for Mobile App (project component effort)
MVP Solution for Faculty Evaluations (delivery of a product)
April Dx Newsletter Published (monthly effort requiring over 40 hours)
Upgrade Oracle Cluster (project)

Wiring Conference Room for Teams (less than 40 hours)
Complete Weekly Budget Report (operational and less than 40 hours)
Security Patches (small urgent maintenance tasks)
Service Request Tickets (operational work)
Please note that the definition above is meant for differentiating what should be labeled as a Dx Commitment. It does not mean that only issues that meet this definition should be included in your Jira projects. We encourage everyone to use Jira in ways that are most effective for individuals and teams, and to that end, please use Jira to track issues of any size.
As we continue to iterate on the Dx Commitments Dashboard, we will add new features to help Dx teams, leaders, and stakeholders make better data-driven decisions.
Brett McKeachnie 
Senior Director of Product Portfolio Management
SECUREW2 UPDATES 

Many people may have noticed a lot of issues with wireless connectivity lately. Both Apple and Android have been making security updates with the new versions that have been recently released. SecureW2 is the company that we use to install certifications for authenticating into Wolverine-Secure. SecureW2 has been updating their installer as fast as possible to accommodate these new security features and processes. Unfortunately, they have run into a lot of issues with the way Android now handles certification installation. For help installing these certifications, we recommend using these troubleshooting steps. 
SecureW2 has also recently announced some changes that should help the installation process work better. These changes will include more end-user steps that used to be automated. SecureW2 has said the following about these changes:  
"The SecureW2 App will no longer automate the connection phase of the onboarding process (as we do in earlier versions of Android), but rather rely on the user to manually connect through instructions following enrollment and configuration. We have evaluated the new auto-connect requirements from Google (which differ by manufacturer), the inconsistencies and bugs (which Google is aware of), and received feedback from customers. As a result, we have concluded that leaving the final connection phase to the end-user ultimately provides the best overall experience. SecureW2 does see a potential for improvement as Google is aware of the issues and has scheduled improvements in Android 12."
We in Networking and Telecom Services look forward to the changes that both SecureW2 and Google will be making to improve the end-user experience.
Kurtis Olsen 
Director of Network and Telecom Services
CHARACTER THOUGHT
Random Thoughts 
Here are a handful of my favorite quotes that I feel are most applicable to us now:
"People think that at the top there isn't much room.  They tend to think of it as an Everest.  My message is that there is tons of room at the top." – Margaret Thatcher
"Progress has little to do with speed, but much to do with direction." – Anonymous
"Don't be afraid to take a big step if one is indicated.  You can't cross a chasm in two small jumps." – David Lloyd George
"Making the simple complicated is commonplace; making the complicated simple, awesomely simple, that's creativity." – Charles Mingus
Joe Belnap 
Senior Director of Special Projects for IT
EMPLOYEE NEWS

Open Job Positions
The following positions are available in Dx as of March 31, 2021: 
Be sure to watch UVU.jobs for more opportunities in Dx.  
Is there an opening in your division or department that needs to be filled? Be sure to get it approved according to the Temporary Human Resources Guidelines. Once the position is open, get the word out by submitting it to Caitlin Tobler for next month's newsletter. 
New Employees
The following individuals have been recently hired by Dx, transferred to a new department, or given a promotion.
Ben Metzger

, Controller II - Divisional Portfolio Management 

Riley Kratochvil

, FortiNAC Administrator - Network and Telecom Services

Kayla Macias-Rivera

, Service Desk 

Matias Navarrete Lamas

,

Service Desk 
We are so excited to have these new hires on our team! Be sure to give them a warm welcome!