Dx TEAM RECOGNITION
People all across Dx work hard and accomplish amazing things every day. The Dx Team Recognition is a way to let someone in Dx know that their great efforts over the past week have been noticed. During the Half-Time live-stream each Wednesday at 11:45 AM, we recognize a deserving recipient. The selected person will receive a certificate to print and two movie vouchers. More importantly, they receive recognition by everyone across Dx for their great work. Nominations for the Dx Team Recognition must be received by 5:00 PM on Tuesday to be considered for the following Wednesday's Half-Time recognition. To nominate someone for the Team Recognition, navigate to the OIT - Public team in Teams, then go into the Half-Time channel, and select the Team Recognition tab from the top menu. Alternatively, you can 
follow this link to access the nomination form
. 
WOLVERINE SIGHTINGS
Have you seen a UVU staff member offering exceptional service or giving an exemplary performance? Remember to nominate them for the 
Wolverine Sighting Employee Recognition Award
! The Wolverine Sighting Award is an employee recognition award sponsored by PACE. Nominees must be full- or part-time UVU staff employees, but there is no minimum requirement for years of employment and nominations are accepted year-round.
2021 AWARDS OF EXCELLENCE
The Presidential Awards of Excellence highlight faculty and staff for their efforts in key areas related to UVU's mission, values, and action commitments. Each award is designed to recognize UVU employees who advance the mission, values, and action commitments of the university. There are four award categories: 
Presidential Exceptional Care Award
Presidential Exceptional Accountability Award 
Presidential Exceptional Results Award
Presidential Excellence in Mission Award
To submit a nomination,
follow this link
.
THE UVU GOODWILL ASSOCIATION
The UVU Goodwill Association sends get-well wishes to UVU employees with the primary goal of enhancing employee relations by maintaining a caring atmosphere at Utah Valley University. Membership dues are used for the following:
Sending get-well floral baskets for hospital stays greater than 3 days (typically for life-threatening illnesses). 
Sending bereavement floral baskets to employees who have lost a mother, father, child, in-law, or spouse. 
Do you know any employees needing goodwill? Please refer them by following this link. For more information about joining UVU's Goodwill Association, check out their page.

August 1 Deadlines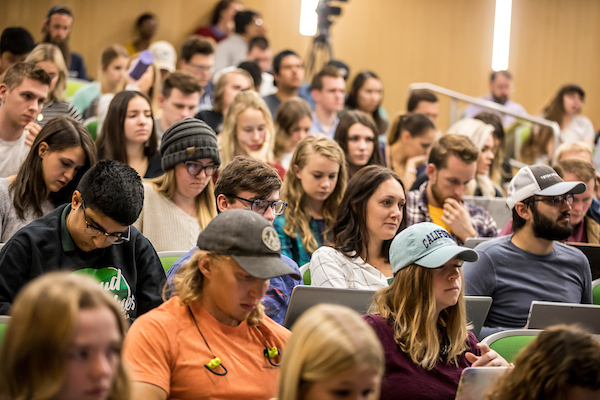 Image Credit
Staff Fall Forum

On Wednesday, August 4, at the UCCU Ballpark, the UVU's PACE Staff Association will present the Staff Fall Forum to kick off the upcoming academic year!

Lunch will be served at 11:00 AM, and the program will start at 11:30 AM. To get your free ticket, register through this link: https://qrgo.page.link/zfeuL  
Image credit
Summer Semester Ends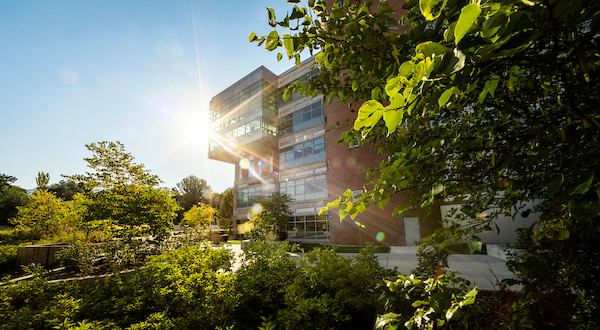 Friday, August 13 is both the last day of classes and the last day of the summer semester. If you know any students, be sure to wish them luck on their final exams!
Image credit

MAKING ASYNC PRODUCTIVE
Brett McKeachnie, Sr. Director of Product Portfolio Management

My newsletter articles in June and July focused on asynchronous communication or "async," what it means, and how to improve its effectiveness. In this month's article, I want to focus on reaping the benefits of async when we aren't collaborating synchronously. After all, the goal of async is to make time available to focus and get stuff done. Some people call these non-communication times "deep work," but I fear many of us treat them more like free time, allowing our productivity to lapse.
To enjoy the benefits of being "allowed" to respond asynchronously, we need to be anxiously engaged in meaningful work that generates value. How do we make the most of our time between meetings?
First of all, we schedule that time. By blocking time on our calendars and dedicating it to work on something specific, we indicate to others when we are unavailable, which keeps them from seeing "free time" in our schedule and intruding on what should be focused work time.
Second, we set a specific goal to accomplish during that time, an output that we recognize as providing value, whether that's a completed outcome or a milestone along the path to that completion.
Third, we set ourselves up for success by entering a distraction-free zone. This means turning off notifications and ringers, closing doors, etc., so we can fully concentrate on the effort we've scheduled to undertake without interruptions.
Fourth, we set time limits for our focused work. After all, we can't simply lock ourselves away and forget about communication for days on end. Rather, we work diligently within the time limit, maybe 2 to 4 hours, taking breaks at appropriate intervals.
Finally, at the end of our time limit, we set the focused work aside and take care of all the async things that have built up over that time (messages, responsibilities, tasks, etc.).
To some, this may sound like an easy formula for success, but I assure you that it is not. It takes discipline. It takes concentration. And sometimes, it isn't realistic. Emergencies come up, challenges arise, and our focus can get distracted by the strangest things. Nobody says you have to be perfect at focused work, but if you apply these principles, you'll have a lot more success than if you don't!
LESSONS FROM THE PANDEMIC
Ken Dahl, Director of Business Intelligence and Database Services

In the past year, I've read a lot about working from home and remote work. I conducted some of this research in an effort to survive the massive systemic changes, and some of it out of mere curiosity as I tried to improve myself. As we move forward and put more of the pandemic behind us, I shudder every time I hear someone say something to the effect of, "I can't wait to get things back to the way they were." Why? Because this phrase looks at the past longingly with rose-colored glasses, seeking a thread of familiarity and comfort amid today's chaos. Realistically, the OIT division was begging for changes before the pandemic. At the time, I think we felt unnoticed by leadership, unclear in our purpose, and undervalued for the impact we were providing to the institution.
My, how times change!
We have received a clear mandate from the president to create a digital transformation at the institution. This change extends way beyond migrating a few servers to the cloud. It includes shifting the way we think, execute, and deliver. This effort will require a change in culture, and culture is a beast to change.
These past few months, we have received institutional support in ways we couldn't have imagined a few years ago. Support has come in the form of leadership changes, system changes, pandemic funding, and even collaboration changes from departmental Slack to institution-wide Microsoft Teams.
Amid these institutional changes, I hope we all find the opportunity to look in the mirror and make some personal changes. As for myself, I hope to be more intentional about my team leadership. Specifically, I want to be effective at both synchronous and asynchronous meetings.
Historically, OIT had a penchant for running from one scheduled face-to-face meeting to another. Frankly, if it didn't happen in a meeting, it didn't happen. As a division, we got really good at multi-tasking due to the meeting-centric structure we had at that time (notice that I didn't say we got really good at being effective or strategic). In my research, I have compiled a list of things we can do to make remote work and asynchronous communication effective.
1. TRACK YOUR WORK.
Everyone needs a common "work tracking mechanism." Note that I said "common"— you've got to have one front door, and that entry point needs to be commonly recognized (HINT: people need to use it). Dx's front door is JIRA. If that doesn't mean something to you, ask your manager about it, and don't stop asking until you know you're using the common work tracking mechanism.
2. KNOW WHEN TO UTILIZE ASYNC VS. SYNC.
Some discussions can't take place asynchronously, but they're not the ones you're thinking of. Status updates? Asynchronous. Announcements? Asynchronous. Any meeting that has become a "catch up" session? Asynchronous.
Things that need to be done synchronously (note I didn't say face to face; a one-on-one video call can be effective) are things that tend to be more delicate. This includes brainstorming sessions, conflict resolutions, and conversations around professional development (e.g., performance reviews, career development). When choosing async or sync communications, remember that requiring everyone to gather in the same room at the same time can be very expensive, especially if the purpose is something short of strategy or intentionally socially connecting people.
3. EMBRACE ENTERPRISE-WIDE COLLABORATION. 
Having an enterprise-wide collaboration space is critical. One of the things that provided muted success in our past was the departmental deployment of Slack. We all loved the speed with which information flowed as we embraced Slack, but we found it vexing to work with adjacent divisions and customers because we couldn't keep the same velocity of collaboration going. Using Microsoft Teams as a standard for university-wide communications can take that vexation away.
4. INCLUDE REMOTE EMPLOYEES.
If one person is remote, act as though the whole team is remote. Why? Because we profess to be an inclusive organization, and that includes those who work remotely. If a critical team member is remote, forcing them to participate in synchronous meetings through a conference bridge or by making them the "talking head" on the projector wall makes them feel excluded. We can see them, but they can't see us. Is Microsoft Teams perfect and glitch-free? No. But it is ubiquitous at UVU, and that is getting pretty close to perfect. Let's take advantage of Microsoft Teams to help make remote employees feel included.
5. COMMUNICATE INTENTIONALLY.
Remote management requires intentional communication between all parties. It isn't enough to have a leader who is broadcasting the messages if everyone is ignoring them. Communication is bi-directional. I've learned that as a leader, I need to find more ways to listen to my team. In practice, this means a little more structure (scheduled interactions) with my team and a little less verbal conveying of information. I've also learned that the information I need from my team was easily sent and tracked through JIRA. Using JIRA, my team can communicate transparently about their tasks, obstacles, and successes while allowing me to process that information asynchronously. I've discovered that the more information I have in JIRA, the more effective I am in our synchronous meetings. The benefit here is two-fold.
If a need for air cover arises, there is meaningful context located somewhere where everyone can see it, not just in some email thread I may or may not have archived or deleted. Jira provides shared understanding and avoids information silos.

The transparency that provides the air cover also provides some individual feedback that helps the people involved understand the cadence or speed of work.
The fact is, we are all working hard; we just aren't effective at communicating it. Forcing my team into verbal, face-to-face status meetings for every deliverable, commitment, or responsibility is draining for them, expensive for the institution, and an ineffective solution. Instead, we need to be more intentional about communicating asynchronously, and JIRA is a great tool for that.
6. TAKE BREAKS.
Permit yourself to take a break. In the office, no one is 100% focused on their tasks 100% of the time! There are hallway and breakroom conversations, walks between appointments, and even bathroom breaks (heaven forbid!). Feeling burned out? Go for a walk! Grab a snack! Even take 20 minutes to run to the post office! We do all those things when we work on-site. Why? Because breaks give you time to sort and process what you're working on. In other words, it's a chance to ideate. Then, when the break is done, use work tracking mechanisms to get back on course.
7. LOOK FORWARD. 
Look forward. What's the adage? "There is a reason the windshield is bigger than the rear-view mirror." The best things are yet to come. Rarely in my career have I worked in an organization that has so much potential to change the world we know, to build something awesome, and to create a new path. There is a lot of uncertainty on the horizon. There's a lot of baggage dragging behind us. But as we see the good in each other, give each other a clean slate, and have frank conversations about how to let go of the baggage, we can embrace the future and rediscover some of the excitement that got sucked out of our jobs in the last 18 months.
I get excited and, honestly, a little overwhelmed when I think about what our division will be doing and delivering five years from now. There is a ton of work ahead. There will be long days, missed deadlines, and stressful conversations, but there is not another group of people I want to get through this with. What's before us will be different than what's behind us. At the end of the day, we work here because we like what we do and who we get to do it with.
I'm grateful to be a part of the team.
INSTITUTIONAL RESEARCH DASHBOARDS: Female Enrollment
Tim Stanley,

 
Director of Institutional Research 

Geoff Matthews,
Associate Director of Reporting, Analysis, Data Mgmt.


There are times when campus leaders ask broadly stated questions that need to be answered in clearly defined ways. One of these questions is, "Why are women under-represented among our graduates?" 
For 2019-20, 46% of award recipients at UVU were women. On the surface, this appears like a disparity. However, UVU's Fall 2020 enrollment was 49% female. If you exclude high school students, it is 47% female. If you only count continuing students, 43% of students are women. When you take these enrollment numbers into account, the initial disparity in awards seems less concerning. 
https://www.uvu.edu/ir/performance-indicators/inclusion-diversity/women.html#obj3
The obvious question here is why fewer women are enrolled at UVU. When you look at enrollment by age, it becomes apparent that our younger students are more likely to be women, while our older students are more likely to be men. 56% of students 18-21 are women, but 58% of students 22-24 are men, as are 69% of students 25-29. Women aren't a majority within an age group until 40-49 (67%), but students that fall within this range are a minority at UVU. In short, the reason for UVU having more men enrolled than women is a function of age.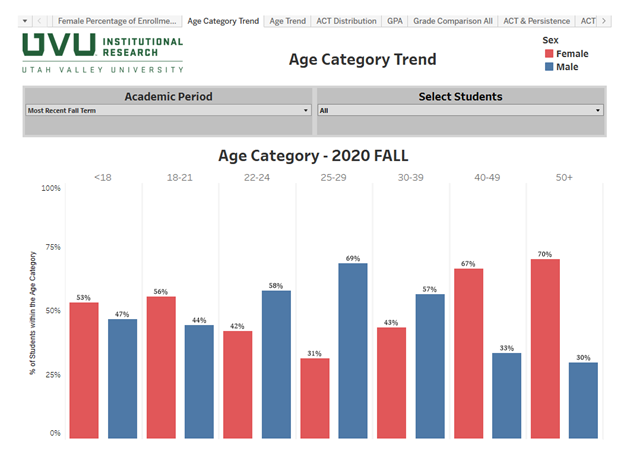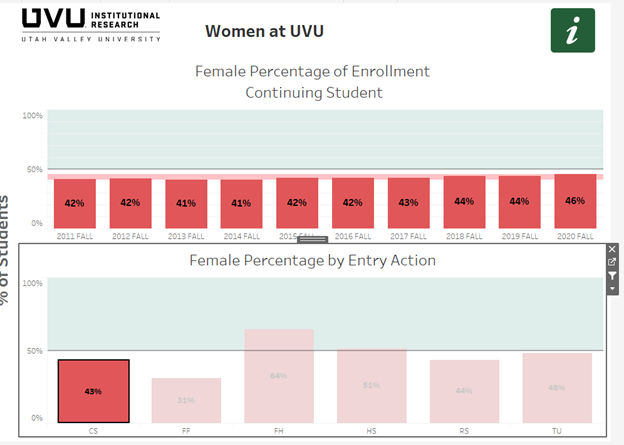 OPEN JOB POSITIONS
The following positions are available in 
Dx, b
ut be sure to watch
uvu.jobs
for upcoming opportunities in Dx. 
Is there an opening in your division or department that needs to be filled? Be sure to get it approved according to the Temporary Human Resources Guidelines. Once the position is open, get the word out by submitting it to Caitlin Tobler for next month's newsletter. 
NEW EMPLOYEES
The following individuals have been recently hired by Dx:
Stephan Fassman

,

Technical Writer 

Emma Strange

,

Part-time Admin Support 

Gabby Romero

, Student Employee Admin Support 

Robbie Smith

, Student Employee Admin Support 

Katie Garcia

, Service Desk 
We are so excited to have these individuals on our team! Be sure to give them a warm welcome!