WOLVERINE SIGHTINGS 
Have you seen a UVU staff member offering exceptional service or giving an exemplary performance? Remember to nominate them for the Wolverine Sighting Employee Recognition Award! 
PACE DISTINGUISHED EMPLOYEE AWARD  
Do you know someone awesome that deserves to be recognized with a $1,750 award for full-time (or $1,000 award for part-time) staff employees? Nominate that person today for the Pace Distinguished Employee Award. Here are the criteria: 
The employee advances the core values of Exceptional Care, Exceptional Accountability, and Exceptional Results. Give examples, please!

The individual has been employed full-time for three years or part-time for one year.

The employee cannot have received this award in the previous five years.

If you need a UVID or supervisor information, please refer to the Org Chart in 

https://my.uvu.edu/

 under Banner Services, then Organization Chart.
Nominations will close on March 1, so do not delay! Fill out the new and improved online nomination here: 
PACE DISTINGUISHED EMPLOYEE AWARD 
CALENDAR & EVENTS

Groundhog Day   
2/2/2021
Tuesday, February 2 is Groundhog Day. This year will be Punxsutawney Phil's 131st prediction. If you're curious about how and when this tradition began, read up on the odd origins of this holiday. 
Chinese New Year    
2/12/2021
Friday, February 12 is the Chinese New Year, otherwise called the Lunar New Year. This ancient holiday is celebrated in China and by people of Chinese descent all around the world. If you want to learn more, take a minute to read about the history of this popular international holiday. 
Valentine's Day    
2/14/2021
Sunday, February 14 is Valentine's Day. The origins and history of this holiday are old and frequently debated, but it is interesting to read about nonetheless. This Valentine's Day, make sure to show your loved ones that you care. 
Presidents' Day
2/15/2021
Monday, February 15 is Presidents' Day. Although this public holiday commemorates all American presidents, it first began as a celebration of George Washington's birthday. If you're interested, you can read more about the interesting history of Presidents' Day. 
ANNOUNCEMENTS AND REMINDERS
We have been told to prepare for a second round of CARES Act funding. Please update your commitment lists and identify which items could move "above the line" with additional funding. Along with those items, please have a plan in place for purchases, team augmentation, etc., that you could act on quickly if funds are available.
DEPARTMENT HIGHLIGHTS
The cost of a projector for the ballroom has been extreme in the past. The current projector is up on the 7-year refresh cycle and is beginning to fail. Getting a projector bright enough to still have the house lights on is nearly impossible, especially when the stage lights are needed. The ambient light washes out the projector making the content indistinguishable. After integrating the 43' displays in the Noorda center, we decided to look into the cost of doing an LED wall in this venue. In the end, we were able to do two displays for less than the cost of the replacement projector.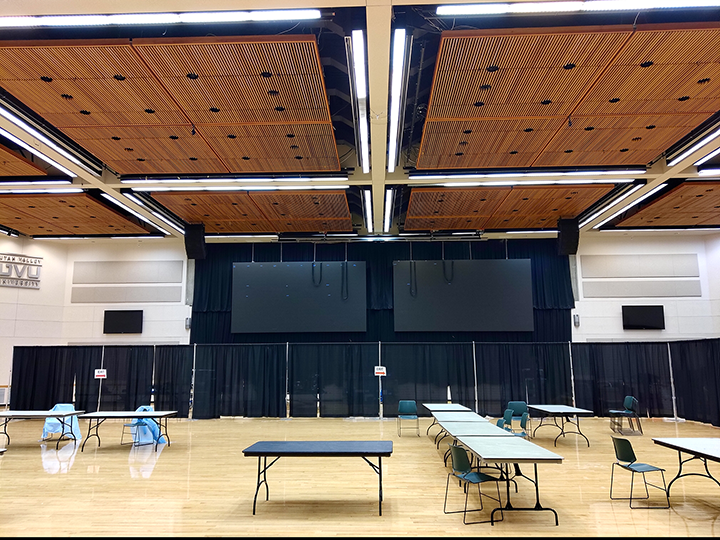 Travis Tasker  
Director of AVSE and Media Services 
THE NEW DIGITAL SERVICE MANAGEMENT DEPARTMENT
We are pleased to announce the creation of a new Digital Service Management department with Bobby Lott as the director. This department is responsible for proactive (tier 0) support activities, including the knowledgebase, chatbot, virtual agents, customer portal, and end-user training.
The position previously held by Gerald Bunker has been assigned to this new department and reclassified as a knowledge management administrator. The opening for this position will be posted shortly.
Jessica Houston has been promoted to director of the Service Desk, with Jessica Tripp and Cynthia Wilson as assistant directors.
The purpose of these changes is to:
Advance our "shift left" strategy of making support resources as accessible to our customers as possible so that they are empowered to answer questions and resolve issues on their own.

Continue providing customers who contact the Service Desk with the information, services, processes, and escalation paths they need to resolve their concerns in a delightful manner.
Congratulations to Bobby Lott, Jessica Houston, Jessica Tripp, and Cynthia Wilson! We are confident that you will excel in your roles and provide exceptional care, exceptional accountability, and exceptional results!
David Tobler
Senior Director of Technology Support & Programming Services
ATLASSIAN IMPLEMENTATION MANAGEMENT
Dx has created an Atlassian product management team to help us grow and improve our project management, service management, documentation, and other related services that live under the Atlassian umbrella. 
Below is the current structure of the group. We are working fast and furiously to create an implementation roadmap to engage with the best consultants and engineers to help us pull this together. There are a lot of potential wins as we coordinate and grow each of these areas simultaneously.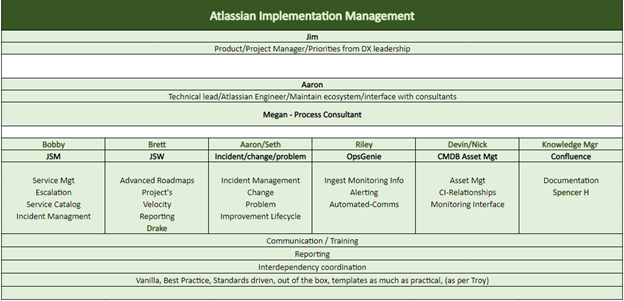 A channel was created in OIT – Internal called Atlassian PM Team. If there are any questions, concerns, or requests, please reach out on that channel. We will try to keep everyone updated as we make progress.
Jim Condie
Director of IT Operations 
A CENTRALIZED SPACE FOR DOCUMENTATION
Hey Dx Crew! 
In cooperation with leadership, the Service Desk, and Desktop Support, we now have a centralized Confluence space for documentation called "Dx Standards, Rules, and Services." 
This new Confluence space contains sections for:
This 

is basically an employee handbook

area for Dx documentation from senior leadership that applies to all of us.
This area is for all departments to keep area-specific documentation that does not directly relate to business services or 

simply a 

link to their department space. 
This awesome area was inspired by the desktop techs and the Service Desk. It contains a list of business services, what they do, who runs them, escalation information, and more. 

Within this area, there is also a tiered structure that allows any particular service to have a tier of documents that all of Dx can see as well as tiers with various security levels. This tiered system manages and restricts technical documents to specific teams or individuals as needed.
Please check out the new documentation space. Let us know if anything is missing or if anything can be improved. 
Additionally, there is an effort to clean up all of the abandoned spaces in Confluence. This effort is not an attempt to shut down any spaces or to limit anyone's ability to use the Confluence product. It is simply a housekeeping effort to remove, archive, or consolidate spaces that are outdated, obsolete, etc. 
Please reach out to Spencer Holt if you: own or are aware of a space that needs to be cleaned up, have feedback for improvements, or have problems accessing the site.
Jim Condie
Director of IT Operations 
WHERE IS YOUR LOCUS OF CONTROL?
In January, our assigned reading was Extreme Ownership: How U.S. Navy SEALs Lead and Win. Through that reading, we've all learned many ways to take more personal responsibility and ownership. We've all seen people who jump into action, work through obstacles, and complete what they've been asked to do.
But extreme ownership can be a big ask. It can be tempting to feel a little lost when faced with a new assignment. However, our leaders have made it clear that we are empowered to make decisions about our day-to-day work and special assignments, and they will back us up. Still, some of us might be afraid to move forward on our work without direct permission. We may fear being second-guessed, making a decision that would lead to a reprimand, or having to redo work.
When we take responsibility, we also take control. Adopting an internal locus of control is key to success in developing extreme ownership. 
"Locus of control is the degree to which people believe that they, as opposed to external forces (beyond their influence), have control over the outcome of events in their lives." (https://en.wikipedia.org/wiki/Locus_of_control) 
People with an external locus of control tend to be tentative, feel unempowered, and defer to a higher authority for most answers or decisions.
An internal locus of control is the opposite. People with an internal locus of control believe they can succeed based on their own ability to learn, make good choices, and act independently.
While a locus of control is neither inherently good nor bad, a healthy internal locus of control helps people accomplish goals, including role-related work and special assignments. Rather than waiting to be told how to do things, people with an internal locus of control figure out what is needed and get it done.
So how can we apply these principles to the work we do? We need to recognize that when we take responsibility for something, regardless of whether it's our everyday work or a special assignment, we are authorized to do what is required (within reason) to accomplish it. 
Many of us have felt that the leadership transition has been difficult. Some of our roles and authority aren't fully defined, but we can ask questions up our reporting line to get clarification.
Captain David Marquet, commander of the USS Santa Fe nuclear submarine, wanted to empower his people as far as he possibly could. So Captain Marquet implemented what Stephen Covey called in his book The 8th Habit the "I intend to" principle. When any officer or sailor encounters a situation that requires a decision beyond their authority, they decide what to do before bringing their plan to the Captain. "Throughout the day people would come up to the captain and say I intend to do this, or I intend to do that," recalled Covey. "The captain would often ask questions and then say 'Very well.'"
Covey went on to observe that, "I intend to is different in kind than I recommend. The person has done more analytical work, to the point that he is totally prepared to carry out the action once it is approved. She has owned not only the problem but the solution as well." The USS Santa Fe subsequently received the Arleigh Burke Trophy for most improved submarine, ship, or aviation squadron in the Pacific.
I believe there are many ways we can show personal responsibility in our work, and they all start with being sure we are fully aware of what we're responsible for. In turn, that awareness starts with communication. We listen and participate in meetings. We read our email and Teams messages and respond with questions, answers, and updates in timely manner. We talk with our supervisors, teammates, customers, and stakeholders regularly. In this way, we know what we should be doing to own our assignments, day-to-day work, and relationships.
Brett McKeachnie
Senior Director of Product Portfolio Management 
CHARACTER THOUGHT
Pick Your Battles
I have more to do in every day than I can possibly do.  I can't do it all.  The only way I can manage is to pick my spots; decide what I'm going to do, what I'm not going to do, and what I'm going to have others do.
Jim Quigley – CEO, Deloitte & Touche USA
Joe Belnap 
Senior Director of Special Projects for IT
EMPLOYEE NEWS

Open Job Positions
The following positions are available in Dx as of January 29, 2021:
Be sure to watch UVU.jobs for more opportunities in Dx.  
Is there an opening in your division or department that needs to be filled? Be sure to get it approved according to the Temporary Human Resources Guidelines. Once the position is open, get the word out by submitting it to Caitlin Tobler for next month's newsletter. 
New Employees
The following individuals have been recently hired by Dx, transferred to a new department, or given a promotion. 
Dallas LeGrande

, Application Admin - Degree Works

Colton Welch

, Systems Specialist III
We are so excited to have these new hires on our team! Be sure to give them a warm welcome! 
Retiring Employees
On February 15, Denise Vandevanter will retire after 33 years of dedicated service to UVU. Denise started in the Financial Aid Office in 1987 and moved to IT in the late 1990s. In 2008 she became Director of Administrative Programming Services. Jeff Anderson will be assuming Denise's role when she retires. Congratulations, Denise, on a standout career, and best wishes for your retirement! We'll miss your knowledge, professionalism, perseverance, amiable disposition, and lively laugh.
David Tobler

Senior Director of Technology Support & Programming Services