Dx TEAM RECOGNITION
People all across Dx work hard and accomplish amazing things every day. The Dx Team Recognition is a way to let someone in Dx know that their great efforts over the past week have been noticed. During the Half-Time live-stream each Wednesday at 11:45 AM, we recognize a deserving recipient. The selected person will receive a certificate to print and two movie vouchers. More importantly, they receive recognition by everyone across Dx for their great work. Nominations for the Dx Team Recognition must be received by 5:00 PM on Tuesday to be considered for the following Wednesday's Half-Time recognition. To nominate someone for the Team Recognition, navigate to the OIT - Public team in Teams, then go into the Half-Time channel, and select the Team Recognition tab from the top menu. Alternatively, you can 
follow this link to access the nomination form
. 
WOLVERINE SIGHTINGS
Have you seen a UVU staff member offering exceptional service or giving an exemplary performance? Remember to nominate them for the 
Wolverine Sighting Employee Recognition Award
! The Wolverine Sighting Award is an employee recognition award sponsored by PACE. Nominees must be full- or part-time UVU staff employees, but there is no minimum requirement for years of employment and nominations are accepted year-round.


STATUSPAGE UPDATES
Dr. J. Kelly Flanagan,
 Vice President of Digital Transformation / CIO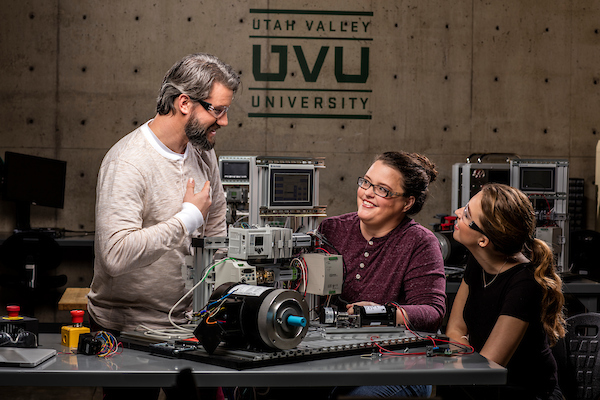 At Utah Valley University (UVU), we continue to develop a culture where we focus our efforts on students. UVU is an integrated university and community college that educates every student for success in work and life through excellence in engaged teaching, services, and scholarship. In this post, I address how a service organization like the UVU Division of Digital Transformation (Dx) can participate in engaged teaching.
Engaged Teaching
The UVU Office of Engaged Learning describes engaged teaching as the teaching, learning, and scholarship that engages faculty, students, and community in mutually beneficial and respectful collaboration. Consider the three possible pairings of students and faculty, community and faculty, and students and community.
First, students learn from faculty, but faculty, in turn, learn from students. In addition, students help faculty develop scholarship. Second, our community advises our faculty and gives their scholarship direction. Likewise, our faculty develop scholarship that benefits our community and local economy. Finally, our community provides mentoring, internships, scholarships, and jobs for our students and graduates, and our students provide our community with knowledge, energy, and fresh perspectives.
Our On-Campus Community
Dx at UVU is like information technology organizations at other universities in that Dx provides information technology infrastructure such as networks, servers, storage, telephony, identity, and more. In addition, Dx includes enterprise architecture, product portfolio management, process improvement services, classroom technology, teaching technology, mobile computing platforms, teaching studios, and more.
Dx provides these products and services through the work of full-time, part-time, and some student employees. In addition to their "day jobs," some of these employees teach as adjunct faculty in various academic units on campus. In this role, they contribute to engaged teaching as described above. 
However, a campus service organization like Dx can more fully participate in engaged teaching as members of the broader community. In other words, Dx should serve as advisors to our faculty and give their academic scholarship real-world experience, data, and direction. Likewise, Dx should benefit from the faculty scholarship that informs our work. Dx should provide mentoring, internships, scholarships, and jobs for our students and graduates. In turn, these students will provide Dx with new knowledge, energy, and fresh perspectives. This insight from students regarding the student experience with the services provided is invaluable and will no doubt improve provided services.
Moving Forward
So, what needs to be done to transform Dx? Well, there are several approaches:
When Dx hires new full-time employees, they must have the ability and desire to mentor students above and beyond the traditionally required skills.

When full-time positions become available, Dx must consider filling the positions with multiple student employees. While student employee turnover is rapid, requiring a tremendous amount of training, isn't that why we're here—to educate students who take what we teach them and become productive contributors to society?

Dx should provide internships to UVU students.

Dx should provide meaningful capstone projects to student groups that will benefit them; in turn, the campus community will benefit from the project's outcome.

Dx must seek out faculty who teach classes and perform scholarly work that may benefit from the real-world experiences and data that Dx has. Dx must make these experiences and data readily available.

When Dx faces questions about technology choices, function, or performance, we should seek out the technical expertise of our faculty colleagues.

Finally, Dx must find ways to give directly to faculty and students. Perhaps Dx can fund named scholarships for students or fund endowed chairs for faculty. Both endeavors send a clear message that Dx is aware and engaged in the mission of the university.
Summary
Digital transformation is about much more than technology and its use; it's about changing thinking, process, and culture. It is time that Dx and other campus organizations transform to benefit our students more directly. Employees of Dx and all campus entities should become teachers, mentors, and examples to the students who come to us to learn and grow. We have an excellent opportunity to influence the world for good. Join me in this grand pursuit!
5 ASYNCHRONOUS COMMUNICATION STRATEGIES
Brett McKeachnie,

 
Sr. Director of Product Portfolio Management


In last month's Dx Newsletter, I submitted an article titled "Productive Asynchronous Communications" and yes, I do recommend we all go back and read it. The article's timing proved to be both appropriate and ironic; shortly after its publication, an asynchronous discussion on the topic of "asynchronous meetings" was initiated during our Dx Leadership meeting. For the sake of clarification, I want to point out that the phrase "asynchronous meetings" is an oxymoron. Productive asynchronous communications remove the need for meetings, which are by definition a type of synchronous communication. But before we dig into how we can improve our asynchronous communications, I have a little confession to make.

BRETT'S TRUE CONFESSION 

Hello, my name is Brett, and I'm a long-term email user and abuser. Over my 30+ year career, I have written tens of thousands of emails. Many of them have broken all of the rules I'm about to discuss in this article. There have been times (in fact, long periods of time) when my coworkers would open their inbox only to discover I had sent them an email as long as an e-book. I recall vividly their groans of dismay.

Why did I send those lengthy messages? It's simple. As an introvert, I thought that if I sent an extremely thorough message, I could avoid talking in person. Pursuing this goal transformed my emails into ramblings that contained everything I wanted to discuss. I thought communicating this way was efficient. The truth is, it wasn't. I noticed that the responses I got didn't meet my expectations of a complete answer, and I couldn't figure out why everyone avoided responding as thoroughly as I wanted them to. Over time, I realized that my strategy had several flaws:
By providing too much information, I confused my recipients, and my intended message was lost.

Recipients couldn't tell if I wanted a response to my message, so some messages were ignored.

In the cases where recipients

did

respond, they had difficulty choosing which topic to respond to. Often, recipients picked just one topic to address.
Over time, I've learned a thing or two from my sad experiences in e-book-writing. Additionally, my teachers, mentors, and colleagues have gently guided me toward better practices. Yet even with all that coaching, guess what my most recent performance evaluation said about communication? You guessed it: I still have work to do.

ANATOMY OF AN ASYNCHRONOUS MESSAGE 


I want to share with you five strategies that I have found extremely effective in improving my async communication strategies. They also support the improvements to culture, systems, and expectations (
see last month's article
) that we use to get work done within Dx. Use them when you are seeking feedback or a response. However, when an immediate response is not critical, then plan your work so you require fewer immediate responses!
1. Address one topic at a time.
Help your reader understand the point you are trying to make or the question you want answered by restricting the scope of your message to one topic. If your message is complex, then it is probably appropriate to use synchronous communication. 


2. Use lists and be concise.
Long messages can be confusing and intimidating. Instead, try writing your main points in a concise, simple list. Lists improve the clarity of your message and create whitespace, which helps the reader feel more comfortable with reading your whole message. If you find it hard to write concisely, rethink the purpose of your message.


3. Ask for what you want upfront.
Nobody wants to finish reading your message and wonder what the point was. It pays to put the punchline, the big ask, or the question right at the beginning of your message. The rest of the message can serve as optional context.


4. Give a clear deadline.
To avoid having your message put on the backburner, give a clear deadline for a response. I've seen the best results when I give my recipient one or two days to respond. This realistic timeframe gives the recipient time to respond thoughtfully while still conveying a sense of urgency.


5. Use async to avoid sync, but fall back to sync if needed.
Nobody wants to be called to a meeting if they can answer a question via email or chat. So use the "threat" of a meeting to encourage your recipient to respond asynchronously.

CONCLUSION 

When I follow these rules, my asynchronous communications achieve their desired results about 90% of the time. The other 10% of the time, a synchronous interaction is necessary anyway. Imagine freeing yourself from 90% of the meetings you have! Allowing people to respond on their own schedule helps us get better quality responses and outcomes, which leads to improved Care, Accountability, and Results. I invite everyone to apply these strategies to their async communications.
A NEW WAY OF BUDGETING
Ben Metzger,
Controller II - Digital Transformation 
July 1 begins a new fiscal year at UVU! On June 30, my family and I celebrated the ending of the fiscal year with ice cream. While the transition to a new fiscal year brings both dread and excitement to accountants, it probably doesn't register very high as a celebration for most UVU employees.
However, the end of this new fiscal year will hopefully be an exception. Digital Transformation is marking the path for the rest of the university with a new zero-based budget initiative. Zero-based budgeting occurs when, rather than receiving last year's allowance plus some factor for growth, a department's budget is instead reduced to zero at the start of a new year. The funds are then pulled back and centralized to be used to fund strategic objectives. The main advantage of zero-based budgeting is that it allows for greater spending flexibility based on the organization's priorities.
The desired outcome is to have expenses match the strategic priorities of the organization. Digital Transformation is implementing a modified zero-based budget program. I call it modified because each department's budget will have a set Current, Capital, and Travel (CCT) amount to cover day-to-day operational expenses. This amount is calculated based on a formula using the number of full- and part-time employees and the types of positions in a work area.
The funding that is pulled back is pooled into a General Projects fund. It is then disbursed based on how each submitted project scores in meeting divisional objectives.
Essentially, we are transitioning from a budget system where individuals or departments "own" the money to a value-based spending model where funds are "owned" at the division level, then allocated to specific, prioritized projects that meet strategic objectives. By doing this, we place greater accountability at the leadership level. Executives will be reporting to the university on our progress throughout this next year.
I'm excited about the change! Using this approach, we anticipate completing more projects in the year, decreasing the number of delays to those projects, and improving the visibility of our financial needs. Nevertheless, starting this journey isn't going to be a smooth ride filled with cool mountain breezes and spectacular vistas. There will be challenges along the way, and we will have to work through those together. Fortunately, that process is something Digital Transformation does best—tackling complex challenges and emerging victorious. We got this!
LEARNING SYSTEMS
Jason Hill, Director of Learning Systems 


R.I.P. LMB 
On July 17, Instructure is deprecating the API call currently in use by our Luminous Message Bus (LMB) platform that shuttles data from Banner to Canvas, including terms, courses, user profiles, and course enrollments. This integration between Banner and Canvas has been in use since we first deployed Canvas in 2011 and was used for our previous LMS. Deprecating the API used for our current integration with Banner and Canvas essentially kills the LMB, requiring us to develop a new integration. The Department of Learning Systems has worked closely with Systems Administration and Automation & Integration Services (AIS) to develop this new integration (Special thanks to Andrew McKinney and Chris Jones!). This new integration will provide greater consistency with enrollments, terms, course naming, and profile management, thus alleviating the Department of Learning Systems and Service Desk of many manual, time-consuming tasks. We're excited to get this new integration in place this summer!  
Microsoft Teams LTI in Canvas! 
Utah Valley University was selected by both Microsoft and Instructure to be the very first participant in Microsoft's Early Adopter Program for its brand-new LTIs in Canvas (announced last October during CanvasCon). These brand new LTIs are Microsoft Teams, Teams Meetings, and OneDrive, which allow for a deeper integration for two of our most crucial environments. Microsoft and Instructure began development of these tools in March of this year and completed the Microsoft Teams and Teams Meetings LTIs in time for us to deploy them across 23 Summer 2021 Block 2 courses to pilot them. Implementing these tools provided greater insight into user profile management in our Canvas instance and opportunities to efficiently switch our authentication method for Canvas from Shibboleth to Microsoft Authentication at some future point. Also, we've already been able to provide extremely helpful feedback to both Instructure and Microsoft because of this insight. All three tools are slated for general release this August in time for Fall 2021. Special thanks to Sam Gedeborg in OTL, Chris Jones in AIS, and Duane Lee and Reed Warner in Systems Administration for their collaboration, problem solving, and quick responsiveness to ensure the success of integrating these two platforms in our environment!

MOST FAILED COURSES AT UVU
Tim Stanley,
Director of Institutional Research 
In Institutional Research, we strive to make information available to decision-makers on a wide variety of topics. Even if it doesn't directly connect to your day-to-day work, understanding the experiences of our students helps connect us to the mission of UVU. In pursuit of that goal, I want to use this opportunity to introduce some of the interesting informational nuggets that can be found through the dashboards.
One of our most popular dashboards is the Most Failed Courses dashboard. I like this dashboard partly because it illustrates how a simple question like "What is the most failed class on campus?" might have two different answers that are both technically correct.
One way to interpret that question is, "What course are students most likely to fail?" Surprisingly, it is not math or anatomy, but Beginning American Sign Language. Over a third of the students in that class failed it. Note that only 117 students took that class.
Another way you might interpret that question is, "What class did the most students fail?" In this case, the courses with the highest number of students are very likely to have the highest student failure rates. In this case, 398 students failed English 1010: Introduction to Academic Writing (more than three times the number that even took Beginning ASL), but those students only represented 17% of the total students taking English 1010.
Both answers are "correct"—depending on which question you meant. When you provide an answer, it is equally critical to provide the question because it gives crucial context to the information.
CHARACTER THOUGHT: Fast or Far
Joe Belnap, Sr. Director of Special Projects for IT

There is an African Proverb that I feel is very applicable to Dx and what we are trying to accomplish:
If you want to go fast, go alone.
If you want to go far, go together.

OPEN JOB POSITIONS
The following positions are available in 
Dx, b
ut be sure to watch 
UVU.jobs
for upcoming opportunities in Dx. 
Is there an opening in your division or department that needs to be filled? Be sure to get it approved according to the Temporary Human Resources Guidelines. Once the position is open, get the word out by submitting it to Caitlin Tobler for next month's newsletter. 
NEW EMPLOYEES
Tim Stanley,

 
Director of Institutional Research 

Geoff Matthews,
Associate Director of Reporting, Analysis, Data Mgmt.


There are times when campus leaders ask broadly stated questions that need to be answered in clearly defined ways. One of these questions is, "Why are women under-represented among our graduates?" 
For 2019-20, 46% of award recipients at UVU were women. On the surface, this appears like a disparity. However, UVU's Fall 2020 enrollment was 49% female. If you exclude high school students, it is 47% female. If you only count continuing students, 43% of students are women. When you take these enrollment numbers into account, the initial disparity in awards seems less concerning. 
https://www.uvu.edu/ir/performance-indicators/inclusion-diversity/women.html#obj3
The obvious question here is why fewer women are enrolled at UVU. When you look at enrollment by age, it becomes apparent that our younger students are more likely to be women, while our older students are more likely to be men. 56% of students 18-21 are women, but 58% of students 22-24 are men, as are 69% of students 25-29. Women aren't a majority within an age group until 40-49 (67%), but students that fall within this range are a minority at UVU. In short, the reason for UVU having more men enrolled than women is a function of age.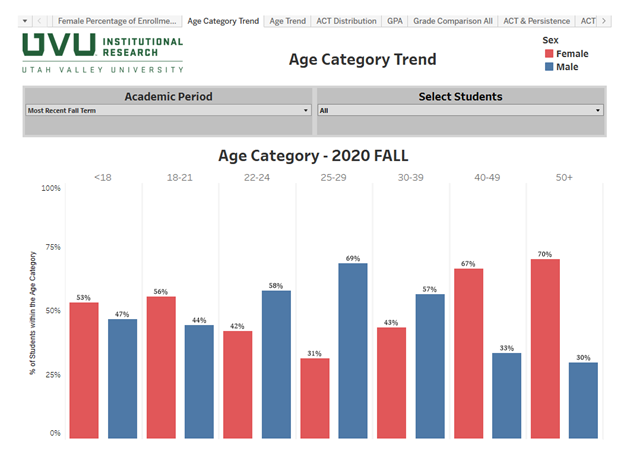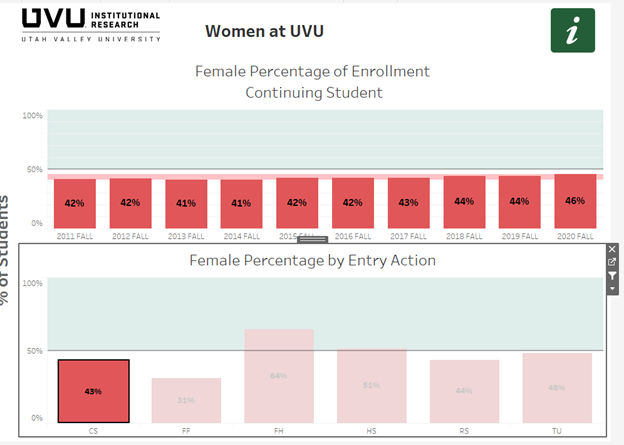 PROMOTIONS
This month, no individuals have retired, been promoted, or switched departments. But there is no telling what will happen in the future, so be sure to check back next month!