MAKING A CAREER AT UVU
Brett McKeachnie,
Senior Director of Product Portfolio Management


UVU, and specifically Dx, can be an exciting place to build or continue a career. Some see Dx as a land of endless opportunities, a place to try new things, stretch yourself, grow into roles, and make career progress. Meanwhile, others find it extremely difficult to achieve their preferred career velocity in the often murky and seemingly uncharted waters. In this article, I wish to seed ideas and spread hope to anyone in Dx that may be feeling unsatisfied with their career progress. 
It's Up to You
This may sound like a cliché, but your destiny is in your own hands. We can't expect our boss, our coworkers, or even "the system" to line up and pave the road to success for us. Often, we must pave the road for ourselves. But how? 
Each of us has individual strengths that will take us far. Discover and develop your strengths, then put them to good use. Look for things that can be improved within your sphere of influence and take the initiative to improve them. Don't be intimidated by the history or tradition of a process (some of which were started in the proverbial dark ages). If you feel stuck in the status quo, you might not be the only one. Find individuals who recognize the issues you are seeing, then work together to positively impact "the system" (find shortcuts, eliminate duplicate efforts, automate tasks, etc.). Sometimes, change requires the bravery to ask difficult questions. In some cases, there are very good reasons for handling a process in a particular way, but if nobody ever asks questions, we'll never find an easier way. Be willing to bring up new ideas with those who "own" traditional processes and see if there's room for negotiation. You'll probably be surprised at just how much you can initiate and influence the digital transformation of UVU. 
No Task Is Too Small
OK, so this is another cliché, but it's true—no task is too small! None of us should ever be bored in Dx! Not every task we encounter will be the masterwork or magnum opus that launches our career. We all have little things to tackle. A few weeks ago, I was in an establishment, and on the wall was a list of menial tasks (cleaning, taking out the garbage, and organizing items). Above it, the sign read "Things We All Do Every Day." Being part of a team means we each get responsibility for a portion of the trivial, seemingly pointless (and sometimes even questionably effective) menial tasks. Embrace the small things by figuring out new or more effective ways to do them. 
Be a Starter
Over the past 29 years, I've watched UVU grow from around 7,000 students to over 40,000. The tech and processes supporting that growth have not necessarily matured on the same schedule. Honestly, there are gaps in our processes and our operations. Look for things that are missing, find solutions for holes in our processes, and propose something new to fill the gaps. It doesn't have to be in your job description or even in your area. When everyone gets involved in developing and growing Dx, we all win, and so do the careers of those who help make it happen.
Onward and Upward
If you're feeling like a fish out of water, I hope something I've discussed here is of value to you. We have a monumental task ahead, and each of us plays a necessary and important part in accomplishing it. I feel confident that by taking control of your destiny, embracing even the small tasks, and finding ways to fill gaps, you will experience greater fulfillment in your work and reap career rewards as a result.
BEING CUSTOMER-CENTRIC IN A ONE-SIZE-FITS-ALL WORLD
Joe Belnap,
Senior Director of Special Projects for IT


Many aim to be customer-focused but struggle to know what it actually looks like and how to truly make customers the center of their decisions.  Customer experience is continually evolving as technology and customer demands change.  However, we should always consider these six factors: 

Led By Customer-Centric Leaders
True customer-centricity starts at the top. The most customer-centric leaders set the example to ingrain a customer focus into the culture and make customers central to every decision the company makes by continually listening to customers and staff and taking risks to try new things to best serve customers. 
Focus on Personalization
Modern customers have experienced hyper-personalization from big companies like Spotify, Amazon, and Netflix and now expect every company, big and small, to offer high levels of personalization; i.e., delivering unique experiences to each person instead of one-size-fits-all solutions.  For example, Tesla focuses on personalization through its driver profiles.  Tesla cars remember each driver's preference for seat, steering wheel, and mirror location, as well as suspension, braking, radio presets, and even driving style; allowing each person to drive the car in the way they want and that is most comfortable to them. 
Make Customers' Lives Easier, Even If You Have to Work Harder
One of the main things customers look for is convenience.  They want to be able to get the information and service they need based on their schedules.  A customer-centric alternative to limited availability is a self-service option where customers can chat with a bot at any time of day or night and then be seamlessly transferred to a human agent if they need extra assistance.  Self-service options may be more difficult to provide and require more time and resources, but they do make customers' lives easier. 
Undergo a Digital Transformation
We shouldn't undergo digital transformation simply to say we've done it or to adopt the flashiest technology; real digital transformation is rooted in solving customer problems and delivering a consistent, high-quality experience.  A customer-focused digital transformation shifts the mindset of the entire institution to solve problems with digital solutions.  In today's world of technology, we have to continually transform to stay relevant. 
Proactively Use Data
There has never been more customer data available than there is today, and customer-centric companies use that data to offer support before customers even realize they need it.  Customer-centric organizations aren't just focused on putting out fires or addressing concerns customers have—they proactively aim to create positive experiences, recommend products, and solve problems before they become larger issues. 
Innovate and Pivot
It's impossible to overemphasize the importance of agility, i.e., swiftly changing direction to meet the customer's rapidly changing needs, often even before they realize the need for something new.  Customer-centric organizations aren't afraid to take risks and innovate.  They don't get bogged down with red tape and bureaucracy and instead aim for continual innovation to bring the best products and services to customers. 
When an institution is truly customer-centric, every decision and action is done with customers in mind. That sets the tone and leads the way with loyal, satisfied customers.
2022 COMMENCEMENT INFORMATION
The IR Department
This document details UVU's commencement data for 2021-2022: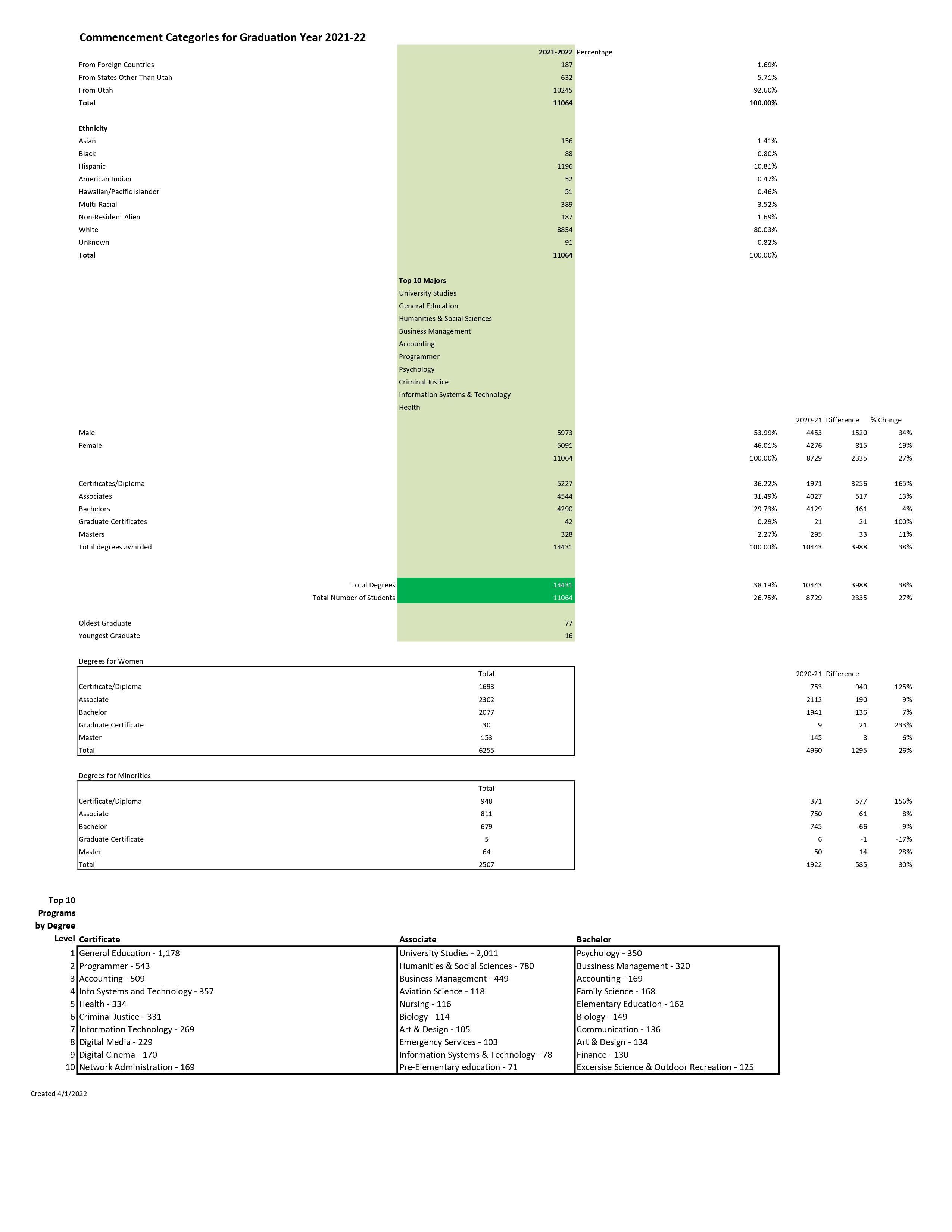 OPEN JOB POSITIONS
The following positions are available in Dx. Be sure to watch
uvu.jobs
for upcoming opportunities in Dx. 
Is there an opening in your division or department that needs to be filled? Be sure to get it approved according to the
Temporary Human Resources Guidelines
. Once the position is open, get the word out by submitting it to Caitlin Tobler for next month's newsletter.
NEW EMPLOYEES
This month, no new employees were reported as being hired. However, we would like to announce that Dallas LeGrande has been promoted to
Application Administrator II - Enterprise Applications. Congratulations, Dallas!