TIME VS. ENERGY
Brett McKeachnie,
Senior Director of Product Portfolio Management
Physicist Albert-László Barabási once wrote, "Time is our most valuable non-renewable resource, and if we want to treat it with respect, we need to set priorities." 
To many of us, that translates into attitudes like "I have to work straight through until this priority job is done" or "I must fill my time with work." I've been thinking a lot about the long hours many of us put in on our work. Because we "care," we feel "accountable" to deliver the "results" our customers need. We feel compelled by our own internal sense of responsibility to accomplish as much as possible in whatever time it takes. And it's killing us!  
I consistently participate in the trainings and activities distributed in HR's monthly learning calendars. A few of April's trainings have come from a LinkedIn Learning course called "Recharge Your Energy for Peak Performance" by Heidi Hanna, a speaker, published author, and globally recognized stress and resilience expert. The introduction to her course says, "Our ability to be productive and perform at work is not based on the time we spend on each task, but the energy we bring to the time we have." 
We all know very well that without adequate rest and relaxation time, we don't regain the energy we need to perform at our best. While time is a finite resource, energy is different. Energy helps us make the most of our time, and it is renewable. 
A Google search on the topic of prioritizing time to recharge led me to an article in the Harvard Business Review (HBR) titled "Manage Your Energy, Not Your Time." The article explores what actually helps us to recharge our energy levels and reinforces the lessons from the LinkedIn Learning course I mentioned above. 
"Defined in physics as the capacity to work, energy comes from four main wellsprings in human beings: the body, emotions, mind, and spirit. In each, energy can be systematically expanded and regularly renewed by establishing specific rituals—behaviors that are intentionally practiced and precisely scheduled, with the goal of making them unconscious and automatic as quickly as possible." -HBR 
The HBR article reported that most people who participate in one program to increase their energy find that they are typically doing less than 50% of proven energy-boosting activities. They're doing things such as skipping breakfast, failing to express appreciation to others, struggling to focus on one thing at a time, or spending too little time on activities that give them a sense of purpose. 
Both the LinkedIn Learning course and the HBR article discussed important rituals for boosting and maintaining our energy. I'll mention a few ideas for rituals here, but I want to emphasize that a critical factor to rituals is that they are done at specific times⁠—sometimes by the clock and sometimes as an immediate response to events or incidents in our lives. 
The Body: Physical Energy 
"It is scarcely news that inadequate nutrition, exercise, sleep, and rest diminish people's basic energy levels, as well as their ability to manage their emotions and focus their attention." -HBR 
This concept is widely known and understood, and yet we all feel pulled toward comfortable behaviors and old habits. To overcome these "gravitational forces," rituals are key. Rituals to regain physical energy include exercising regularly, going to sleep at a consistent time and duration, and eating small meals and snacks every three hours. Another important thing to do is to honor our ultradian rhythms by taking breaks every 90-120 minutes. During such breaks, we get away from our work (and our desk) to walk, talk with colleagues, listen to music or podcasts, or find other ways to disconnect from work mentally and physically. When we return, we'll have new creative ideas to work with and the energy we need to pursue them. 
The Emotions: Quality of Energy 
"Confronted with relentless demands and unexpected challenges, people tend to slip into negative emotions—the fight-or-flight mode—often multiple times in a day. They become irritable and impatient, or anxious and insecure. Such states of mind drain people's energy and cause friction in their relationships. Fight-or-flight emotions also make it impossible to think clearly, logically, and reflectively." -HBR 
One of the key rituals for overcoming emotional challenges that zap our energy is to breathe! Deep rhythmic abdominal breathing gets us out of our heads and into the present state of our bodies. Another idea is to express appreciation to others, which is good for them and for us. Another insightful idea from HBR is to try to change the stories we tell ourselves about our situation. We do this by looking at things through three new lenses: the reverse lens, the long lens, and the wide lens.  
"With the reverse lens, for example, people ask themselves, "What would the other person in this conflict say and in what ways might that be true?" With the long lens they ask, "How will I most likely view this situation in six months?" With the wide lens they ask themselves, "Regardless of the outcome of this issue, how can I grow and learn from it?" " -HBR 
The Mind: Focus of Energy 
"Many [people] view multitasking as a necessity in the face of all the demands they juggle, but it actually undermines productivity. Distractions are costly: A temporary shift in attention from one task to another—stopping to answer an e-mail or take a phone call, for instance—increases the amount of time necessary to finish the primary task by as much as 25%, a phenomenon known as "switching time." It's far more efficient to fully focus for 90 to 120 minutes, take a true break, and then fully focus on the next activity. We refer to these work periods as "ultradian sprints." " -HBR 
I've discussed the benefits of deep work before, but we all know it's far easier to say than to do. Rituals that support our mental focus include: 
Leaving our desks and going to a conference room or distraction-free area for focused activities.

Letting our phones go to voicemail during meetings so that we can focus on the task at hand. 

Checking email only twice a day, then batch focusing for several minutes straight to get through it all. 

Scheduling our challenging work (often first thing in the morning) rather than trying to fit it in. 
The Human Spirit: Energy of Meaning 
"People tap into the energy of the human spirit when their everyday work and activities are consistent with what they value most and with what gives them a sense of meaning and purpose. If the work they're doing really matters to them, they typically feel more positive energy, focus better, and demonstrate greater perseverance. Regrettably, the high demands and fast pace of corporate life don't leave much time to pay attention to these issues, and many people don't even recognize meaning and purpose as potential sources of energy." -HBR 
To be fair, if we started with the human spirit component, it would likely have minimal impact. It's only after we establish a physical, mental, or emotional ritual that we can see how being attentive to our own deeper needs dramatically influences our effectiveness and satisfaction at work. 
To tap into the energy of meaning, we can perform a simple ritual. It involves asking ourselves just one question and thinking deeply about the answer. The question is, what do you want to be remembered for? Probably not for being a workaholic, absent friend, inattentive spouse, or distant parent. 
"To access the energy of the human spirit, people need to clarify priorities and establish accompanying rituals in three categories: doing what they do best and enjoy most at work; consciously allocating time and energy to the areas of their lives—work, family, health, service to others—they deem most important; and living their core values in their daily behaviors." -HBR 
Regarding that first category, note that there is no mutual exclusivity to doing what we do best and doing what we enjoy doing. We may not like what we do best, nor vice versa. But our spiritual energy reserves can be replenished through doing either. 
Categories two and three are about being true to ourselves and what's best for our wellbeing. If what we are doing isn't important to us, we need to build up our human spirit by spending more time on what is important—perhaps for a specified period each day, week, month, or year. Undistracted family time after work, travel on the weekends, or other activities on vacation days can rejuvenate our souls and make us feel like ourselves again. 
When it comes to category three (living our core values), "Most people are living at such a furious pace that they rarely stop to ask themselves what they stand for and who they want to be. As a consequence, they let external demands dictate their actions." -HBR 
It can be hard to figure out what we value, but a practical exercise to discover that might be to ask yourself: What qualities do you find most off-putting when you see them in others? By describing what we can't stand, we divulge what we do stand for. After we understand that, then we can develop the rituals we need to live true to ourselves. 
Conclusion 
As the summer begins, I hope that each of us has a chance to recharge and even reboot a bit. Even though there is so much work to do during the summer, please take some time off to build up your energy. When you do, you'll find that when you return, you'll be ready to do more than you could have without sufficient rest. Doing these rituals is important for ourselves and for our teams at work, too. When it comes to work, we all need support from each other and the overall organization. I'm hopeful that in the new Dx building, our common areas and other spaces will become places to recharge and refuel, get some quiet time to regroup, and build up your energy in each of the four aspects discussed above. If you need to do something to improve your energy at work and you are concerned it may affect others, talk to your boss. The chances are that everyone will be supportive of your efforts to bring your best self and your best energy to work. 
Sources: 
EXCEPTIONAL CARE: It's the Small, Intentional Things 
Laura Busby,
Director of Academic IT and Analytics 

My dad was the sales manager for Los Angeles and Orange Counties in Southern California for a large communications company for several years. I had the opportunity to work for him on a few of my extended visits during the summer when I was about 12 years old. It wasn't "Bring Your Daughter to Work Day." I really worked for him. He had me dress in my best clothes. I filed invoices and other documents, took notes for him in some of his meetings, and answered the phones. I also received my first real paycheck for the hours I worked. I loved it.  
One week he asked me to answer the phones while he was in a meeting with his sales team because the department's assistant was on vacation.1 He reviewed what I should say when I answered, how to transfer and hand off a call to another department, and how to take a message. He then went into the conference room with his team. 
When the meeting was over, he came to my desk and asked me for his messages. I gave him a couple and then told him someone had called in but didn't want to leave a message. He asked me who it was. I told him I didn't know. I told him that when they learned he was busy, they just said there was no need for a message.  
I thought I'd done a great job. I didn't think it was my problem that the person didn't leave a message. My dad saw it differently. He realized he hadn't covered everything when he trained me before the meeting. He then took the time to explain that every person that called needed something, and sometimes he wasn't the person who could or even should provide it. Maybe they didn't know who to call. So, he always looked for a way to help, even if it was small. He suggested that next time I ask the person what they needed and assure them he would want to help them as soon as he was available. He admitted that sometimes they still may not leave a message, but it was worth the extra time in case he could help them or be better prepared for when they called again. 
I've since realized that my dad wasn't really in the business of selling car phones and pagers.2 He was in the business of being helpful and building relationships, and then the sales came.  
The days of operating a business without a voicemail are long gone. Today, businesses are "shifting left" by providing bots and self-service tools for customers. These remarkable advancements help us provide information and resources that ultimately improve our customer's experience. Still, these tools cannot replace genuine relationships with our customers. It is only in the context of these trusting relationships that we can help solve customers' problems and provide a delightful experience.
Does this mean we personally take on every customer's problems?3 Maybe I'm taking things too far, but I still hold to the lesson my father taught me: always look for a way to help the caller, even if it's small. I think we should collectively be a customer's first "phone a friend." We can't provide that level of service if we don't personally engage with the customer. We can't provide that level of customer experience if our responses to customers' questions are near-robotic.
It's quite easy to hide behind the technology and think, "well, that's a problem for so-and-so," or "they should read the website or knowledge base article, and then they'd have their answer." I am guilty of this, especially when I have a lot on my to-do list. However, we need to be more deliberate in seeking interactions with customers and peers. Even brief chats on Teams help resolve a situation that could go on and on through email. 
I believe we all own the customer relationship individually. Every interaction we have—synchronously, asynchronously, and even perhaps in absentia through documentation or a bot—impacts whether our customer will trust us again. I also believe that we mutually own the customer's problem, even when it's determined to be a problem of perception.  
Our core values present an interesting balancing act. I'm interested in your take on exceptional customer care and would love to discuss this topic to understand your perspective. Reach out to me on Teams if you want to share your thoughts. 


End Notes: 
I've since had conversations with my dad about using child labor for his temporary employee needs. And, like most parents, he still doesn't see an issue with it. Thank goodness.

Car phones and pagers were communication devices in the era of the 8-track tape player. Scratch that. Not helpful.

I've enjoyed the book "Give and Take" by Adam Grant on the topic of being helpful and knowing where boundaries are. Which is a different, but I think related, topic.
THE DOG POOP INITIATIVE
The IR Department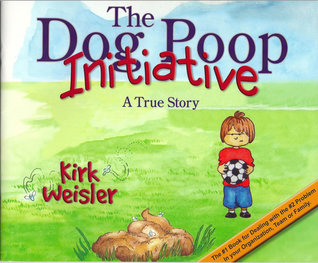 "A true story of scoopers and poopers, of pointers and heroes. Of those who score real goals, and those who score zeroes." 
If you haven't read this fun book, it is short and sweet with a powerful message. In it, author Kirk Weisler shares a true story that focuses on initiative and leadership. Last week the IR team had a strategic planning meeting. During the meeting, we discussed this story and the many great principles it contains. Although this story highlights the importance of taking initiative, IR also focused on how it encourages having an attitude toward change and extreme ownership. 
As for how this book and his mission helps organizations, Kirk Weisler puts it in these tongue-twisting words: "…Creating a thriving culture and a caring, covenant community of committed constituents through coaching in the proper context while constantly and consistently connecting through compassionate communication in a world of cynicism, criticism, and the constant challenges of ongoing change." For these reasons, we recommend this book to everyone in Dx!
2022 BRIDGE LEARNING COURSES
Jason Hill, Director of Learning Systems 


You can now start on your 2022 Bridge Learning courses. You can find them at https://uvu.bridgeapp.com/learner/library, or you can use these direct links to enroll in each of the five required courses:
NETWORK EVALUATION AND NEW STANDARD FOR EQUIPMENT
Kim Leseberg,
Director of Student Computing 
Our Student Computing Loft Open lab has been transformed into a hybrid computer lab/BYOD space. This lab is located above the bookstore in SC215. Student Computing has modified this space to allow students to bring their own devices and receive help from a lab assistant. We still have around 20 computer stations for students who need a computer and roughly 30 seats for students to work on their own devices. This new BYOD space will allow students to work individually or in a team to collaborate and work on projects and homework. If you have a minute or two, stop by to take a look!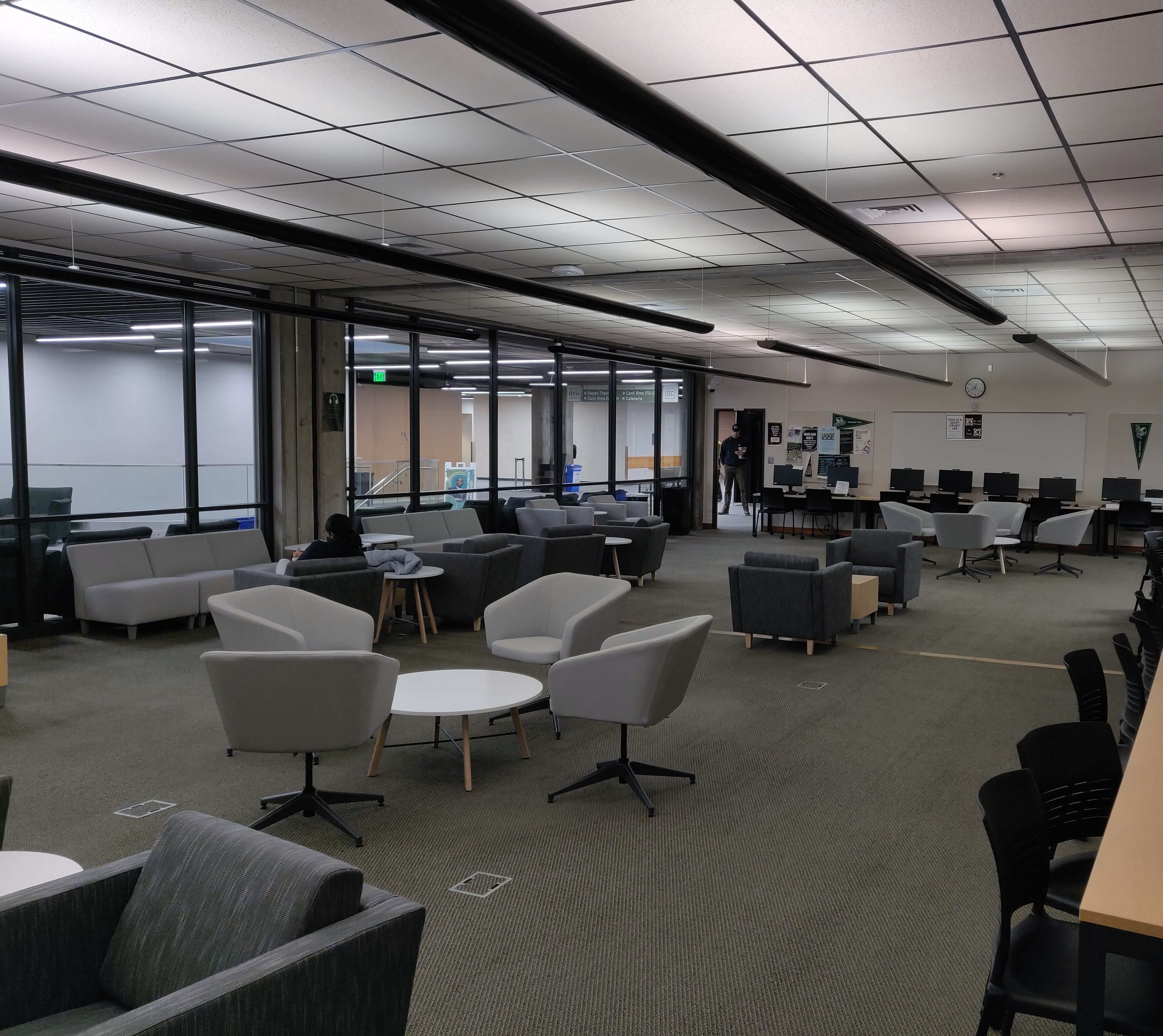 TRUE CHANGE: Becoming Rather Than Simply Doing
The IR Department
This document details UVU's commencement data for 2021-2022: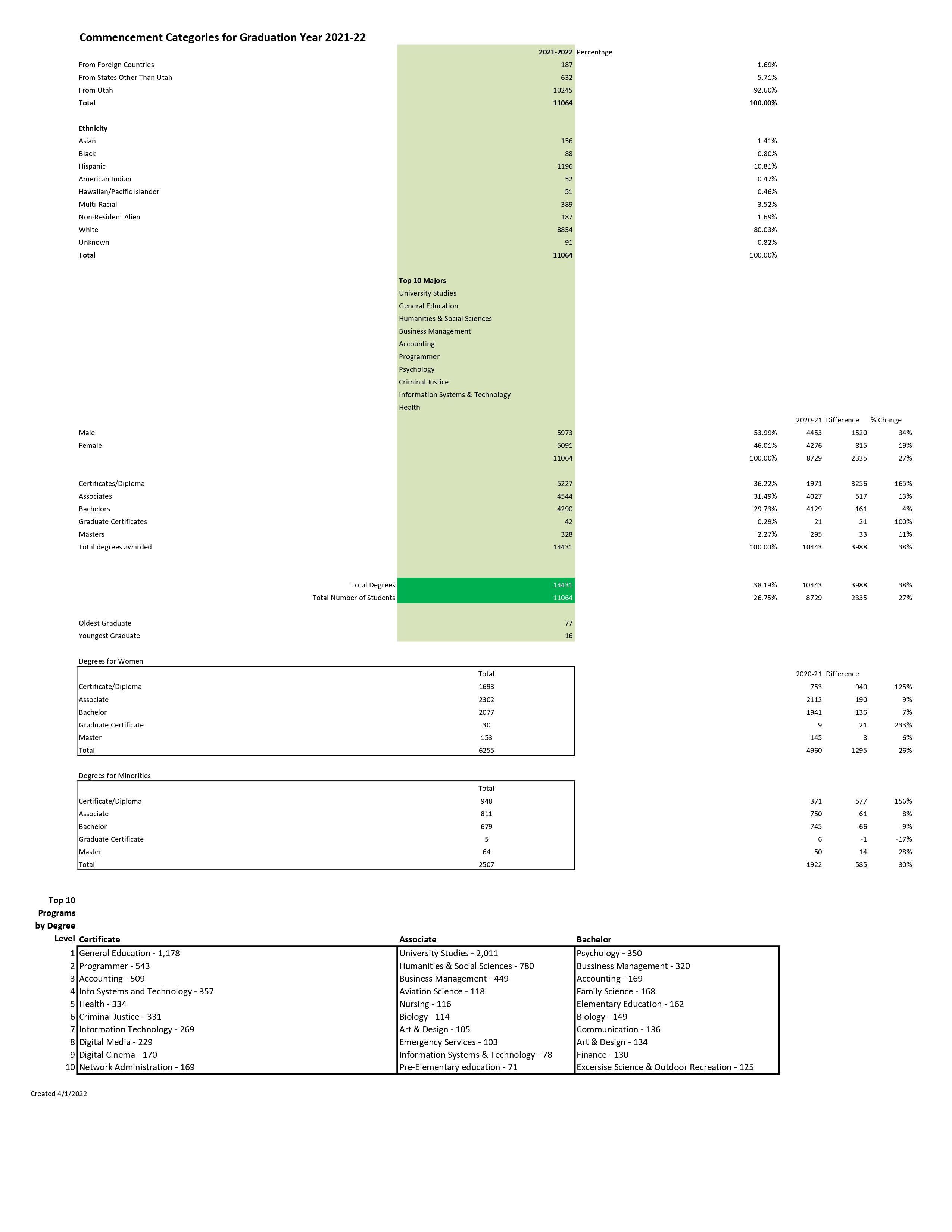 OPEN JOB POSITIONS
The following positions are available in Dx. Be sure to watch
uvu.jobs
for upcoming opportunities in Dx. 
Is there an opening in your division or department that needs to be filled? Be sure to get it approved according to the
Temporary Human Resources Guidelines
. Once the position is open, get the word out by submitting it to Caitlin Tobler for next month's newsletter.
NEW EMPLOYEES
The following individuals have been recently hired, promoted, or changed positions in Dx:
David Song

,

 Sr. Analyst - PCI Security

Kevin Cruz

,

Technician I

Cole McCoy

,

Specialist III
Be sure to send your congratulations and support to our new-hires!