NEW YEAR-NEW CROWN-NEW RULES
The Miss UVU Pageant is the longest standing tradition on campus! Established in 1981, the program empowers women to be leaders in their community, be civically engagement, and encourages academic success.Historically the pageant has been affiliated with the Miss America organization but with so many changes within the pageant community and UVU's dedication to inclusivity the Department of Student Leadership and Involvement has made the decision to establish Miss UVU as an independent pageant and we will no longer be franchised with the Miss America organization.
Starting in 2019 participation in the Miss UVU pageant will be open to a wider range of students with a focus on the impact they can make here on the UVU campus through the creation of a Campus Impact Initiative. Areas of competition have been expanded to emphasize the importance of being informed on current events, the ability to clearly communicate and articulate personal thoughts and opinions, and professionally present themselves through talent and public appearances. 
Areas of competition:
Academic Standing: 10%
Campus Impact Initiative-25%
Private Interview-25%
Talent-20%
Onstage Question-10%
Eveningwear-10%
Area of Competition Description:
Academic Standing: Contestants will be scored based on their GPA. 
Campus Impact Initiative: Contestants will put together a Campus Initiative Plan that they will focus their entire year of service around. What change needs to happen on campus? What departments can you work with to help your initiative take shape? How will you measure the change? 
Private Interview: Judges will have 10 minutes with each contestant to ask questions surrounding their Campus Impact Initiative, Fact Sheet. With 30 seconds left the contestant will be stopped and then asked to give their closing statement.
Talent: During the pageant each contestant will have 90 seconds to demostrate a talent of their choice. 
Onstage Question: Judges will ask a follow up question from the private interview. 
Eveningwear: Final area of the pageant night in which contestants can wear anything that displays contestants grace, confidence and stage presence.
Addison Black
Addison is a junior currently studying Public relations at Uvu. Her platform is "healthy mind, healthy body" which focuses or the prevention of eating disorders and the promotion of healthy body image. Addison is from Springville, Utah and loves living in Utah Valley. In her free time she enjoys playing the piano, listening to stand up comedy, and collecting graphic art. Her favorite thing about UVU is the diversity and acceptance here on campus.
Booking Appearances: Please email ashley.hardison@uvu.edu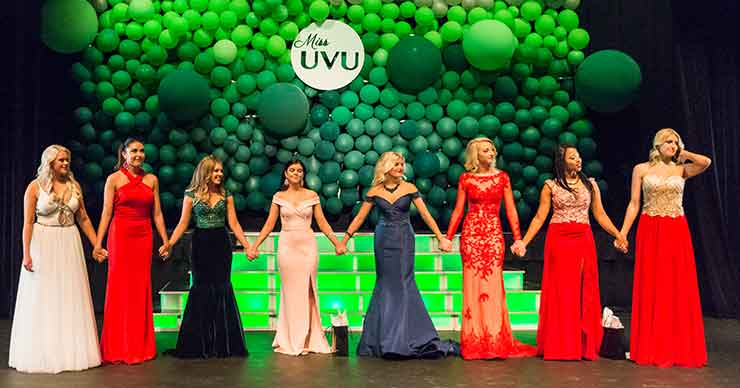 Former Title Holders
View our archive of former title holders from the Miss UVU, Miss UVSC, Miss UVCC, Miss UTC, and Miss Utah pageants.
Former Title Holders
Info & Dates
Unfortunately, due to COVID-19, the Miss UVU Scholarship Pageant has been cancelled.  Please check back at a later date for more details.                              
Sponsor
Thanks to UVU Bookstore for sponsoring this event.
Bookstore Website