From The Ground Up: Student success, community support fuel growth of UVU's Woodbury School of Business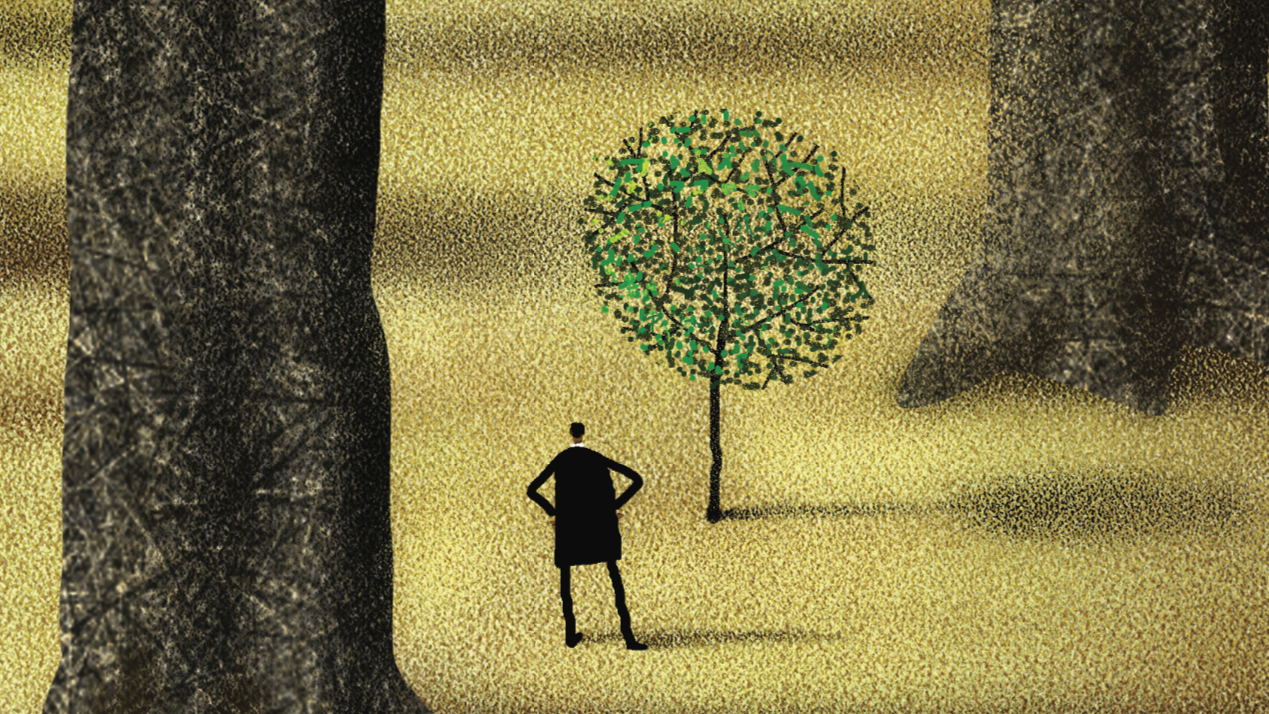 When the Woodbury School of Business at Utah Valley University interviews candidates for new faculty positions, the conversation often comes down to a single question: What will you do for our students?
The question catches many by surprise, according to Woodbury Dean Norman Wright, but it quickly becomes a differentiating factor.
"I'll ask faculty about their teaching record, I'll ask them about their research record," Wright says, "and then I'll say, OK, now beyond that — what are you passionate about? What would you create for our students that you've been dreaming about doing but didn't know if you'd ever get the chance?"
Some applicants struggle to respond, Wright says, because they've never had to consider the concept before. The ones who have an answer ready? They're the ones who have helped the Woodbury School of Business grow into the exceptional institution it is today — by building student-focused programs, from the ground up.


PROGRAM BUILDERS
Despite UVU's relative youth as a university, Woodbury is the largest business school in Utah by student population, with more than 5,000 enrolled students. In part, that size — which matches UVU's overall status as the largest public institution of higher education in Utah — is a reflection of the university's structured open enrollment policy. But Wright says it's also due to the freedom Woodbury has to be adaptable, responsive to community need, and to put students first.
"Our faculty aren't just researchers and teachers," Wright says. "They are program builders. And they're working together as teams of program builders to create a really great experience for the student."
Here's an example: for several years, WSB's hospitality management program has included a class in event planning. But as Wright and Hhospitality Management Program Director Doug Miller listened to the demand from students and the job market, they saw the opportunity to make event planning its own minor. They approached Jessica Ballard, who was then serving as UVU's own senior director of executive events, to become a professional-in-residence and build the program from scratch.
"Event planning is now seen as a full profession," Ballard says. "When I first started in it, it was always seen as a secondary piece of PR, or marketing, or hospitality. But now there is an increase in people actually hiring in-house event planners. It's a very different skill set."
Ballard says she uses her connections in the field to make sure students hear from industry professionals on a regular basis. And she's partnering with companies and event venues so her students get hands-on experience creating real, large-scale events. Long-serving UVU Hospitality Management Professor Yang Huo is also supporting the effort by preparing students to take the exam for a well-recognized industry certification so that students graduate with an academic and an industry qualification.
"With this program, what we're wanting to do with it — there isn't another program like that here in the state," Ballard says.
Wright says the freedom to involve students in creative ways and build new programs are attractive selling points for faculty.
"We have the luxury of doing good research, but not being research-focused," Wright says. "We get to be student-focused. And as a result, our faculty are creating exceptional engaged learning activities for our students."
Here's another example: in 2018, global e-commerce giant eBay partnered with faculty in Woodbury's human resources program on an opportunity for students to conduct research on eBay's call center employees. Students created survey questions, collected and analyzed data, conducted interviews with current and former eBay employees, and presented their findings in a three-hour meeting with eBay's CEO.
That kind of experience isn't common at the undergraduate level, says Bernd Kupka, associate professor of management at Woodbury.
"For a CEO of a company of that magnitude to devote three hours to listening to students presenting to him was very impressive," Kupka says. "It gave us a real feel for how seriously they took the work that the students had done."
Kupka credits Woodbury Human Resources Program Director Jonathan Westover for creating an environment in which engaged learning can thrive. "To me, bookwork alone is not education," Kupka says. "Together with Jon and the rest of the HR faculty, we are very fortunate that we are given this opportunity to help our students also see, hear, feel, and do. And I think that's the way people learn the best."
Some of WSB's new programs have already risen to exceptional heights. The personal financial planning program, which only began less than a decade ago, is now considered in the top 10 nationally, with students routinely winning national competitions against more established institutions and being placed with top financial advisors around the nation.
That burgeoning reputation is paying off in creative ways. In 2017, UVU Assistant Professor Qianwen Bi began a program called Financial Literacy Camp. A native of China, Bi knew some Chinese cultural attitudes toward investment and credit presented unusual dangers for students. With support from Woodbury Assistant Dean Mikki O'Connor, Bi invited students from Dalian Maritime University in China to visit Utah for three weeks and learn from UVU personal financial planning faculty and students.
"Since we are already one of the leading financial programs in the nation, why not create something that increases international impact?" Bi says. "This shows we're really one of the leading financial planning programs that has a passion to improve the general financial literacy education, not only for the U.S., but also for other countries that need help."  
Because of the personal financial planning program's achievements, companies are more willing to provide students with internship and employment opportunities — even before they've finished their degrees, in some cases.
"A few years ago, the firms we work with now would've laughed at me if I had tried to get them to come to campus," says Associate Professor Luke Dean. "Now, they're beating down our doors."
LISTENING TO THE COMMUNITY
UVU has a long history of responding to community demand. For a business school — especially one that aims to send so many of its graduates into the local workforce — that's particularly important. Fortunately for Woodbury, the word is out.
"What we're hearing is that UVU is particularly receptive to the needs of the local community," Wright says. "They're saying that UVU's come to the point now where they are absolutely confident that they can partner with us effectively and develop the workforce the state needs."
Wright says when industry leaders come to speak at UVU — Woodbury has a variety of programs, including the Executive Lecture Series and the Silicon Slopes Entrepreneurship Lecture Series — team members research the company represented and finds out how many UVU graduates it employs. The lecturers are often blown away by the percentage.
"They say, 'Wow, I knew we were hiring a lot of UVU grads, but I had no idea that UVU students are driving so much of our success,'" Wright says.
To deepen those ties to local and national business, Woodbury created a National Advisory Board, a collection of nearly 100 business leaders chaired by entrepreneur and investor Amy Rees Anderson. The board helps shape Woodbury's strategic direction by providing guidance, financial support, and mentoring and placement for students.
Anderson says UVU attracts the support of such industry leaders because of its mission and emphasis on engaged learning.
"I believe we can make education the most useful for students by providing them hands-on experiences as early as possible in their schooling," Anderson says. "Too many students pursue a path having never gotten real-world exposure to the jobs they will someday fill, and as a result, many end up eventually going into careers outside the field of study they pursued in college. UVU isn't just teaching students how to learn — they are teaching students how to do, and that sets them up for the best chance of success."
Wright says that, like Woodbury's new faculty members, the National Advisory Board has drawn attention and support because people want to be a part of building something from the ground up.
"They see UVU as a place where they can contribute their time and treasure and make a difference," Wright says. "The dollars just go so much further here."
"For anyone desiring to give back in a way that can really move the needle, there is no better place to have the greatest impact on the largest number of students than being involved with UVU," Anderson says.
STUDENTS WITH SKILLSETS
On top of important financial support, Woodbury's National Advisory Board also provides direct information on which skills students need to succeed in today's job market. Bonnie Mortensen, WSB's undergraduate talent sourcing coordinator, says that gives UVU grads a vital leg up.
"Our students want to stay here. They want to be part of Utah's job force," Mortensen says. "So, we can ask our National Advisory Board members, 'What do you need from us? What do you need our students to learn?' That's important feedback to get from these giants of industry."
Mortensen says Woodbury uses a variety of tools and milestones to help students "design" their future careers. During a student's freshman year, Woodbury faculty and staff help students complete a strength-finding assessment, attend seminars, and set up digital profiles on LinkedIn and other social media sites.
Woodbury also uses a unique web-based service called Hub IQ — co-founded by Woodbury graduate Jordan Linford — to provide students with an easily shareable digital portfolio of their work. Mortensen says the platform makes it easy to share information with students in certain degree programs, or all Woodbury students at once.
As students progress into their third and fourth years, Woodbury provides opportunities for mock interviews and mentoring visits, and faculty and staff help students form personalized strategic career plans — all incorporating that invaluable feedback provided by the National Advisory Board and other partner companies.
"By the time they graduate, they've had mentoring, and tons of interview experience, and built all kinds of skills," Mortensen says. "When they leave, they're ready."
ROOM TO GROW
According to Wright, over the last five years the Woodbury School of Business has grown at a rate of about 9 percent per year, "which in academic circles is simply exceptional." That growth, Wright says, is partially driven by the growth of UVU as a whole, but also because of Woodbury's response to the needs of the community. The school's master programs, including an MBA course designed for working professionals and a new Master of Accountancy degree, have also been carefully selected to address what Wright calls a "backlog" of demand in Utah County and beyond.
"We're meeting a real need that allows us to grow pretty rapidly," he says. "And that was a new step for us, requiring us to develop a new set of capabilities to service that need. I think we've largely done that — we're not perfect at it yet, but we're continuing to improve."
However, in order to improve quickly enough to match its growth, Woodbury has to expand physically as well as academically. The building the WSB occupies on UVU's Orem Campus is bursting at the seams, with many key services, like the writing lab or tutoring facilities, operating on a rotating basis of inconsistent times and locations due to a lack of space for a permanent home.
Consequently, UVU is currently seeking funding from the Utah State Legislature for a new building to house the Woodbury School of Business, with features and facilities that will allow the school to continue meeting the needs of the Utah community and beyond.
"We're just out of space to engage our growing student population in the activities that are making the difference in their educational experience," Wright says. "We're out of space for the faculty we need to add so that we can teach these students. We are out of space for classes."
No matter what, Wright says, UVU and Woodbury will continue its mission to serve any student at any level, whether they're seeking a two-year, four-year, or graduate degree.
"The reality is, if people don't get an education, we know what the outcomes are: they have higher unemployment rates, they're underemployed, they have higher divorce rates, they just don't make the money they need to support their families," Wright says. "Those are all things that nobody wants to see happening. We don't care if they were in the top 1 percent of the students graduating from high school that year, or if they've come in after having been out of the workforce, or out of the education system. We want to service and help each of them experience personal and professional growth."
Our faculty aren't just researchers and teachers. They are program builders.