UVU theatre grad Chase Ramsey brings zest to Broadway role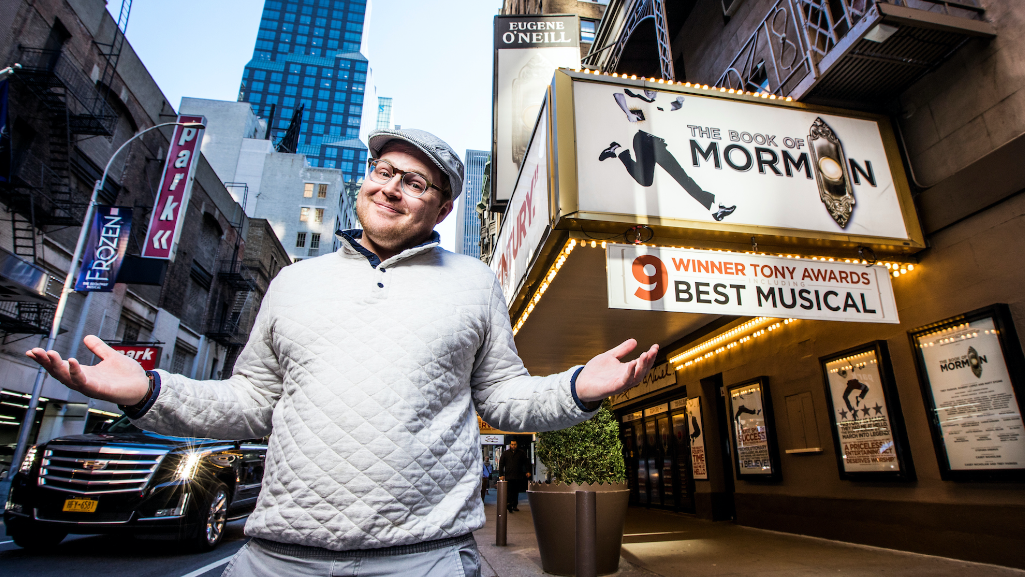 Chase Ramsey believes that hard work and passion are the primary components for a creative and fulfilling life. And, as a successful actor-writer-director, this multi-hyphenated Utah Valley University graduate would know.
The host, husband, and father of two left California in 2018 to move across the country in a whirlwind of opportunity — because Ramsey was offered a job on Broadway. He joined the cast of "The Book of Mormon" in the role of Elder Cunningham, a part that challenges him as an actor and an individual every single day.

 
CALIFORNIA FOODIE IN NEW YORK
Chase Ramsey is a food lover. His popular "California Dream Eater" web series, which he hosts for the tourism organization Visit California, has been the recent focus of his life. Now that he lives in New York City, one of his favorite things is exploring the cuisine, which he has to fit into his hectic schedule.
"I get a lot of takeout," he says. "It's really fast, and the food out here is amazing."
Ramsey speaks fondly of his job as host, which he will be reprising during a two-week break from Broadway later this year.
"I guess I'm a guy people want to chill with," he says. "I'm good at holding my own, and I'm a big foodie and a chef, so the world of food just came naturally."
After requesting a Cali Turkey sandwich from a restaurant — more of his California food love — he recalls the fateful phone call that brought him to The Great White Way.
GETTING THE PART
"Broadway was my dream at one point, I guess," Ramsey says. "I've always been more interested in television."
In Los Angeles and the surrounding area, he had focused on acting on screen. Television, movies, commercials, and hosting had become his primary work. But Ramsey hadn't entirely abandoned the stage. He did a couple of shows at Berkeley Rep, an award-winning regional theater.
"And someone saw me. My manager got a call from 'The Book of Mormon' and asked me to come out and meet with them," he says. "It really just happened overnight."
His family had been gearing up to move to a new apartment in California, so they took their packed boxes a bit farther than anticipated and uprooted their lives.
 
"As I'm sitting here right now, I still feel like I'm on vacation — a really intense vacation," Ramsey says.
Though he had been working his acting muscle on a regular basis through writing and directing, and even teaching acting at Disneyland, this level of theater wasn't something he was necessarily prepared for. Especially the fact that "The Book of Mormon" is a musical.
"When I came out here, everyone was a little bit shocked," Ramsey says. "I had never had a voice lesson before. I'm coming out here super cold. I guess I just got lucky, and it happened to be there, but this is a really hard role."
Natural ability worked in his favor, as well as the right look, experience, and connections. But Ramsey has a strict philosophy.
"One thing I will say: as human beings, if we show up and have grit, don't psych ourselves out on what we can't do, and focus on what we can, it tends to work out," he says.
That precise determination to make this opportunity into a positive one is what has led to Ramsey shining onstage for eight shows a week. He speaks of his experience with an easy tone, a manner of someone who is not intimidated by or overly grateful for the role — he knows he cannot only handle the challenge, but thrive in it. And that confidence is key.

 
A TYPICAL DAY FOR 'ELDER CUNNINGHAM'
"I have to wake up, do my stretches — get my body warmed up, vocally and physically," Ramsey says of his morning routine. It's a regimen prescribed to him by veteran Broadway vocal coach Liz Caplan, who has worked with Hugh Jackman and Neil Patrick Harris. "I spend time with my family during the day, which is wonderful. The only time I wouldn't be at home is if I have a meeting, a voice lesson, or an audition."
Next, he finds himself on the train to the show.
"If you've ever done community theater, call times are an hour to an hour and a half before curtain," he says. "On Broadway it's 30 minutes early, period. Then I do eight shows a week, our day off is Monday, and we repeat. The show is very consistent."
Ramsey speaks of the schedule as though it is old hat at this point, but getting stage-ready was certainly a journey. When he was cast as the goofy, desperate Elder Cunningham, he said many of his friends thought the role was perfect for him. "And I was like, 'I don't…think so.' It has been a challenging role because Elder Cunningham is loose, can't put a lid on his thoughts, has no friends, is not very cool — but he is trying his hardest and really just wants a best friend," Ramsey explains. "Not that anyone has ever called me cool in my life, but during this process a lot of my direction was that I was playing it way too cool."
Setting aside his own confidence and the balance he has honed as an individual, Ramsey threw himself into Cunningham's shoes.
"A lot of it came from studying the physicality and energy of the character. How hard is he trying to get another person's attention? For him, it's 100 percent. Maybe even a thousand," he says. "I realized I couldn't play him the way I had played 90 percent of the roles I've played in my life. I had to figure out how to tap into this human being who is really light on his feet and is really off balance."
The show's working atmosphere is the exact blend of professionalism and cheerfulness you might expect offstage at a satirical musical comedy.
"Apparently there are a lot of shows on Broadway that can be a grind, like, 'New Yorkers are mean.' For this show, it's the opposite," Ramsey says. "It's a comedy, so backstage we have to be happy. There is a lot of camaraderie and messing around. But the amazing thing about the messing around is that it happens at the right time — nobody misses an entrance. They're all spot on."
Dedication to making the show perfect goes without saying when performing on the most famous stages in the world, but Ramsey is still in awe of just how good it really is. For example, he says this production includes no "sweetening," which involves mixing pre-recorded vocals with live sound.
"There is none of that in this show," he says. "Every time I hear those beautiful voices, it shocks me. It's just people singing backstage."

 
KNOW WHAT YOU KNOW
"All the things I learned from UVU that I had taken from my mentors, they're with me every moment, no matter what the performance is or what room I'm in," Ramsey says.
His time at UVU was spent as most college experiences are — exploring, excelling, failing, learning, and feeling out what was going to work for him. He recounts a story of putting in a lot of extra time to write a term paper for Department of Theatre Chair and Associate Professor Lisa Hall Hagen's class, though writing was a struggle for him and he knew it wouldn't end up being very good. Surprisingly, he was awarded the first-place prize for his efforts, which Hagen praised for being exactly that: effort.
"It's a reminder that if I give extra time, I'm probably the one that's going to book it," he says. "They're going to want me back in the room because they know that I'm the one who's going to show up."
When Ramsey was leaving school, he asked Professor Dave Tinney how he could become an artist. "And he of course said, 'There is no secret, but I will tell you this: I know what I know, and I know what I don't know.' And that has really become my motto," Ramsey says. "Know what you know, but surround yourself with people and be willing to ask to learn what you don't know."
In his role as Elder Cunningham, Ramsey says he has tried to remember what he doesn't know, and be open to questions and vulnerability as he learns from fellow cast members, audience feedback, and himself.
ADVICE FOR ARTISTS
Being in the industry is definitely a unique challenge, Ramsey says, but with all his experience in various capacities, he has developed some mantras and philosophies he sticks to in order to succeed and stay happy.
 
"If I could, I would wear a shirt every day that says, 'Always be the most passionate person in the room.' Find the reason you are living this life, and if there's no passion, don't do it. You can't do it. I would say that to anybody who holds a job and has zero passion for that job. You can't do it — it's going to kill you."
Though he says he does run into bad days where he doesn't love what he is doing, he has found passion in providing for his family, and that keeps him just as motivated.
Additionally, he emphasizes being willing to go where the wind takes you. He never would've pictured himself on Broadway, and yet there he is, six days a week.
"You can try to say where your path is going, but it's never going to end up that way," he says with a chuckle.


Always be the most passionate person in the room.