President Astrid S. Tuminez urges for exceptional results for Utah Valley University during inauguration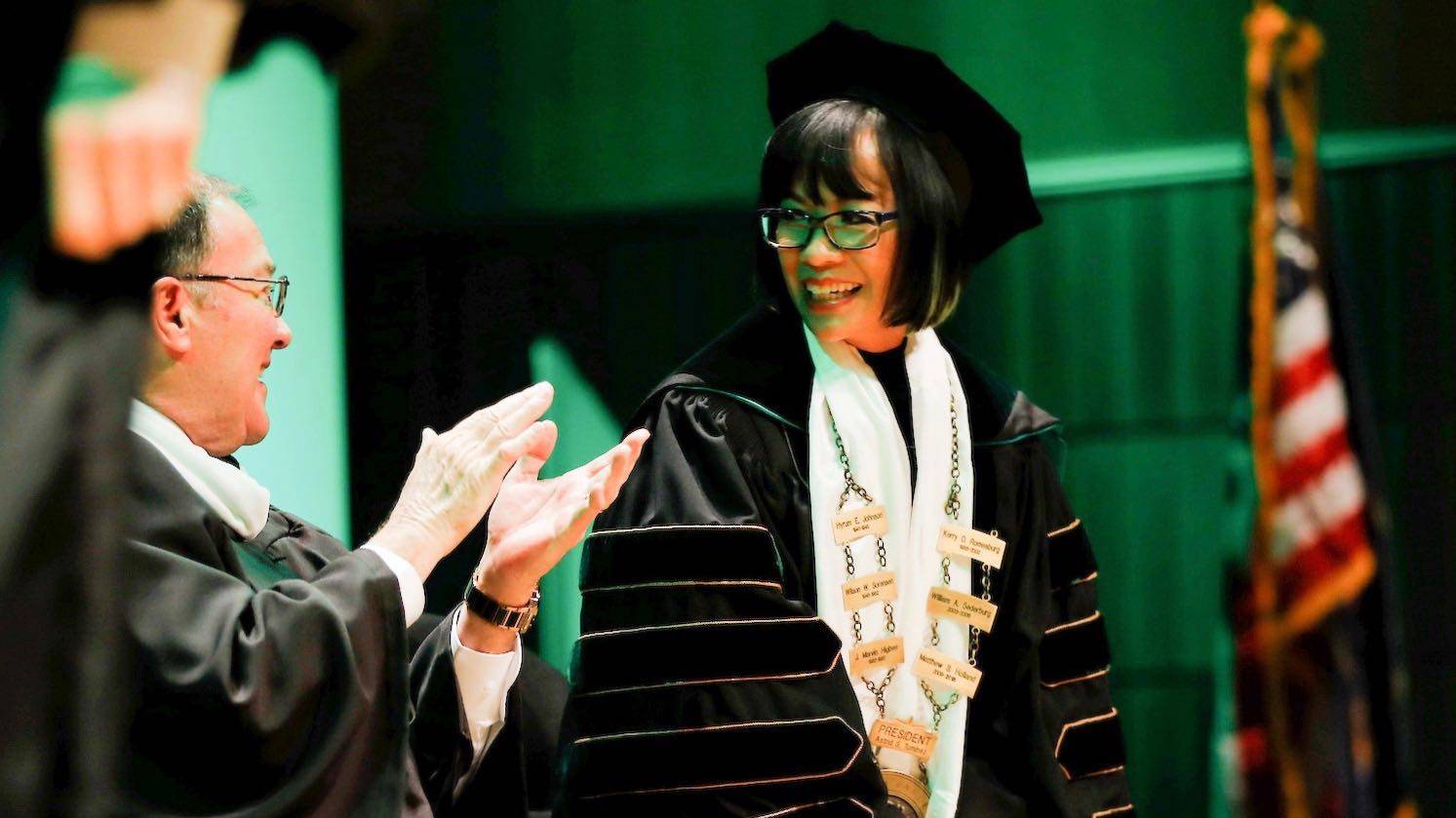 Using her personal story as a backdrop, Dr. Astrid S. Tuminez urged the "village of constituents" of Utah Valley University to work with her toward a goal of student success, as she was formally given the mantle of leadership at her inauguration Wednesday in Orem. 
Surrounded by dignitaries and colleagues, Tuminez, a native of the Philippines, outlined past achievements of UVU, now the university with the highest enrollment in Utah, and set the tone for her administration by sharing her "verbs of commitment," which she listed as "include, engage, and achieve." 
"We are in the business of people and their dreams," she said. "It sometimes takes a village to move where we need to go. You are our village. Please work with us."
Using the theme of "It Takes a Village," Tuminez shared experiences from her childhood villages, her village of faith, her village of mentors, her village of family, and a village made up of those involved with higher education at UVU to present highlights from the university's past and to share her hopes for the future.
"What percentage of those who are capable of achieving their dreams actually achieve them?" Tuminez asked several times during her presentation, quoting author Malcolm Gladwell. "I started life as a statistic and would have remained a statistic if people would not have helped me."
Tuminez, the seventh president of UVU, outlined her desire to continue to fulfill the institution's mission of a dual-purpose university, that is, of combining both a full university and a community college. She described that dual-mission approach as the correct model for today's fast-moving and disruptive technological and global landscape — and "very appropriate" with regard to higher education. 
"But what kind of education experience will help our students become more skilled, more confident, more resilient, more kind, more ethical, and more honest?" Tuminez asked.
Elaine S. Dalton, chair of the UVU Board of Trustees, who conducted the inauguration program, said she had "renewed joy and confidence" in Tuminez's appointment and was elated to see the love for students that was expressed during the ceremony. Among those speaking were student-athletes from various UVU teams that expressed their appreciation for Tuminez's support and their UVU experience. Tuminez's daughter, Michal, also gave remarks.
Representing other institutions of higher education in Utah was Noelle Cockett, president of Utah State University. She noted that with President Tuminez's appointment, there are now five female university presidents among the 10 institutions in the Utah System of Higher Education. She said that statistic might be a goal or milestone in an affirmative action sense, but that she believes it is because of the type of leadership the women bring to the table. 
Cockett commended Tuminez for presenting an agenda of "I see you, and I believe in you" at UVU. She urged Tuminez to continue to reach out to those communities that are underrepresented in higher education. 
"Elitism has no place in higher education. There are many paths to success in higher education," Cockett said. "The future of UVU, of Utah County, of the state of Utah is very bright, indeed, because of the appointment of Astrid S. Tuminez as president of this university."
Other speakers included David L. Buhler, commissioner of USHE, Utah Governor Gary R. Herbert, Gary Browning, a mentor and friend of Tuminez from her years as an undergraduate student at BYU, and Harris H. Simmons, chair of the Utah Board of Regents. 
Among the goals expressed by Tuminez in her extemporaneous presentation, highlighted by slides and visuals, were to have the university present exceptional care, exceptional accountability, and exceptional results. She said UVU "must obsess" about achieving higher graduation rates for its students.
We are in the business of people and their dreams. It sometimes takes a village to move where we need to go. You are our village.