'Brooklyn Nine-Nine' star Terry Crews shares life experience with UVU audience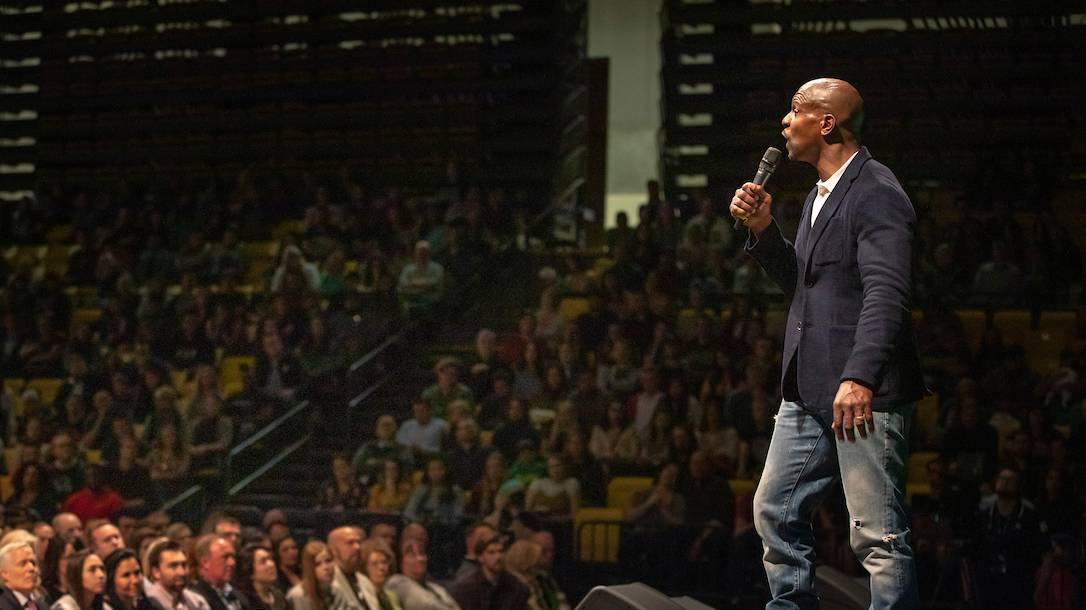 "Brooklyn Nine-Nine" star Terry Crews flexed his way to a standing ovation at Utah Valley University Thursday before saying even one word.
Known for his comedic roles in films, Crews spoke on a decidedly more serious topic that included how he grew up in a home with an alcoholic father, and how he overcame a pornography addiction and toxic masculinity.
In a press conference on campus prior to his speech, Crews said of toxic masculinity, "Men need to hold other men accountable. If we just deal with who we are as men, the problem would disappear."
UVU President Astrid S. Tuminez introduced Crews to the audience of more than 3,000. Tuminez said she learned three things from him directly prior to his speech: "He's a big dreamer, he's not a know-it-all but rather a learn-it-all, and he's a man of great integrity."
Crews gave a message of hope to the students assembled in the UCCU Center, speaking of the power of dreams, even when it seems that life has come to an end. He spoke of a dark time directly after his NFL career when his money ran out and fame seemed illusive. Destitute with a wife and three children to support, he became a day laborer earning $64 per day sweeping floors.
"On my first day after taxes, I had $48. I gave my wife $20. Put $20 worth of gas in the tank. And I had $8 in my pocket." The audience broke into applause when he said that that was the last time he was broke, for he had looked retrospectively into his soul and took responsibility for his life. "For a toxic man, introspection is kryptonite," he said.
Crews garnered international fame and scrutiny two years ago when he spoke in favor of the #MeToo movement. He was included in a group of people named as Time magazine's Person of the Year in 2017 for going public with stories of sexual assault.
Crews's speech at UVU was part of the Week of Dreams, a weeklong series of event celebrating the opening of the Noorda Center for the Performing Arts and the inauguration of President Tuminez.
For a toxic man, introspection is kryptonite.