Jared Sumsion named UVU athletic director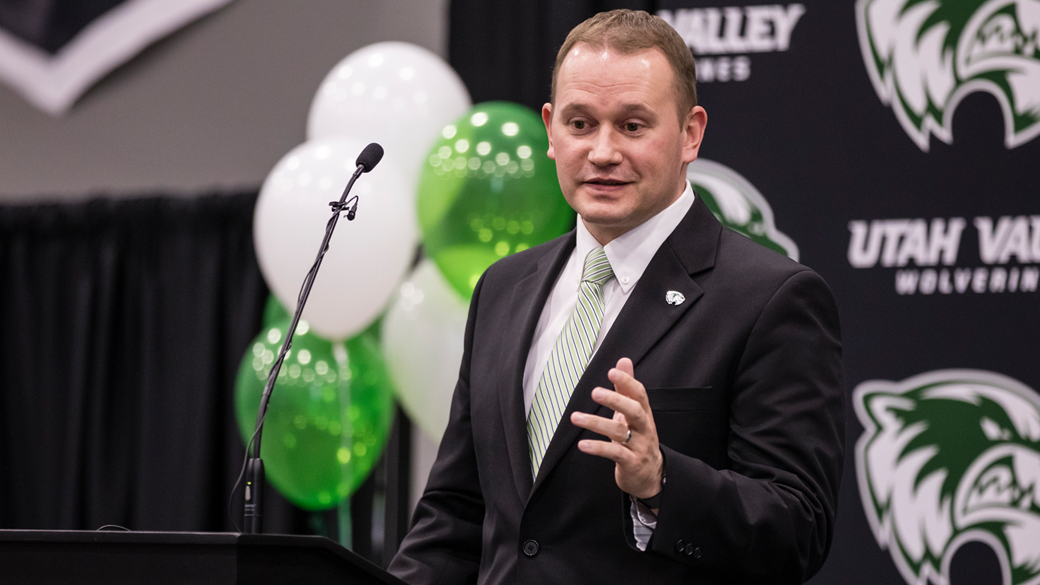 Following a nationwide search, Utah Valley University officials are pleased to announce that Dr. Jared Sumsion will become the university's new athletic director. Sumsion served recently as the interim athletic director, and prior to that as senior associate athletic director for external operations.
"UVU's national search for a new director of athletics produced some truly talented candidates. After a thorough review, our search committee found that Jared demonstrated the commitment and track record on exceptional leadership, care, and results that align with UVU's values and direction," said President Astrid S. Tuminez. "He places our student-athletes at the heart of all that he does. He will usher in a new era of athletic excellence at UVU."
As the new athletic director, Sumsion will also serve as associate vice president of athletics. He will oversee 16 Division I sports involving 330 student-athletes and 84 staff, fundraising efforts, and the elevating of UVU's national profile.
In his position as senior associate athletic director, Sumsion oversaw the enhancement of current revenue streams, major gift fundraising, annual giving, donor relations, corporate partnerships, and strategic planning. He oversaw marketing, branding, licensing, major events, media relations, game operations, and ticket sales.
"During his tenure at UVU, Jared has proven he's the right person for this challenging job. He made that even more apparent with the leadership he provided over these past few months," said Val Peterson, vice president of finance and administration. "His commitment to UVU and the success of our student-athletes is boundless, and I look forward to seeing our athletics thrive under his leadership."
Before becoming athletic director, Sumsion was also the administrator for UVU's baseball, men's soccer, women's soccer, men's & women's cross-country, men's & women's indoor and outdoor track & field teams, and wrestling programs.
"I'm extremely grateful for the opportunity and trust that the university has shown me," Sumsion said. "UVU transformed my life. I love this university and what it's meant to my family and me. I'm ready to hit the ground running. Our student-athletes and staff are second to none. We have an incredible fan base and devoted community, and together we will do amazing things."
Prior to his time in athletic administration, Sumsion served as the assistant to former UVU President William A. Sederburg. In that position, Sumsion was a part of the administrative team that oversaw the institution's transition from state college to university. Additionally, from 2001-2005 he worked as a surgical assistant for Intermountain Healthcare, specializing in orthopedics.
He received a bachelor's degree from UVU, where he served as student body president. He holds a master's degree in business administration and a doctorate of education in organizational leadership with a minor in conflict resolution.
A native of Springville, Utah, Sumsion and his wife, Stephanie, have four children.
  
###
 
UVU Athletics
 
Clint Burgi
801-863-8644 | clint.burgi@uvu.edu
801-362-1548
 
Jason Erickson
(801) 863-8130 | jason.erickson@uvu.edu
(303) 946-6774