UVU professor awarded stipend to research Hemingway's influence in Soviet Union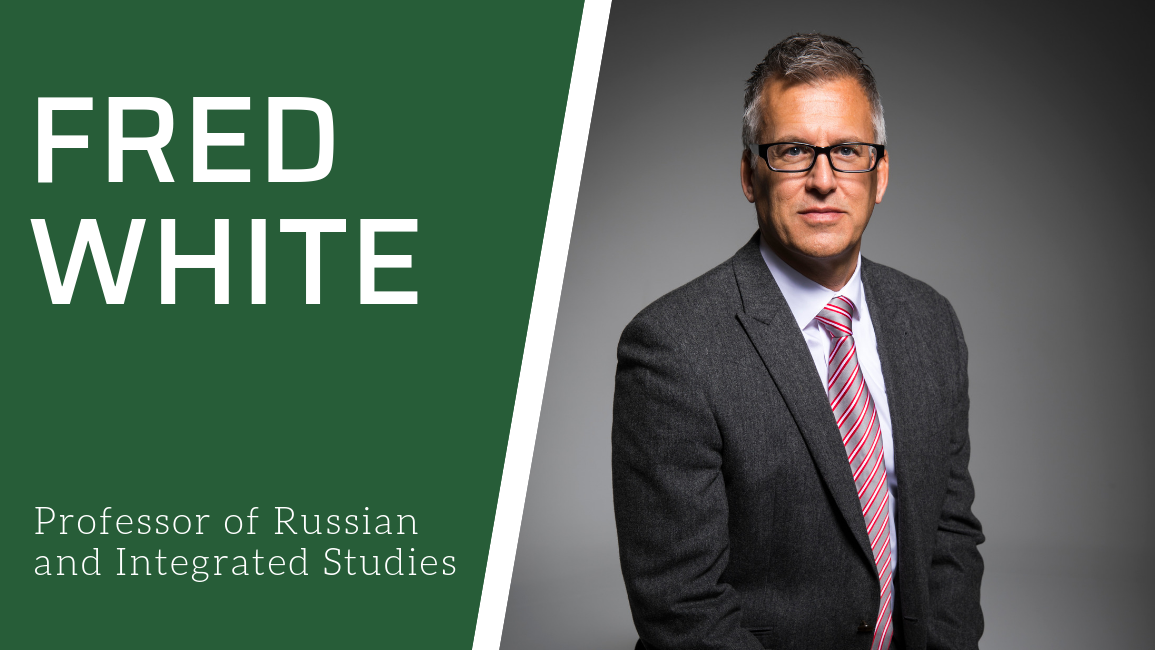 Frederick White, Utah Valley University professor of Russian and integrated studies, was recently awarded a summer stipend from the National Endowment for the Humanities (NEH) to support his research on the author Ernest Hemingway and his influence within the Soviet Union.
White plans to use his award money to travel to Moscow, specifically to the Russian State Archive of Literature and Art, to research Hemingway and his surprising influence on the Soviet Union. White found that, starting in the 1930s, the Soviet Union hoped to co-opt Hemingway, presenting him as a supporter of the Soviet experiment. Many of his works were translated by Ivan Kashkin and his school of translators, White said, leading to a fascinating relationship between the author and translator. After Kashkin's death, Boris Gribanov was instrumental in the rediscovery of Hemingway's works (since 1940 there had been no new translations) and wrote his 1971 "Soviet Biography" for the respected series, "Lives of Remarkable People." Hemingway became such a popular writer that many Soviet apartments displayed his portrait during the 1960s and '70s, according to White.
Despite the Soviet Union's effort to make Hemingway into a Soviet supporter, White discovered that Hemingway's works actually led to him becoming a counter-culture symbol for the limitations of a collective society, as they instead showcased the personal freedom and individualism of the United States.
"I have spent my entire sabbatical researching the complex relationship that Hemingway had with the Soviet Union and the ways in which his works were interpreted by Soviet critics, and it has been fascinating," White said. He said he plans to publish his research in his upcoming book, "Ernest Hemingway in the Soviet Union."   
White began working at UVU in 2010 as an associate dean for the College of Humanities and Social Sciences, but he has been passionate about Russian literature and culture since he was in high school.
"I was taking Russian language courses in high school student as the Cold War was coming to an end," White said. "It was an exciting time, especially for US-Soviet relations. I continued to study Russian at Ohio State University and I was able to travel to Russia several times, and each time, I became more and more interested in the literature and culture."
White said he has been interested in the life and works of Hemingway since he was 14 and read "The Sun Also Rises." The two interests, Russia and Hemingway, did not seem to have an obvious connection.
"In 1992, I bought Hemingway's works in Russian, while I was studying in St. Petersburg," he said. "For many years, these books sat on my bookshelf. Finally, I decided to explore Hemingway's popularity in the Soviet Union and found that the answer was more than an academic article, but rather a book-length project."
To further pursue his research on Hemingway, White applied for a summer stipend from the NEH. Created in 1965, the NEH helps preserve America's rich cultural heritage and supports scholarship and innovation in history, archaeology, philosophy, literature and other humanities disciplines. After a three-step review process, White's application was part of the prestigious 11 percent that were funded this year.
"These new NEH-supported projects will help shore up the nation's most valuable assets: its history, literature, historic sites, regional traditions, and cultural institutions," said NEH Chairman Jon Parrish Peede. "NEH is proud to support the advancement of learning and sharing of knowledge nationwide."