2019 UVU Scholarship Ball raises record $900,000 in donations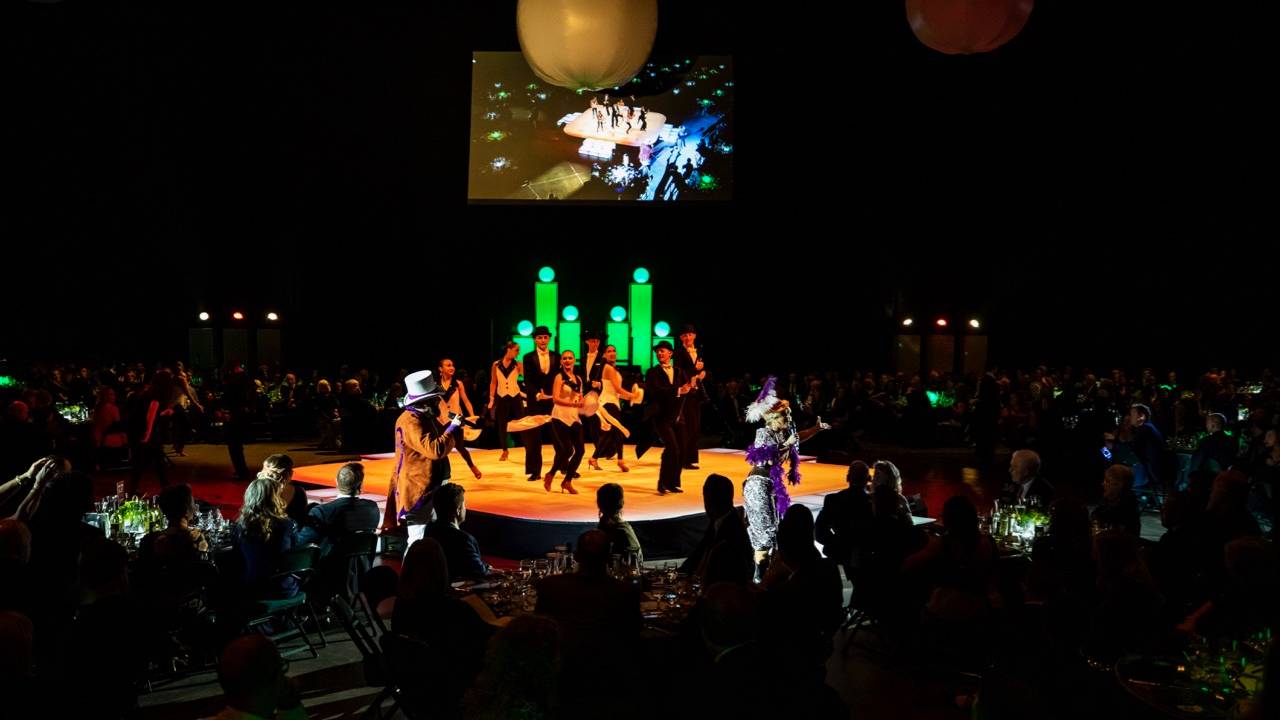 Utah Valley University's 2019 Scholarship Ball featured fine cuisine, exciting entertainment, dancing, and generous guests. The event, with the lead sponsor Nu Skin, raised a record of $903,217 in donations for UVU's prestigious Presidential Scholarship. The gifts will provide support for 352 semesters of learning — or 33 full-tuition scholarships for four years.
"I have learned that the business of higher education is the business of hope," said President Tuminez during the evening. "Education is the great leveler, the tool that unlocks human potential. We have come together tonight to celebrate and to raise money for scholarships. This is crucial because we know the No. 1 reason students drop out of their studies is finances."
More than 800 guests in black-tie attire were welcomed to the elegantly transformed UCCU Center on Saturday, October 12. Elected local and state officials, prominent business owners, and friends of the university mingled during a reception that offered "mocktails" and a variety of appetizers as well as photo opportunities.
Once seated, the entertainment began with Jeanette Bennett, founder and editor-in-chief of Bennett Communications, and a UVU honorary degree recipient, as master of ceremonies. Guests dined on a gourmet six-course dinner prepared by students in the UVU Culinary Arts Institute while enjoying performances from the UVU School of the Arts. Performers included the dance team, musical theatre department, ballet, wind symphony, and Voiceline, UVU's male a cappella group. President Tuminez also participated in the president's first dance. She and a group of students performed a Bollywood number for a surprised and delighted audience.
President Tuminez also highlighted the serious impact of the ball and its theme, "Together we achieve," during her remarks. She spoke of UVU's core values of exceptional care, exceptional accountability, and exceptional results, in addition to featuring the success stories of students Christian Appiah-Knudsen, Lacee Meyer, and Brooke Schroeder. Additionally, student speaker Cooper Barnson, a presidential scholarship recipient, shared his story about why he chose to attend UVU.
According to Ashton Stitt, senior director of executive events, "It takes a village" to put the Scholarship Ball, and months of planning, practicing, coordinating, and meeting together. During planning, the committee decided to try something new.
"This year's event was so successful because it was the first year we've had a live donation element at the ball where guests could donate online by texting or by filling out the donation form at their table," said Stitt. "Together, with the live donation and ticket sales, we made a record amount for the Scholarship Ball, which is amazing!"
President Tuminez expressed her gratitude to those in attendance and for the benevolence of the community. "I am astounded by the love, the kindness, and the generosity and vision of the people who attended the ball, and I am very touched by the support that you give to UVU." She also encouraged people to stay involved and share their ideas about Utah Valley University. "I believe that indeed this year, and in the years to come, we will continue to achieve together."
To view more images from the 2019 UVU Scholarship Ball, visit the UVU Facebook page.