Giving a Voice to Survivors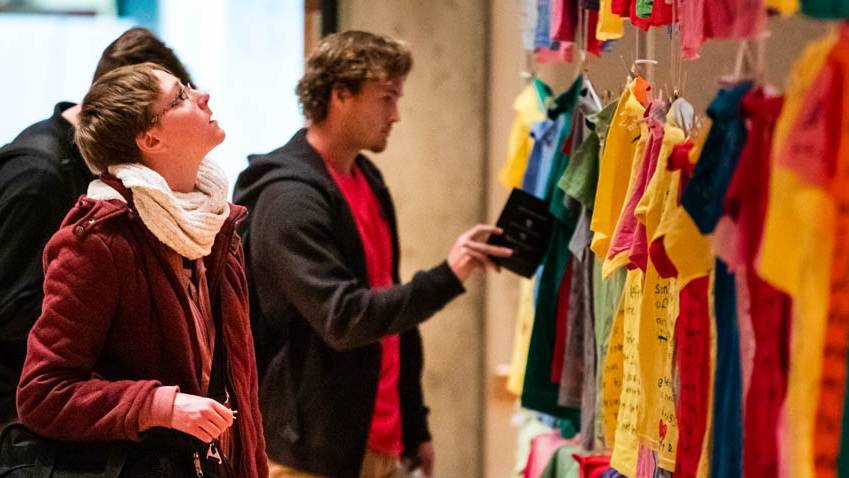 Thousands of colored T-shirts hanging row upon row filled UVU's Grande Ballroom on Oct. 22 and 23. Each represented the pain, anger, and strength of survivors of violence and abuse. The Clothesline Project is a visual representation of the real meaning of community statistics. 
"Every shirt in our Clothesline Project has been made by someone in Utah County," said Hayden Brooks, UVU service council's student coordinator for underserved populations. "It's important for our students and community to see that abuse is a big issue, even in 'Happy Valley.'"  
The issue of violence and abuse is so prevalent in Utah that the state's reported cases of rape occur at a rate that's higher than the national average. The Clothesline Project raises awareness of rape as well as other forms of violence, including:
Physical assault
Domestic violence
Sexual assault
Incest
Childhood sexual abuse
Assault because of sexual orientation
Emotional abuse
Spiritual abuse
Verbal abuse
Assault because of disability
Death as a result of violence
A specific colored T-shirt represents each form of violence. Survivors anonymously write messages and illustrations on the designated shirt color, which are then added to the display.
"Along with raising awareness, the Clothesline Project celebrates a survivor's strength to continue," said Summer Valente, director of the Center for Social Impact. "This exhibit provides another avenue for survivors to courageously break the silence that often surrounds their experience. Because we want this to be part of their healing process, we don't edit or censor any of the shirts that are made for display."
The number of T-shirts on display has grown each year, starting with 31 shirts when UVU hosted its first Clothesline Project in 1998. Now, UVU's Clothesline Project has over 3,000 shirts with 60 new shirts made during this year's exhibit alone.
"It's hard to read what's happened to people living right here in our community," said Brooks. "It's hard, but that's also why it's so important for us to allow them to share their stories."
Utah Valley University offers resources to help those impacted by violence and abuse. To find out more, contact the Title lX Office at (801) 863-7999 or email TitleIX@uvu.edu. Help is also available 24/7 at 1-800-897-LINK (5465). If you or someone else is in immediate danger or in an emergency, please call 911.
Every shirt in our Clothesline Project has been made by someone in Utah County. It's important for our students and community to see that abuse is a big issue, even in 'Happy Valley.'