UVU's Center for Constitutional Studies Wins Prestigious Grant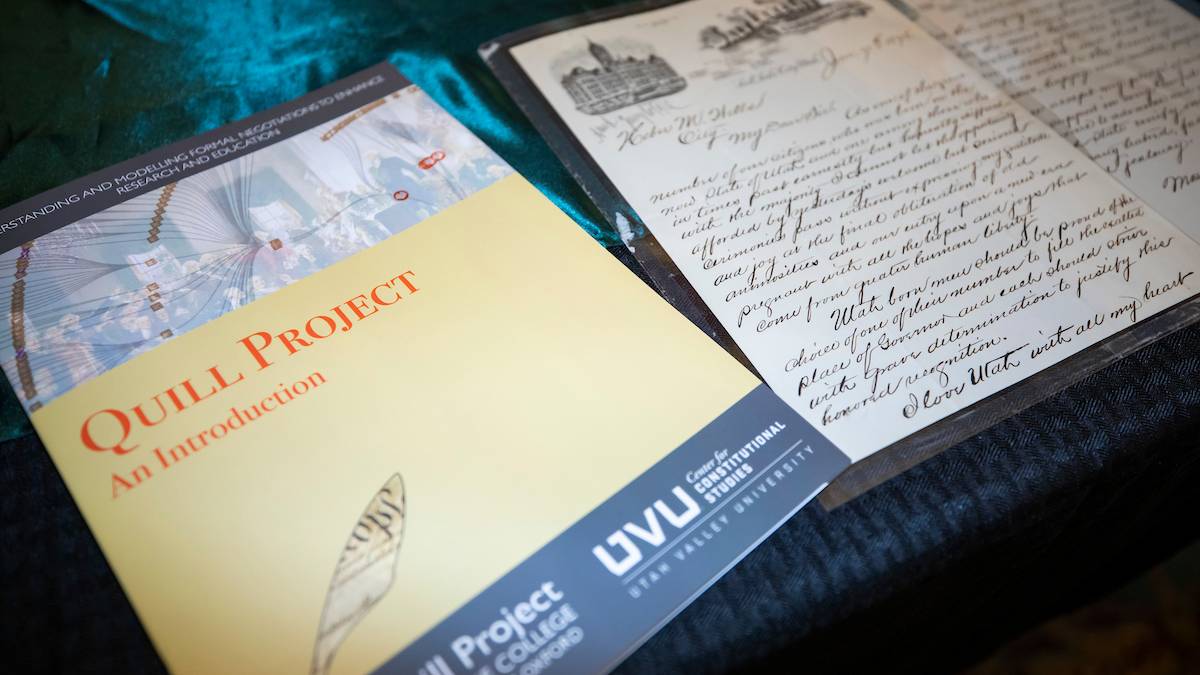 Utah Valley University's Center for Constitutional Studies has been awarded a prestigious and highly competitive grant from the National Endowment for the Humanities to continue researching, digitizing, and entering constitutionally based historical documents into the Quill Project — a data analytics platform.
The NEH grant is for $324,791 outright, with an additional $50,000 in matching funds from NEH, and an equivalent private gift brings the total funding to $424,791. The grant will underwrite research by UVU students into the history and creation of state constitutions in Idaho, Washington, and Wyoming.
Developed at the University of Oxford's Pembroke College, the Quill Project takes records of constitutional conventions, and codes, digitizes, and enters them in the Project's proprietary software platform. It focuses on what constitutional drafters said and wrote, along with applicable stories about them in period newspapers, timelines, photos, political agendas, policy issues, the accompanying debates, etc.
According to Dr. Nicholas Cole, director of the Quill Project and Senior Research Fellow at Pembroke College, Oxford, the proprietary Quill software allows people to analyze multiple pieces of historical data simultaneously, which isolates and points out information that would normally be missed. "You can actually watch the framers' thought processes evolve as they painstakingly wrote, debated, and ratified the Constitution," said Cole. "It is almost like watching a movie in 3D."
"The Quill Project is a dream come true for constitutional researchers, educators, and lawmakers," said Dr. Rodney Smith, director of UVU's Center for Constitutional Studies. "However, it was also created to increase the constitutional literacy among everyone. People don't realize just how much the constitution impacts their day-to-day lives — this funding will further aid our mission to help make every citizen constitutionally literate." 
The National Endowment for the Humanities grant is the second institutional award for Utah Valley University. According to Cole, the Digital Humanities Advancement Grants are highly sought after, and applicants have a success rate of less than 15%. UVU was awarded the maximum possible award for this project. Smith gave credit to former UVU professor Dr. Carl Scott, who was the primary author of the grant application.
Other substantial grants from the National Endowment for the Humanities were awarded to the Georgia O'Keeffe Museum in Santa Fe, New Mexico, the Buffalo Bill Center of the West in Cody, Wyoming, the St. Louis Holocaust Museum, the Cahokia Mounds, a UNESCO World Heritage Site in Illinois, and many other deserving projects.