A Year in Review from the UVU President and Provost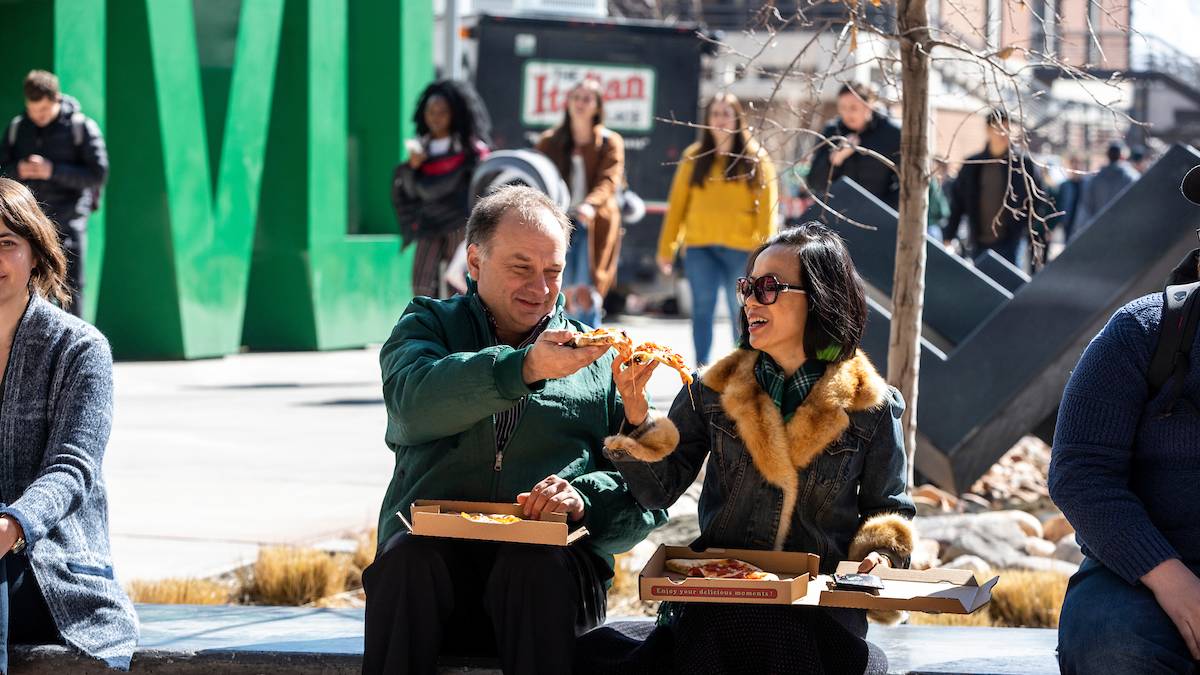 Dear Wolverines,
What a year it has been!
We commend and celebrate you for finishing the academic year successfully and demonstrating grit and determination. Over the last six weeks, as we have faced the COVID-19 pandemic, you have demonstrated what it means to be a Wolverine. To that, we say, "BRAVO!"
Celebrate
In the current environment of uncertainty, it would be easy to forget that we have much to celebrate in 2019-2020. In the fall, we welcomed 4,097 new Wolverine freshmen to campus and helped host the historic 68th United Nations Civil Society Conference on inclusive and sustainable communities. We also received the second-largest donation in UVU's history — $17.7 million — from doTERRA, and a $10 million gift from Scott C. and Karen Keller for the new Scott C. Keller Building that will house our Woodbury School of Business. This spring, our academic programs were recognized through grants from the National Endowment for the Humanities and the National Science Foundation. Our students performed at championship levels in culinary arts, dance, SkillsUSA, mechanical engineering, cross-country, and wrestling, to name but a few, and delighted us with performances at UVU's Noorda Center for the Performing Arts. After many months of work across campus, we unveiled our UVU Vision 2030 strategy document and made progress on digital transformation.
Please remember all these hopeful, vibrant, and celebratory moments. And as this semester ends, we say hurrah to 6,839 graduates, the largest-ever graduating class in our history. We look forward to celebrating this group at our 2020 commencement on August 19 in the UCCU Center, where we will hear from illustrious business leader and philanthropist Gail Miller.
COVID-19
The COVID-19 pandemic turned our world on its head. We have had to transition thousands of courses to online formats, observe social distancing, and follow stay-at-home directives. Our strength and resilience have been tested. We are humbled by the innumerable hours of service that faculty and staff have rendered to continue supporting our students and one another. This is Exceptional Care at its best.
COVID-19 has created economic difficulties for many students. To help them, generous donors donated approximately $25,000 in March and April to UVU's internal CARE Initiative to address immediate food, housing, and other student needs. More recently, the U.S. government-funded CARES Act has given us $11,474,604 to disburse to FAFSA-qualified students. This amount is half of the total $22.9 million in federal funding that UVU will receive to help sustain our educational mission in the face of COVID-19. The remaining funds will be used for institutional needs that have arisen as a result of the pandemic.
Onward, Wolverines!
Over the next several months, we will prepare to thrive in a "new normal." We will embrace changes that are inevitable, sustain our focus on Vision 2030, and intensify digital transformation across campus. If COVID-19 has shown us anything, it is that we must stay smart, agile, and collaborative in responding to change and deploying our limited resources. As we begin to return to campus in the coming months, we will track guidance from the USHE COVID-19 Task Force, the governor's Utah Leads Together Task Force, and the Centers for Disease Control and Prevention (CDC).
At UVU, our core values will always guide us: Exceptional Care, Exceptional Accountability, and Exceptional Results. Our doors and our hearts will stay open to every student who desires to be educated and wants to live a productive and dignified life. UVU has a place for all of us. Together, we will be strong and resilient.
Thank you for all that you do for our students and one another. We wish you and your families the best of health, a safe and healthy summer, and a joyful return to campus and to work when the time is right.
Go, Wolverines!
Astrid S. Tuminez, Ph.D.
President
Wayne Vaught, Ph.D.
Provost and VP of Academic Affairs