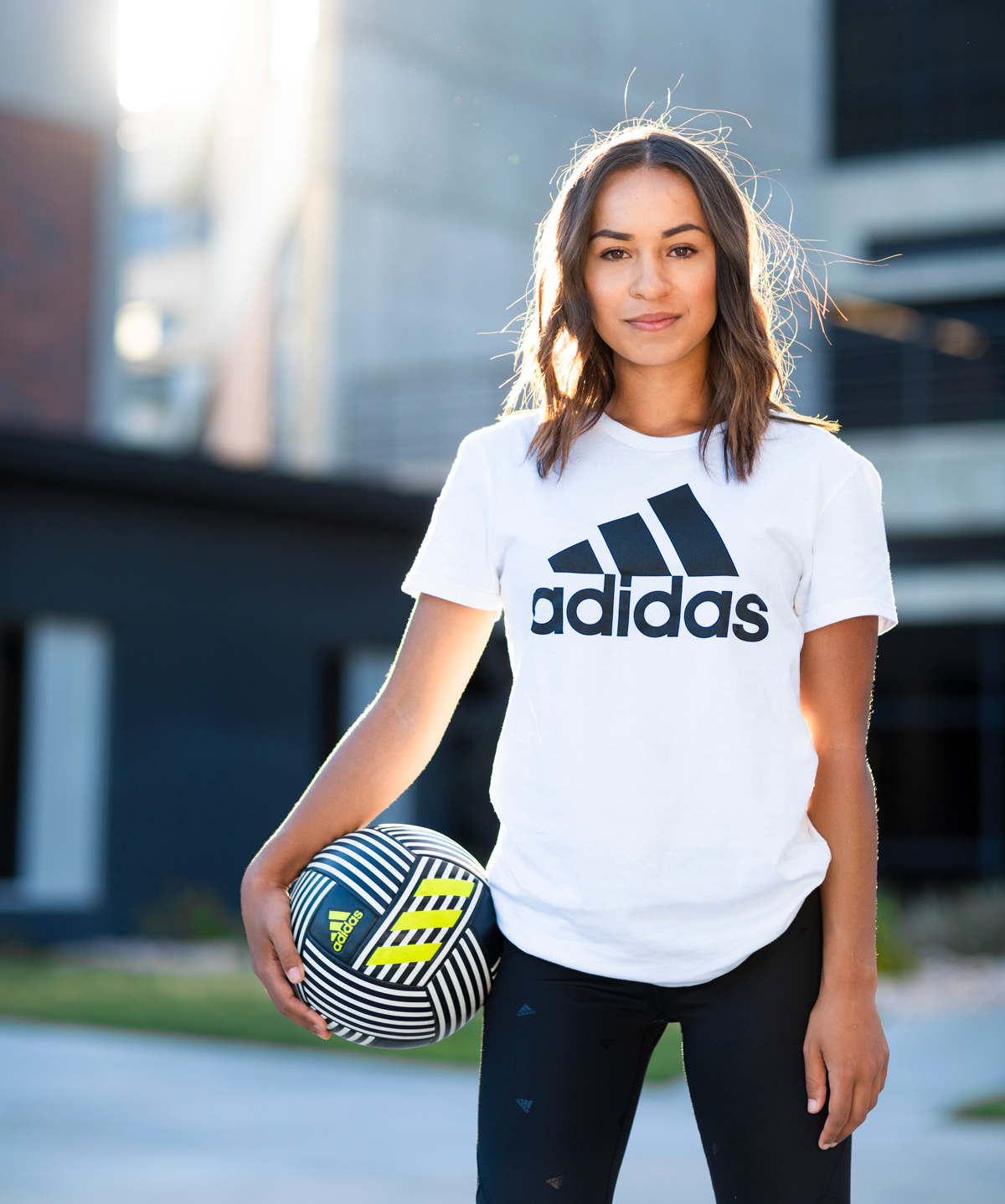 Photo by Savanna Richardson
By Layton Shumway  |  Photos by University Marketing Staff



Wolverine star Hannah Bruce takes her drive to succeed from the soccer pitch to a Master's program at Oxford
Utah Valley University women's soccer coach Chris Lemay knew what kind of player he had in Hannah Bruce the first time he saw her play — mere days after he was hired.
Brought on board in the spring of 2017, Lemay discovered the team had already scheduled a couple of practice matches, beginning soon after his start date. So he jumped on a plane, with barely more information on his new team than the names on the roster, held one team practice, and watched as they took on Brigham Young University in a spring scrimmage.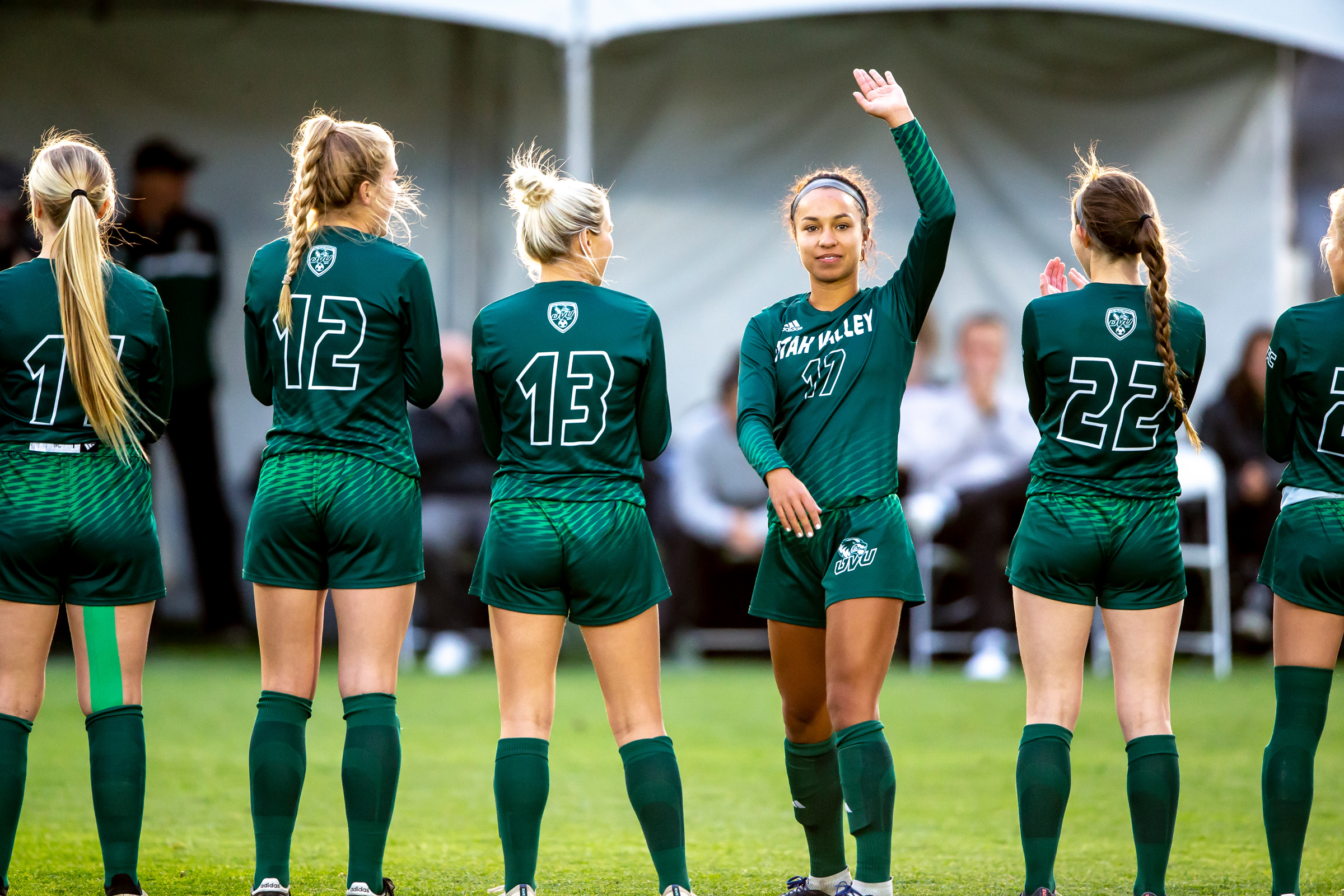 Photo by Jay Drowns
Her defining quality is that she only has one speed, and that speed is 'all in'."

  A few minutes into the game, Bruce fought to win possession of the ball with what Lemay calls a "murder-suicide tackle," leaving both herself and the opposing player shaken for several moments.
"It's the kind of tackle you really don't need to make in a spring scrimmage," Lemay says.
Concerned he might lose his team captain to injury in his first week on the job, Lemay yelled for Bruce to come to the sidelines to get checked out. She waved him off. A few moments later, she was back to running at full sprint.
"Her defining quality is that she only has one speed," Lemay says of Bruce. "And that speed is 'all in.' She has 100% commitment to whatever she's doing."
Here's what that commitment has earned Bruce: 57 starts in 64 games played as a Wolverine. A WAC Tournament championship as a sophomore. Team captain as a junior and senior. All-WAC honors for three straight years. And a professional contract with Puerto Rico Sol FC.
But those on-field accolades only tell part of the story — because Bruce's greatest achievements are still to come, and they might be in a classroom or science lab rather than a soccer pitch.
"My studies have always been a top priority, right up there with soccer," Bruce says. "School and soccer are two things I love. I take pride in my ability to succeed in both."
And she certainly has succeeded. Bruce graduated from UVU in 2019 with a 4.0 GPA and a degree in psychology. She earned All-WAC Academic team honors all four years of her Wolverine career. And this fall, she will enter a master's degree program in neuroscience at the University of Oxford in England.
"The great thing about all this is that it's just the beginning for her," UVU Athletic Director Jared Sumsion says. "She will do so many great things in her life. She's genuinely a great person."
A native of Nova Scotia in Canada, Bruce came to UVU in 2016 because she always wanted to play top-level soccer in the States, and Utah was a "home away from home" with family already in the state.
She says she has always had an interest in psychology, especially behavioral science, but her focus on neuroscience stems from her high school years, when a serious illness led doctors to discover a blood clot in her brain.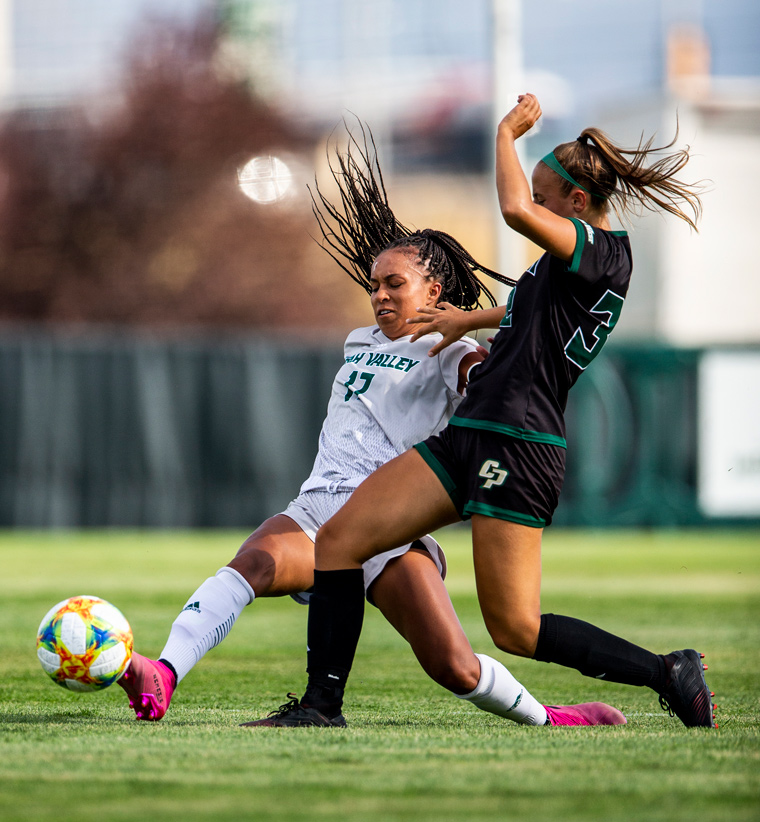 Photo by Jay Drowns
Photo by Savanna Richardson
Over the course of a year of treatment and meeting with neurologists, studying brain scans, and learning new terminology, Bruce says she became fascinated by the human brain.
"I just got so interested in the way all these chemicals interact, and how our brains can affect how we live our lives," Bruce says.
UVU personnel on both the athletic and academic sides encouraged her in her studies, providing opportunities for her to contribute to research publications and preparing her for grad school.
"I really don't think I would've gotten in without my professors taking me under their wing and believing in my capability," Bruce says.
As Bruce got closer to graduation, she was also in the running for a Rhodes scholarship, for which UVU President Astrid S. Tuminez personally helped her prepare.
"I thought it was spectacular the way the senior administrators and staff just went out of their way to help Hannah," Coach Lemay says. "President Tuminez personally spent time with her, Jared personally spent time with her. I don't know if you'd see that kind of personal attention at another school."
On top of her studies and academic achievements, Bruce was also active in school leadership, holding leadership positions with the Wolverine Student-Athlete Advisory Committee and UVU's Black Student Union. And Lemay says she kept a full social life, too.
"She was one of our most social players," he says. "Her willingness to do the blue-collar work drew people to her."
Bruce credits the support of UVU's athletic department with helping her strike the right balance and providing the resources she needed to achieve her goals.
"UVU did a great job at having advisers and tutors to help you on the academic side of things, sports psychologists to help you manage stress and other hardships, food and snacks to help you stay energized throughout the day," she says. "They demonstrated how much they valued us as student-athletes."
Bruce emphasized that that support is available to every UVU student-athlete, not just team captains or soon-to-be neuroscientists.
"A lot of student-athletes might just want to go to class, go to practice, and go home," she says. "But there are just so many opportunities to figure out what you want to do. Because of those opportunities, it's helped me figure out what I want to do in life."
No matter whether that path leads to the soccer field or the science lab, Sumsion says Bruce will find success by going at her own speed: all in.
"Hannah defined the term 'student-athlete,'" he says. "She was just as competitive in the classroom as she is on the pitch. I am so excited to follow her progress." ◼