CHPS Scholarly Activities
CHPS Scholarly Activities Grants promote academic excellence through scholarly activity and engaged learning through financial support of a wide range of projects including, but not limited to, service learning, classroom and non-classroom-based projects, and undergraduate/faculty research.
Previous SAC Grant Examples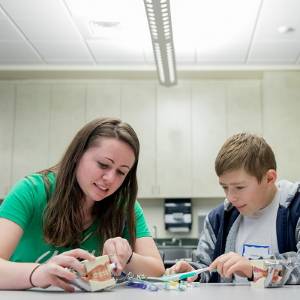 Strengthening the Body; An Interdisciplinary Project for Title One Children
Associate Professors Mary Brown, Dianne Knight & Dale Maughan
IMPACT: The Strengthening the Body Project brought together faculty and students from Public & Community Health, Allied Health, and Nursing to educate and support children ages 7-17 who find themselves in difficult situations with regards to basic daily living.  Each discipline involved students as mentors to help participants through learning stations with hands on activities and discussions to help improve the lives of these children. Students gained experience interacting with the public and handling various situations that may be encountered as part of future employment.
SAC FUNDING : Support was provided for kit supplies, materials and a meal for participants.
Sexual Assault Awareness Workshop
Assistant Professor Bobbi Kassel
IMPACT: The UVU Criminal Justice Department jointly co-hosted a free informational workshop featuring presenters from the Provo Police Department Special Victims Unit Division and Victim Services along with Intermountain Health Care, Utah County Attorney's Office and the Center for Women and Children in Crisis. Assistant Professor Kassel emphasized the importance of raising awareness with students and community members and improving our ability to discuss these issues and recognize the resources and correct information to provide to victims of sexual assault.
SAC FUNDING: Support was provided for printing and advertising, folders and pens for participants, and refreshments.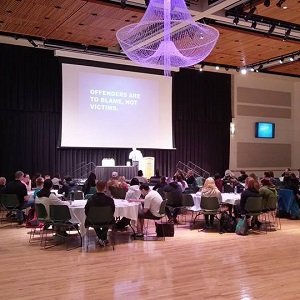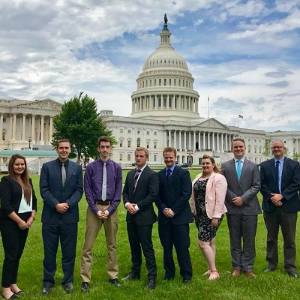 National Security Studies Summer Seminar
Assistant Professor Ryan Vogel
IMPACT: Students participating in the summer seminar program led by Dr. Vogel spent three weeks at UVU through two courses to better understand the roles and functions of key national security departments, agencies and organizations followed by a week in Washington D.C. to meet with national security officers and high-profile figures in the international and non-government community. Agencies visited included the Pentagon, CIA, White House, National Security Council, Capitol, Department of Justice, State Department and others.
SAC FUNDING: Support was provided for faculty travel expenses for the Washington D.C. experience, eliminating the need for participating students to shoulder this cost.
1

Determine the Appropriate SAC Category

Determine the appropriate SAC Grant Category for your project. (Faculty Quick Grant, Faculty Major Grant, or Student Grant).
2

Complete and Submit the Application

Complete the application in its entirety. Be sure to provide all requested information and any supporting documentation. Common errors include missing information and incomplete or inaccurate budget tables, so be sure to review your calculations. You will need to sign and submit the application to advance to the next step.
3

Supervisor Review & Signature

Once submitted, your supervisor will be notified via email to review your application in DocuSign.
4

Committee Review and Recommendations

After your supervisor approves your application, it is automatically forwarded to the committee for review. Major applications are reviewed in October and March. Faculty Quick Grant and Student Applications are reviewed at the committee meeting following receipt of the application. After review, the committee will forward recommended awards to the Dean for approval.
5

Dean Approval & Award Letters

The Dean will review recommended awards and if approved, award letters will be distributed to the recipient, supervisor and department administrative assistant.
6

Recipient Signature

Recipients will be responsible for reviewing their award letter and affirming their ability to complete the project outcomes based on the amounts noted in the award letter.
7

Project Completion & Reporting

Recipients will be responsible for spending according to their award as noted in their award letter and for submitting a progress and or completion report.
Types of SAC Grants
Travel Guidelines
Please be aware of all COVID-19 travel guidelines and restrictions for travel as you are filling out grant applications.
Review current UVU guidelines here.
Faculty Quick Grants
WHAT: Appropriate for awards up to $1,500,  faculty may submit a SAC Quick Grant application on a rolling basis any time during the open application period between September and April. Quick grant applications will be reviewed by the scholarly activities committee at the next scheduled committee meeting following receipt of the proposal.
Student Grants
WHAT: Students enrolled in courses leading to a degree in any of the CHPS programs may submit an application on a rolling basis any time during the open application period between September and April. Awards are typically capped at $1,500 per student. Students must apply individually for their own SAC grant funds.
Faculty Major Grants
WHAT: Appropriate for requests between $1,500 - $5,000, faculty may submit a SAC Major Grant Application during a fall or spring application window.
FALL APPLICATION DEADLINE - Due November 1st For Projects with Activities Occurring January 1st through June 30th.
SPRING APPLICATION DEADLINE - Regularly April 1st Due to 2021 Transition to Adobe Sign, Deadline extended to April 15th For Projects with Activities Occurring July 1st through December 31st.*
*STUDY ABROAD SUPPORT
SAC Applications requesting financial support for the director leading or faculty member participating in a study abroad experience must be submitted by the spring application deadline the YEAR PRIOR to the study abroad experience. This process aligns with the university study abroad application timeline. For example, a faculty member planning a study abroad experience for students in January 2020 or May 2020 who wishes to apply for their own travel funding support from SAC should submit a major grant proposal by April 1, 2019 AND must also comply with all UVU study abroad requirements and timelines.