Join us at UVU's Culinary Arts restaurant, located on the main floor of the UCCU center.
801.863.7054 • 800 W. University Pkwy, Orem, UT 84058
The restaurant interior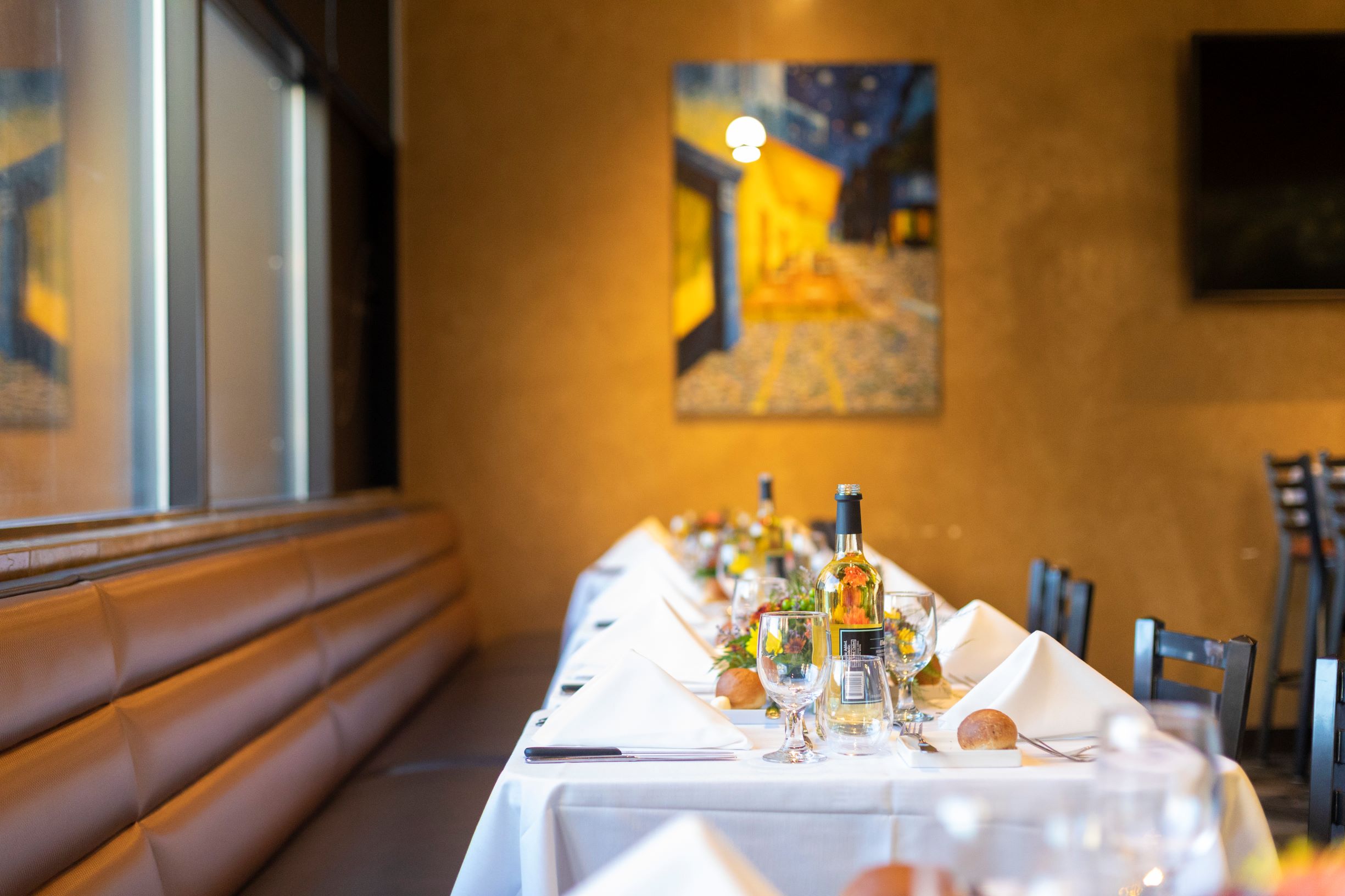 The Experience
Restaurant Forte is a tribute to former Utah Culinary Director Greg Forte, who started the UVU Culinary Arts program in 1990 utilizing the Pioneer House which was once in the center of campus. 
Chef Forte, who has also served as Director of Education at Le Cordon Bleu, took the culinary curriculum at UVU from its humble beginnings and developed it into a world-class program that produces top chefs who are in high demand and are recruited by renowned establishments throughout the country.
Restaurant Forte plays an important role for UVU Culinary Arts students in gaining valuable experience in all aspects of running a food service business. Students rotate through different stations of the operation in addition to planning and preparing menus focusing on international and American regional cuisine.
Restaurant Forte is where delicious food prepared by thriving culinary arts students and good company join together to honor the roots of UVU's Culinary Arts program and to toast its promising future. 
Thank you for dining with us. Bon Appétit!
Cody
Come support our students - $25 per guest. 
*The fundraiser event held on March 26th and 27th will be $75 per guest.
Gift certificates are not valid for fundraising events.
 
Reservation Dates & Times
 

Week #1 - CUISINE OF THE AMERICAS 

with Chef Peter Sproul

Thursday, March 5th ~ 6-7 pm

Friday, March 6th ~ 6-7 pm

Week #2 - CUISINE OF EASTERN EUROPE

with Chef Todd Leonard

Thursday,

March 12th

 ~ 6-7 pm 

Friday, March 13th ~ 6-7 pm 

Week #3 - FUNDRAISER

with Chef Peter Sproul & Utahna

Thursday,

March 26

th  ~ 6-7 pm
Friday,

March 27th

 ~ 6-7 pm

Week #4 - CUISINE OF WESTERN EUROPE

with Chef Todd Leonard

Thursday, April 2nd ~ 6-7 pm
Friday,

April 3rd

 ~ 6-7 pm

 Week #5 - CUISINE OF ASIA

with Chef Troy Wilson

Thursday, April 9th ~ 6-7 pm

Friday, April 10th ~ 6-7 pm
Reservation Policies
Reservations for the upcoming weeks cuisine will be open on a first come first serve basis beginning Saturday prior to the weeks reservation.
All cancellations or changes for reservations must be made within 48 hours to allow us to fill the table.
We are not able to accommodate parties larger than 8.
For reservations and available seating times, please reserve online. To edit or cancel an existing reservation please call 801.863.7054