DX HALF-TIME LIVESTREAM
The Half-Time Livestream has been going strong since Jan. 8, 2020, bringing everyone in Dx together for the chance to:
Ask questions directly and get them answered
Hear up-to-date news about projects, changes, events, and more
Recognize team members for their great accomplishments
Ponder the quote of the week
Learn the stat of the week
Laugh at the plentiful dad jokes
To participate, tune in every Wednesday at 11:45 AM on the Half-Time Channel on the OIT - Public team in Teams. It's 15 minutes you won't get back, but hopefully, you won't want them back!
2021 AWARDS OF EXCELLENCE
The Presidential Awards of Excellence highlight faculty and staff for their efforts in key areas related to UVU's mission, values, and action commitments. There are four award categories: the Presidential Exceptional Care Award; the Presidential Exceptional Accountability Award; the Presidential Exceptional Results Award; and the Presidential Excellence in Mission Award. The submission deadline to the president's office is December 3, 2021. To submit a nomination,
follow this link
.
THE UVU GOODWILL ASSOCIATION
The UVU Goodwill Association sends get-well wishes to UVU employees with the primary goal of enhancing employee relations by maintaining a caring atmosphere at Utah Valley University. Membership dues are used for the following:
Sending get-well floral baskets for hospital stays greater than 3 days (typically for life-threatening illnesses). 
Sending bereavement floral baskets to employees who have lost a mother, father, child, in-law, or spouse. 
Do you know any employees needing goodwill?
Please refer them by following this link
. For more information about joining UVU's Goodwill Association,
check out their page
.
WOLVERINE SIGHTINGS
Have you seen a UVU staff member offering exceptional service or giving an exemplary performance? Remember to nominate them for the
Wolverine Sighting Employee Recognition Award
! The Wolverine Sighting Award is an employee recognition award sponsored by PACE. Nominees must be full- or part-time UVU staff employees, but there is no minimum requirement for years of employment and nominations are accepted year-round.
DX TEAM RECOGNITION
The Dx Team Recognition Award is a way to recognize our colleagues in Dx for their hard work and accomplishments. Recognized during our Half-Time live-stream each Wednesday at 11:45 AM, a deserving nominee will also receive an award certificate and two movie vouchers. 
To nominate someone,
fill out this form
or navigate to the OIT - Public team in Teams, enter the Half-Time channel, and select the Team Recognition tab from the top menu. Remember, nominations must be submitted by 5:00 PM on Tuesday to be eligible for the following Wednesday's Half-Time.


STUDENTS FIRST
Dr. J. Kelly Flanagan,
 Vice President of Digital Transformation / CIO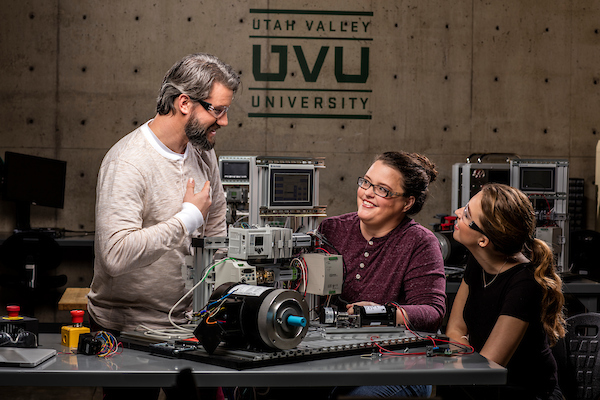 At Utah Valley University (UVU), we continue to develop a culture where we focus our efforts on students. UVU is an integrated university and community college that educates every student for success in work and life through excellence in engaged teaching, services, and scholarship. In this post, I address how a service organization like the UVU Division of Digital Transformation (Dx) can participate in engaged teaching.
Engaged Teaching
The UVU Office of Engaged Learning describes engaged teaching as the teaching, learning, and scholarship that engages faculty, students, and community in mutually beneficial and respectful collaboration. Consider the three possible pairings of students and faculty, community and faculty, and students and community.
First, students learn from faculty, but faculty, in turn, learn from students. In addition, students help faculty develop scholarship. Second, our community advises our faculty and gives their scholarship direction. Likewise, our faculty develop scholarship that benefits our community and local economy. Finally, our community provides mentoring, internships, scholarships, and jobs for our students and graduates, and our students provide our community with knowledge, energy, and fresh perspectives.
Our On-Campus Community
Dx at UVU is like information technology organizations at other universities in that Dx provides information technology infrastructure such as networks, servers, storage, telephony, identity, and more. In addition, Dx includes enterprise architecture, product portfolio management, process improvement services, classroom technology, teaching technology, mobile computing platforms, teaching studios, and more.
Dx provides these products and services through the work of full-time, part-time, and some student employees. In addition to their "day jobs," some of these employees teach as adjunct faculty in various academic units on campus. In this role, they contribute to engaged teaching as described above. 
However, a campus service organization like Dx can more fully participate in engaged teaching as members of the broader community. In other words, Dx should serve as advisors to our faculty and give their academic scholarship real-world experience, data, and direction. Likewise, Dx should benefit from the faculty scholarship that informs our work. Dx should provide mentoring, internships, scholarships, and jobs for our students and graduates. In turn, these students will provide Dx with new knowledge, energy, and fresh perspectives. This insight from students regarding the student experience with the services provided is invaluable and will no doubt improve provided services.
Moving Forward
So, what needs to be done to transform Dx? Well, there are several approaches:
When Dx hires new full-time employees, they must have the ability and desire to mentor students above and beyond the traditionally required skills.

When full-time positions become available, Dx must consider filling the positions with multiple student employees. While student employee turnover is rapid, requiring a tremendous amount of training, isn't that why we're here—to educate students who take what we teach them and become productive contributors to society?

Dx should provide internships to UVU students.

Dx should provide meaningful capstone projects to student groups that will benefit them; in turn, the campus community will benefit from the project's outcome.

Dx must seek out faculty who teach classes and perform scholarly work that may benefit from the real-world experiences and data that Dx has. Dx must make these experiences and data readily available.

When Dx faces questions about technology choices, function, or performance, we should seek out the technical expertise of our faculty colleagues.

Finally, Dx must find ways to give directly to faculty and students. Perhaps Dx can fund named scholarships for students or fund endowed chairs for faculty. Both endeavors send a clear message that Dx is aware and engaged in the mission of the university.
Summary
Digital transformation is about much more than technology and its use; it's about changing thinking, process, and culture. It is time that Dx and other campus organizations transform to benefit our students more directly. Employees of Dx and all campus entities should become teachers, mentors, and examples to the students who come to us to learn and grow. We have an excellent opportunity to influence the world for good. Join me in this grand pursuit!
WE CAN CHANGE OUR STARS
Brett McKeachnie, 
Senior Director of Product Portfolio Management

In the movie "A Knight's Tale," William Thatcher is born into a medieval society where most people feel trapped by the social statuses into which they are born. As the son of a thatcher, William's destiny is written for him by the culture he belongs to. But William dreams of more.
William asks, "Can it be done, Father? Can a man change the stars?" 
His father calmly replies, "Yes, William. If he believes enough, a man can do anything." 
William pursues his dream of being a knight with tenacity and optimism. It takes years, but after struggle and sacrifice, William demonstrates his noble character and is acknowledged by the crown prince, ultimately earning a knighthood and changing his stars. 
In the case of William and his father, their "stars" were the things that were within their capacity to accomplish, given their status in society. I think in our work environment, our "stars" are the things we are able to accomplish collectively, given our ability to adapt to our ever-changing environment. Many of us feel that our stars are stuck, but they're not. We can imagine a better future state and move toward it. To change our stars, we need to be intentional about our culture, strategy, and tactics.
Culture and Strategy
Culture is the way we operate to fulfill our goals—including the behavior and values at our core. Culture is about how we act in critical situations, how we manage pressure and respond to challenges, and how we treat our customers and each other. While strategy defines direction and focus, culture is the habitat in which strategy lives or dies. Strategy may set the rules of play, but culture determines the way the game is played. 
In a perfect scenario, culture and strategy are developed simultaneously to complement each other. When in sync, they enable each other to create incredible organizational transformations. But let's face it: we don't live in a perfect scenario, and we've all been through a lot of changes in strategy over the past couple of years. So, what are we going to do about our situation? How are we going to change our cultural stars?
Peter Drucker's famous quote, "Culture eats strategy for breakfast," means that no matter how strong our strategic plan is, it cannot be effective if our team members don't share the proper culture. The fact is that culture happens whether we work on it or not. It seems to me that each and every one of us has to deliberately decide what our new culture will be. 
Imagine a culture in which:
We embrace new ideas, new skillsets, and new processes.

We assume the best intentions of every person we deal with.

We try new things, even when they make us uncomfortable. 

We work hard to make the new tactics work.

We fail fast and try again.

We give new tactics a chance to succeed.
To me, that looks like a work culture that will help us overcome our present challenges and change our stars. This is a culture in which our strategies will take us towards a better future state. 
Tactics
The present Dx strategies were determined by our Dx leaders in council together. Tactical decisions are pushed to the lowest appropriate level in the organization to help us implement our strategies. Tactics include processes, toolsets, and systems for getting work done, and they can only support our strategies when we use them.
Change is hard. We're being asked often to change how we work, and that's uncomfortable, even when we know the old ways aren't effective and even when we want to see improvements. This brief video training provides tips to help us deal with that discomfort: https://www.linkedin.com/learning/embracing-unexpected-change.
In order to change our stars and reach our desired future state, we need to avoid pushing back against tactics that are new to us. This doesn't mean we have to follow blindly. We can ask questions to learn about the new tactics and how they were selected. But rather than doubting and criticizing, we need to choose to embrace and support new tactics. When we do, our strategies will succeed, and Dx will move forward in supporting the university's mission of helping students achieve success.
Conclusion
Culture. Strategy. Tactics. What do these all have to do with each other, and how can they affect our stars? I'm concerned about our old culture holding us back. Many times, when we've not given new tactics a chance, our strategies fail. I feel confident we all agree that the Dx strategies are our path to making a difference here at UVU, but we can't stop at the strategies. We've got to embrace the tactics that will help us implement those strategies.
Here's a story from How to Get Better at Dealing with Change (hbr.org) that I feel illustrates this principle: 
In the late 1970s a researcher at the University of Chicago named Salvatore Maddi began studying employees at Illinois Bell. Soon after, the phone industry was deregulated, and the company had to undergo a lot of changes. Some managers had trouble coping. Others thrived. What separated the two groups?
The adaptive leaders chose to view all changes, whether wanted or unwanted, as an expected part of the human experience, rather than as a tragic anomaly that victimizes unlucky people. Instead of feeling personally attacked by ignorant leaders, evil lawmakers, or an unfair universe, they remained engaged in their work and spotted opportunities to fix long-standing problems with customer service and to tweak antiquated pricing structures.
In contrast, Maddi found that the struggling leaders were consumed by thoughts of "the good old days." They spent their energy trying to figure out why their luck had suddenly turned sour. They tried to bounce back to a time and a place that no longer existed.
The author of the story above does not detail the consequences of what happened to the leaders that longed for the past, but I imagine their behavior did not lead to success on a personal level or an institutional level. Let us be like the adaptive leaders—engaged in our work, seeking opportunities to fix problems, and looking at ourselves as active agents of change, not as victims of our circumstances. 
December is an excellent time to reflect on prior successes and failures and then to look forward, fixing our sights on a greater goal than we've been able to achieve previously. Given the right cultural changes, the stars that have long held us back can change, opening up incredible opportunities for growth, success, and transformation. Our destiny isn't written for us; we are not stuck. But it is up to us to pursue our Dx vision with tenacity and optimism. 
If we believe enough, we can do anything. Do we believe enough to try and fail and try again without giving up? Will we support others, including our leaders and colleagues, in doing the same? We have an amazing opportunity, right now, to change our stars. Let's take advantage of it! As Simon Sinek says, "Take the risk of optimism!" 
Sources:
I USED TO LOVE WORKING AT UVU
Jim Condie, Director of IT Infrastructure Services / Operations 
I used to look forward to coming in to work every day, collaborating with amazing people, feeding off the energy of education, and making a difference. I felt useful and productive. Things weren't perfect, and there were plenty of frustrations, but I forged forward and loved it. Then it happened: Matt Holland was leaving, Ray was retiring, and the SWARM acronym was ruined forever! Dun-dun-duuun!
I re-calibrated a bit and got excited about the changes: a new tech-savvy HR director, a new president, a new VP, and new AVPs. But then it happened again: the pandemic hit. Dun-dun-duuun!
People were sent home. The economy faltered and is still faltering. Friends struggled and are still struggling. We lost a few loved ones. IT went nuts in the process of adapting to a new environment. I hunkered down, trying to survive the Covid-19 isolation, and went into self-preservation mode, with little sympathy for anyone in my path for the sake of getting work done.
Before Thanksgiving, I found myself in a small meeting with a few UVU friends. I complained about working in an organization that did not support the vision they gave me, the lack of cooperation I experienced from all over IT, the lack of support from leadership, the passive aggressive attitudes, the comics, and more. Then it happened again: I realized that I was the one that had become toxic! 
I was so impacted from the last few years that I wasn't giving people a chance. I was the one stuck in history, judging the outcomes of conversations and decisions based on past frustrations. I was the one that needed to change. 
That moment of realization was powerful for me. In the last few days, I have reflected and realized something that I already knew: we are all struggling in different ways. For me, the intensity of those struggles has been magnified by events outside of my control and by some blindness on my part. I allowed myself to fall into a trap of negativity, depression, stress, anxiety, Sunday night insomnia, and questioning my self-worth.
If you've read this far and you can relate in some way to what I have experienced, let's do better. Let's slow down a bit and look at everyone and every project with a fresh set of eyes. I like the idea of Friday morning meetings at IHOP to solve the world's problems. I want to do the best I can with the time and resources I have, and I want to stop stressing about or judging things outside of my control. It all starts with us, for better or worse.
If I have pulled you into my drama over the last few years, I hope you'll accept my sincerest apologies. Please give me a chance and help me start over. Things are still tough out there, but I'm choosing to move forward with gratitude for what I do have, forgiveness for what I don't have, and kindness toward who I'm working with in the present. I think it's about time and I hope you'll join me. 😊
HOSTED FACULTY WEB SITES
Tim Stanley,

 
Director of Institutional Research 

Geoff Matthews,
Associate Director of Reporting, Analysis, Data Mgmt.


There are times when campus leaders ask broadly stated questions that need to be answered in clearly defined ways. One of these questions is, "Why are women under-represented among our graduates?" 
For 2019-20, 46% of award recipients at UVU were women. On the surface, this appears like a disparity. However, UVU's Fall 2020 enrollment was 49% female. If you exclude high school students, it is 47% female. If you only count continuing students, 43% of students are women. When you take these enrollment numbers into account, the initial disparity in awards seems less concerning. 
https://www.uvu.edu/ir/performance-indicators/inclusion-diversity/women.html#obj3
The obvious question here is why fewer women are enrolled at UVU. When you look at enrollment by age, it becomes apparent that our younger students are more likely to be women, while our older students are more likely to be men. 56% of students 18-21 are women, but 58% of students 22-24 are men, as are 69% of students 25-29. Women aren't a majority within an age group until 40-49 (67%), but students that fall within this range are a minority at UVU. In short, the reason for UVU having more men enrolled than women is a function of age.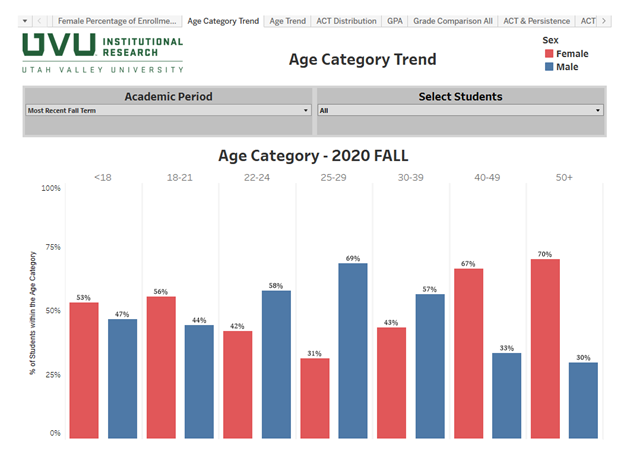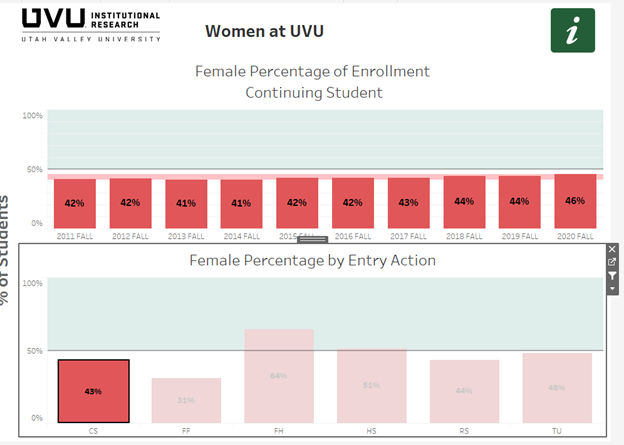 WANTED: WRITING, EDITING, AND DESIGN PROJECTS 
Caitlin Tobler, PR Writer 

Do you need assistance with creative projects or communication tasks? Are you struggling to find the right words for important documentation? As the in-house PR writer for Dx, I can help! My writing, editing, and design skills can be used for many different internal and external communications. What qualifies as communications? I'm glad you asked: 
Documentation

Web content

Web images

Visualizations and charts

Advertisements for tools or services

Announcements

Job descriptions

Blog posts

Newsletters

Posters

Fliers

Business cards

Video scripts 

And more! 
Ultimately, my goal is to help improve communications within Dx. If you need assistance with any communications-related tasks, please reach out to me over Teams or Outlook. 

OPEN JOB POSITIONS
The following positions are available in Dx. Be sure to watch
uvu.jobs
 for upcoming opportunities in Dx. 
Is there an opening in your division or department that needs to be filled? Be sure to get it approved according to the
Temporary Human Resources Guidelines
. Once the position is open, get the word out by submitting it to Caitlin Tobler for next month's newsletter.
NEW EMPLOYEES
The following individuals have been recently hired by Dx:
Jackson Lohman

,

Support Technician II

Jolie Martin

,

Research Assistant
We are so excited to have new people on our team! Be sure to give them a warm welcome!