Firefighter Recruit Program
"The RCA was the best! It was exactly what I was looking for. I had looked into other fire academies and the RCA at UVU seemed to support what I was looking for. I knew first off by the Firefighter Rookie Challenge. I was able to meet some of the instructors, and that night I learned of the standard that was required. I knew firefighting was going to be hard, and I wasn't looking for easy! It exceeded my expectations!"
RCA Graduate Jackie Berg, Class 71
RCA Program Overview
The RCA is a rigorous 15-week, full semester course that prepares the student to obtain the four required certifications for entry-level firefighters, Firefighter I & II and Hazardous Materials Awareness and Operations certifications. The goal of each instructor and the program overall is to teach students the fire service culture and the proficiencies necessary to be successful in obtaining employment through academics, skills, and interviewing techniques.
During the RCA course, the students will be required to watch on-line lectures while practicing the over 130 required skills while in class. Discipline is key to being successful as a rookie firefighter. The RCA is a quasi-military program that prides itself in producing new firefighters who can both drive and operate an engine, has over forty live fire experiences in training, understands the demands of a fire service career and has directed companies at training fires as a fire company officer. Leadership, competence and confidence make up the "UVU Difference".
Program Learning Outcomes
The student will demonstrate essential job performance functions in order to successfully accomplish State Firefighter and Hazmat Certification skills requirements.
The student will analyze, organize and interpret the vast amount of information necessary to successfully accomplish State Firefighter and Hazmat Certification written examination requirements.
The student will demonstrate appropriate interpersonal and team related skills necessary to be successful as a team member of a response organization.
The student will demonstrate the necessary skills and attitudes in order to prepare for a career in the Fire Service academically, physically and practically.
The student will train in a disciplined, stressful, realistic and team-oriented environment, where they will develop the skills used on the fireground and in the firehouse.
The student will learn to apply the principles of personal responsibility related to taking ownership of their own performance as well as the performance of the team.
The student will define the meaning of success or failure as a team.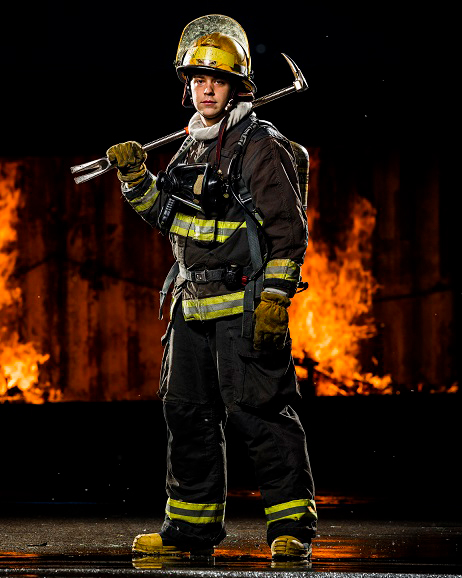 Do I need to be admitted to UVU to participate in this course?
Yes; apply for admissions at UVU's admission page and select the "New Student" , "Returning Student" tab or Transferring Student" to begin the application.
What is the Recruit Candidate Academy (RCA)?
It is a basic firefighting academy with the goal to prepare every student for entry level employment as a firefighter and hazmat responder. It is a regimented, quasi military course with a demand for respect and attention to detail. This includes uniform, appearance and attitude. It is also a very physically demanding course. Physical training (PT) may include running up to 5 miles. Training also includes rigorous exercise and weight lifting to build strength and endurance to prepare for the demands of a firefighter. The RCA is a hybrid course with online lectures and testing.
What certifications will I receive if I successfully complete the RCA?
Upon successful completion, you will receive the following levels of certification from the State of Utah. These certifications are IFSAC and NPQS (Pro-board) accredited.
One-year certificate - Firefighter Recruit Candidate (RCA) from UVU
What are the prerequisites to get into the RCA?
Successfully complete the RCA Physical Fitness Ability Test (PFAT) on the first day of class:

Run 1.5 miles in less than 15 minutes
As many possible push-ups in 1 minute, from your toes, full arm extension
As many possible sit-ups in 1 minute, hands on head or behind your neck

Have a valid driver's license

Complete: (Must have a C- or higher)

Demonstrate competency in English and Math by one of the following:


ACT, SAT, High School AP courses, college level courses (ENG 1005 and MAT 0950), degrees or RCA entrance exam

ESFF 1000 (4 credits) - Intro to Emergency Services and Ability Testing
ESFF 1120 (3 credits) - Principles of Fire and Emergency Services Safety Survival
ESEC 1140 (9 credits) - or successful completion of an approved EMT course
How do I apply to get into the RCA?
Do I need to have all my prerequisites completed before I turn in the application?
No. But they must be completed before the first day of class.
When are RCA applications due?
Applications are due on April 1st for the fall semester and October 1st for the spring semester.  We will consider late applications if the class is not full.
How do I register?
Once prerequisites are verified and you have been notified of your acceptance into the program, an Emergency Services advisor will clear you to register yourself for RCA.  If you have completed all of your prerequisites, you will be eligible for priority registration during the first week of registration.  If you are in the process of completing your prerequisites, you will be eligible to register the second week of registration.
What textbooks will I need for RCA?
What is the schedule for the RCA?
Wednesdays and Fridays,  7:30 am – 5:00 pm and some Saturdays, TBA.
How is the semester schedule broken down?
Students will enroll in two classes totaling 16 credits: ESFF 250A (8 credits) and ESFF 250B (8 credits)
What is the cost of the RCA?
Resident / Non-Resident Tuition and Fees: You will be charged $2,000.00 for Block A (ESFF 250A) and $2,000.00 for Block B (ESFF 250B), totaling $4,000.00 for the semester
Books, Equipment, and Supplies: Approximately $480
I've heard that the RCA is very demanding and that if I'm not in shape physically or of a slight build, it is extremely difficult to pass the certification testing, is that true?
It is true that the RCA program is physically demanding, and so is the profession of firefighting/EMS response. Any student can pass if they come prepared, put forth the necessary effort, and do the work that is required to perform well in the gym and on the training ground. If you are injured or come to RCA in order to "get in shape," it's too late and you will most likely struggle physically.
Is it true that a lot of students leave the program due to too many demerits?
Students who accrue 100 demerits or more and receive 3 personnel notices are asked to leave the program at the discretion of the Lead Instructor and RCA Program Manager.  99% of all recruits who start the program either finish or quit the program of their own volition. Removing a student is rare. Students who struggle academically, physically, or with fire skills and accrue a lot of demerits due to sub-standard performance usually leave the program. Most recruits graduate with fewer than 20 demerits and no personnel notices.