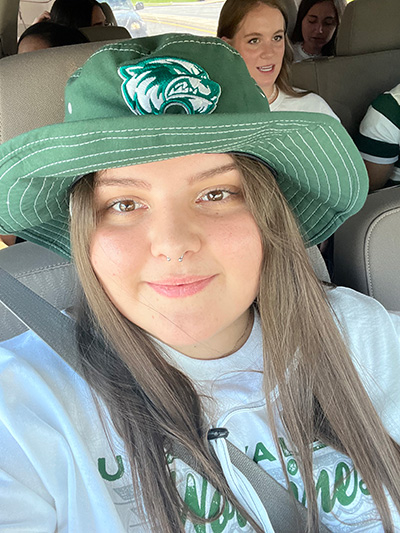 Lina Varionova grew up in Derazhnya, Ukraine, and followed in the footsteps of her mother to receive her nursing degree at 18 from First Kyiv Medical College. After working as a nurse for a while in Ukraine, Lina continued her medical training at University of Lodz in Poland, but she didn't feel like it was the right fit. While she was studying in Poland, her mother suggested she check out universities in Utah, and Lina started looking into Utah Valley University (UVU).
Once she decided to attend, the process moved quickly. Lina said, "I dropped everything in Poland and moved out in the span of four months. I got a visa, was accepted to UVU, packed my life into two suitcases, left all my friends and family, and arrived at UVU."
When she started at UVU, Lina intended to pursue a nursing degree, but then changed her major to Public Health with minors in Healthcare Administration and Marketing. While she loved learning about caring for patients as a nurse, she wanted to become educated on how to not only treat sickness, but also prevent it through public education and programs. She said, "I wanted to do something still connected to medicine, because I feel like it's in my blood."
When she first arrived at UVU, Lina found a sense of belonging through the International Student Council, which provides valuable resources and mentors for new international students. After benefitting from the student-mentor program, Lina decided to become a mentor herself. Now, Lina is in her second year of mentoring new international students.
Lina was also selected as a UVU Foundation Ambassador. "I got a chance not to only work with international students, but with American students who also want to be involved in the school.  That's been so rewarding because I formed a lot of new connections and friendships."
These experiences have provided her with scholarships that have helped her afford international student tuition at UVU. "Scholarships have been a huge help because my mom is my only financial support, and she has been working hard her whole life to support me. Receiving scholarships has allowed me to pursue my dreams —I can finally call her and tell her 'Mom, we don't need money for this one, you can save up and do something for yourself,'" Lina said.
As the war in Ukraine has continued, Lina has received an outpouring of support, not just financially, but also emotionally. She said, "There's this factor of humanity that goes into all of the organizations that I'm involved with, which is really great. It feels like this is my UVU family."
About Utah Valley University
At Utah Valley University, we believe everyone deserves the transforming benefits of high-quality education — and it needs to be affordable, accessible, and flexible. With opportunities to earn everything from certificates to master's degrees, our students succeed by gaining real-world experience and developing career-ready skills. We invite people to come as they are — and leave ready and prepared to make a difference in the world. For more, visit uvu.edu or follow us on Instagram or Facebook.
Contact
Christie Denniston
Associate Vice President of Strategic Engagement
Institutional Advancement
303-827-5164
Scott Trotter
Senior Director of Communications
University Marketing and Communications
801-863-6807