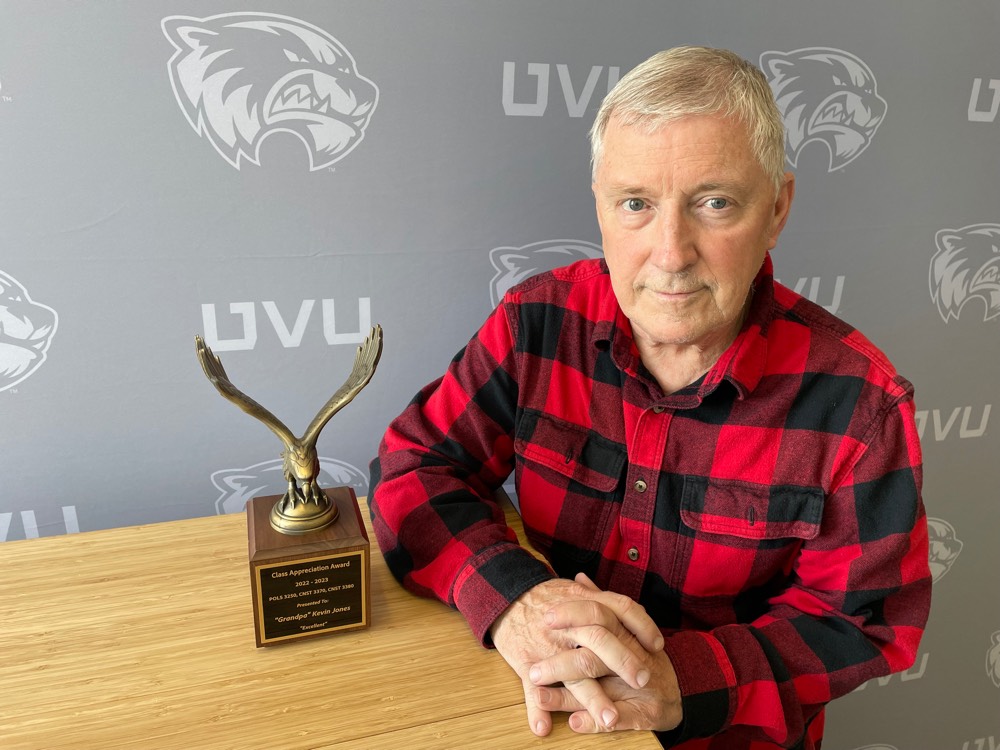 UVU Adjunct Professor Dedicated to Student Success
May 23, 2023|  By Heather Bergeson
After a long and successful law career that included working in all three branches of the United States government, Dr. G. Kevin Jones shifted his focus to higher education. Now, as an adjunct professor at Utah Valley University (UVU), Jones supports students not only in their academics but also financially.
"I was doing a lot of good but was not satisfied," he said. After being inspired by a passage of scripture, Jones reflected on how he could make a difference. "I decided to focus on education as a means of doing good and sponsor student scholarships."
Jones's passion for education and his generosity in funding student scholarships is rooted in his family history.
"Education moved my father from poverty to a successful career in academics and the foreign service," Jones said. "My dad got a $100 scholarship from Sears and Roebuck, and that was enough to start him on a successful path."
Jones began teaching law, history, and political science courses as an adjunct professor in 1980 and has since taught at multiple universities across the country. In 2012, Jones began teaching at UVU.
"I became an adjunct professor because I enjoy school, studying, and interacting and discussing ideas with students," Jones said. He focuses on creating community within his classrooms and making sure every student who comes in his door feels welcome and knows they can succeed.
Jones's students have expressed appreciation time and again for Jones and the dedication he commits to each class. At the close of the spring 2023 semester, his students held a celebration and honored him with a Class Appreciation Award trophy.
"Dr. Jones's compassion and care for the students is simply unmatched," said one of his students. "He truly cares about all of his students and does his best to help them succeed, both in and out of the classroom."
Jones is passionate about the power of education, and through generously endowing student scholarships, he hopes to make a UVU education more affordable for as many students as possible. 
"Many UVU students need financial support and encouragement to get them through college and toward a better life," Jones said. "I support UVU scholarships to help deserving students with their education and create a more promising life."