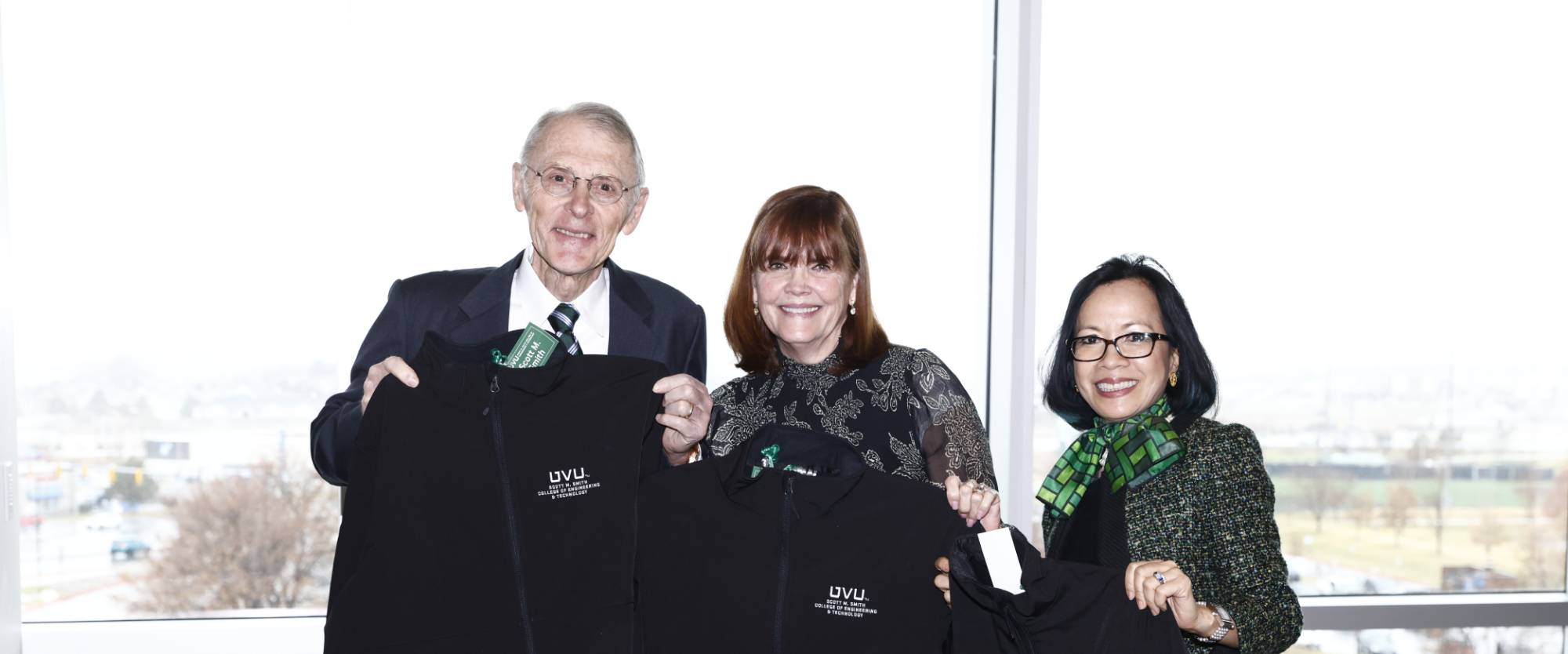 UVU's College of Engineering and Technology Renamed to Honor Generous Donors Scott M. and Karen Smith
JANUARY 17, 2023|  By Heather Bergeson
Utah Valley University (UVU) hosted an event on January 9, 2023, honoring Scott and Karen Smith's generous contributions to the university. The Smiths' most recent gift of $25 million is the largest personal wealth gift in UVU's 81-year history. With this gift, the university officially renamed the College of Engineering and Technology (CET) to the Scott M. Smith College of Engineering and Technology. Construction on the new Scott M. Smith College of Engineering and Technology Building will begin in summer of 2023.
At the event, engineering professor Amanda Bordelon and architecture student Mallory Neuberger explained what the new building means to college faculty and students. "In this new engineering building, we're looking forward to having our students learn using the latest tools and equipment and utilize new technologies that will be at their fingertips, so they can prepare for careers in industry or academia," Bordelon said.
"The new building will help enhance student opportunities in the new labs and classrooms, expand programs to better fit increased numbers of students, heighten student education levels, and revive a sense of community that students have been missing since the pandemic," Neuberger added. "It will also create clear career pathways for more UVU students."
UVU President Astrid S. Tuminez said that the Smiths' legacy would live on in the college and upcoming building. "When our students think about Scott M. Smith, they will think about how Scott's values and professional career align with our own values," she said.
President Tuminez then shared a quote by Andrew Carnegie. "'All we can profitably or possibly accomplish is to bend the universal tree of humanity a little in the direction most favorable to the production of good fruit under existing circumstances.' I think under existing circumstances — where we need to educate more people, where we need more engineers in Utah — the Smiths have indeed bent the universal tree of humanity in the direction of growth."
"I wanted this name and building to be part of Scott's legacy," Karen Smith said. "I'm grateful to honor this visionary, brilliant, quiet, and humble man. This gift will impact and empower generations to come. It will create new opportunities for those graduates who stay and work in Utah or wherever their lives take them."
Scott Smith shared his and Karen's inspiration for gifting UVU and CET so generously.
"We're grateful for the opportunity that we have to create a bright future for values-centered students and for their families and to create a venue for achieving and for sharing excellence," Scott Smith said. "Engineers conceptualize, design, build, implement, fix, and improve, and they just make stuff work. That is a blessing that engineers bring to us. They are problem-solvers. They are highly creative. And they tend to be very, very good people."
The Smiths' continued partnership with UVU has already made an indelible mark on campus and will impact generations of students to come. To learn more or make a gift, please visit uvu.edu/cet/engineeringbuilding.