Why UVUSA Planted 40,000 Flags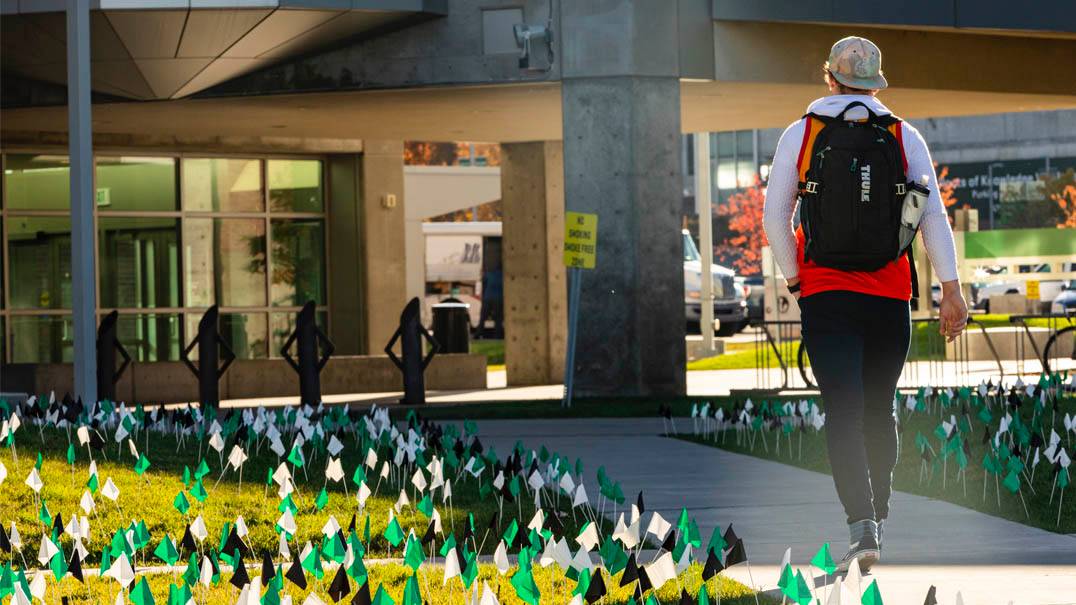 More than 40,000 green, white, and black flags cover the lawn in front of the library and on the student life plaza at Utah Valley University. Each represents a UVU student. They were placed there by the university's student government leaders (UVUSA), as a visual reminder to students that, together, they have a strong voice and to encourage them to register to vote.
"The green, white, and black flags represent our school colors," said Taylor Bell, UVU student body president. "but the flags also adapt to their environment, and are rooted and grounded. We want our students to be adaptable and aware of the ever-changing political environment, but also firm in their resolve and personal desire to make a positive impact."
Student leaders also provided immediate access to online voter registration, which students took advantage of yesterday and today.
"It is critical that our students recognize early on in their tenure as voters that their voice matters and is needed and impactful on local and national levels," said Bell. "It is important that we stand by what we believe and share it so we can impact the future."
Organizers say they understand that historically, voter turnout among college-age students is low. During the mid-term elections in 2018, an estimated 31% of eligible people ages 18-29 voted.
UVUSA's Chief Justice, Candyce Damron, who organized the "My Voice Matters" initiative, said, "A lot of people say, 'Oh, I'm just one person, my voice doesn't matter,' but if over 40,000 people said that, we'd be missing 40,000 voices. Collectively we can make a difference, but we have to choose to do that."
She said the work they put into planting the flags was worth it. "I feel like it was a success. We helped many students become registered, but also helping them see what we can do together."