Communication Department Brings Home Golden Spike Award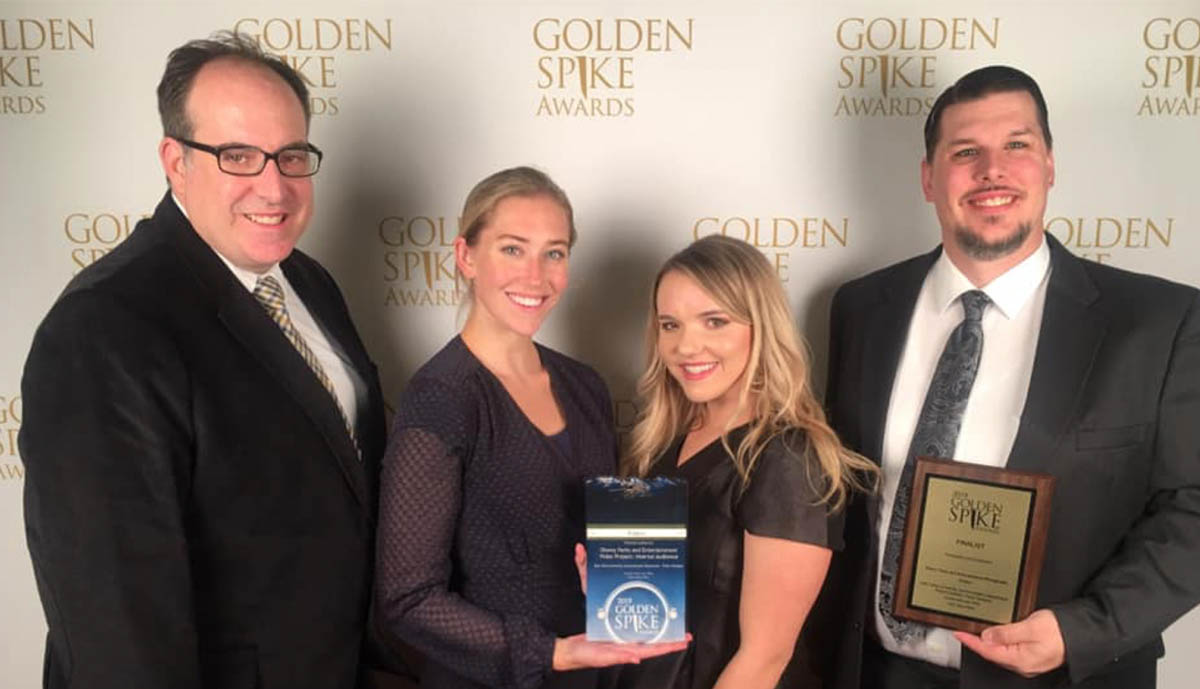 Six months of hard work paid off for a team of Utah Valley University communication faculty, alumni, and students at the recent Golden Spike Awards. The UVU communication department took home the Golden Spike Award for Video, marking the first time UVU students have won in that category.
"I was so excited to be part of something that others in the industry felt stood out as an example of good work," said Josh Jones, one of the alumni who worked on the video. "The whole event was very exciting."
The Golden Spike Awards are hosted every year by the Utah chapters of the Public Relations Society of America. This prestigious award recognizes outstanding public relations campaigns, programs, tactics, and the dedication and contributions of public relations and communications professionals throughout their careers. Entries are judged by impartial volunteers who practice public relations in Pittsburgh. Awards are given based on a 100-point scale. Entries that earn at least 70 points receive a finalist award, and the top score in each category receives a first-place Golden Spike Award. 
"The event was a who's who in Utah public relations and featured top campaigns and tactics that were executed throughout the past year," said UVU Communications professor Farah Sanders. "Having UVU alumni and students there as a part of the top PR talent in our state really showcased what the UVU communication department has to offer and spoke to the support we are given within our community at UVU."
The Utah Valley University Communication department was named as a finalist in the video category in prior Golden Spike competitions, but left without the trophy. Sanders said she was surprised this was UVU's year because they were up against the top healthcare organization in Utah, another major university, and professional PR firms from throughout the state. 
"I was kind of in shock," said Richard Graham, who served as a student intern. "It took me a moment to process that we had won a Golden Spike Award for this project. It really reaffirmed in my mind how important it is to help our fellow students."
The winning video was the result of hundreds of hours of hard work and dedication from a team of communication faculty, students, and alumni who all have something very unique in common — a love of Disney. For the better part of six months, this team visited all seven Disney Parks in the U.S. to gather photography and video, and film interviews with other UVU alumni about their Disney experiences. The now-award-winning video will be used as an educational tool for years to come. 
Sanders was impressed with the effort the team put into the video project. From coordinating park logistics to getting the footage of all the different parks while navigating holiday crowds, she said this video was a labor of love. "It really took a village to make this video happen," said Sanders. "We had help from faculty who helped write scripts, the alumni who participated in video interviews, the production team who worked on the editing and music and overall design, and even behind-the-scenes support from park experts. We even had one of our adjunct faculty's kids with us following them around the Magic Kingdom as they explored and met characters [and] rode the rides."
"Getting this project off the ground was a little daunting for me," said Graham. "It was the first time I'd been involved in a production like this. But the team was so amazing and supportive. It was so much fun to work with them in filming and photographing the Disneyland Resorts."  
It was an engaged-learning experience that provided not only a great learning opportunity, but also statewide recognition, and a dose of Wolverine pride.
Utah Valley University's University Relations team also won finalist awards in four other categories including Photography and Illustrations, Publicity and Media Relations, and Special Events for Government, Non-profits and Associations.
I was kind of in shock. It took me a moment to process that we had won a Golden Spike Award for this project. It really reaffirmed in my mind how important it is to help our fellow students.