COVID-19 Modified Operations
Due to the COVID-19 pandemic, UVU University Marketing will be working remotely. We continue to provide services as usual. All staff can be contacted by phone or email; however, if you need to speak with someone immediately, please see the contact information below.
For VP for University Relations, contact Stephanie Albach: 801-863-8514
For University Relations and Guest Services, contact: Candida Johnson: 801-863-8206
For University Marketing & Communications, contact: Savannah Olson: 801-863-8037
For Studios & Broadcast Services, contact Tracy Warner: 801-863-6100
For more information, visit the Return to Campus website.
Marketing & Communications
University Marketing & Communications is dedicated to promoting the unique educational mission of Utah Valley University. Whether through billboards, magazine articles, press releases, ad strategy, radio ads or other media, our staff is spreading the word about the tremendous experiences that await students at UVU.
We offer a full range of marketing and communications services, including writing, photography, design, video, print and web materials. Not sure what you need? We'll help you create a marketing/advertising plan from scratch.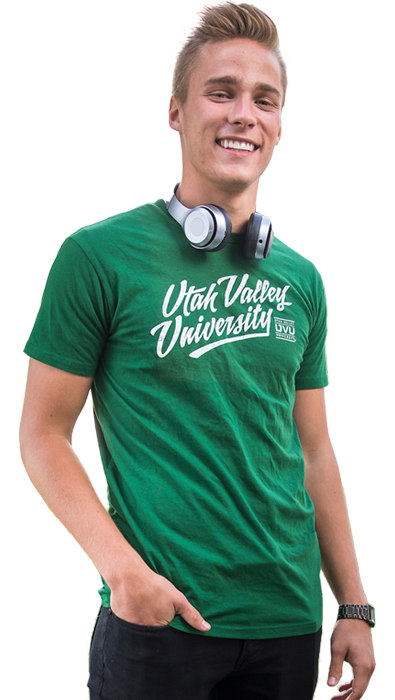 Say the right thing.
Your brand is your most valuable possession, and we're here to make sure your messaging says the right thing.
Our staff will help you plan your campaign from start to finish with a consistent voice, look, and feel.
Look great.
From brochures to banners and everything in between, our designers can help you create effective, attractive communication tools.
Fee schedule:
Design work — $40/hour
General use photos.
Are you looking for UVU photos for your Marketing Campaign? We have a solution for you. Search our General Use Gallery today:
Media, Press, and PR.
Are you a member of the press, or do you have a news tip to pass along?
Visit our newsroom to read our press releases or contact our media relations staff.
UVU Magazine
UVU Alumni are everywhere! And we are committed to telling their stories. See how former and current students, faculty, and staff are using their UVU experience to excel. Stop by and engage with our new online format.