Dunder Mifflin Paper Co. Comes to UVU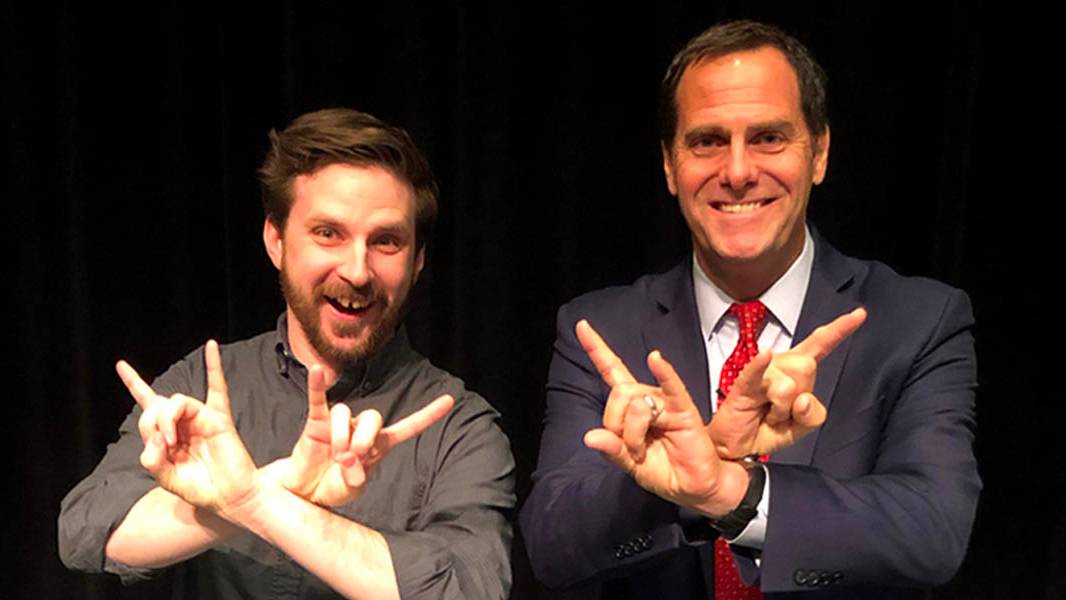 Dunder Mifflin's favorite CFO, actor Andy Buckley, spoke at UVU on January 28, 2020. Best known for his role of David Wallace on NBC's popular TV series "The Office," Buckley's experiences in finances both on and off the screen were the focus of his discussion with UVU's student body.
Before being cast in his breakout role of Wallace, Buckley worked as a wealth management advisor at Merrill Lynch. While financial advising was a steady career, acting was always in Buckley's heart, and when he was offered a role in "The Office," he left the world of stockbroking behind.
"My folks were very excited when I said I wanted to act with my Stanford degree," Buckley said. "But you have to trust your instincts and have the courage to go with your instincts. You'll live a tougher life, but you'll be following your dreams."
Following his dreams led to an iconic role in what is now the most-watched show on Netflix. Of course, the audience had plenty of behind-the-scenes questions about "The Office," which was a major reason that Buckley was invited to UVU.
"There are a lot of fans of "The Office" here on campus," said Maddie Miskho, vice president of academics in UVUSA and manager of the Senate Speaker Series. "Andy Buckley has a unique background going from a CFO to an actor. He was able to share the message that no matter where you are at in life, you can always follow what you love. He's also hilarious, and we thought our students deserved a good laugh."
As Buckley reminisced with the audience about episodes and cast members, he continuously praised co-star Steve Carell's work ethic and his dedication to giving his all to each take. His castmates made all the difference to Buckley's experience on the show, he said.
"I did 'The Office' because I love to act. I was doing the job for the right reason. There are people who are out there right now doing what they love, and one day that will be you if you are prepared, confident, and know your stuff."
The next UVUSA Senate Speaker will be TV personality Tan France.
     February 25, 2020
     12-1 p.m.
     Rebecca Lockhart Arena
Tickets are required for this event, but they are free to the public. Tickets are available at University Tickets.
The UVUSA Senate Speaker Series provides the campus with keynote speakers aimed at providing academic involvement outside of the classroom. The overall goal is to represent as many colleges and schools' disciplines as possible with the speakers and topics while also paying attention to current affairs and topics. These speakers are open to the campus and community at large.