Utah Valley University Celebrates Commencement and Convocations Like No Other
Thanks to COVID-19, Utah Valley University's 79th commencement and convocations were marked in a unique way.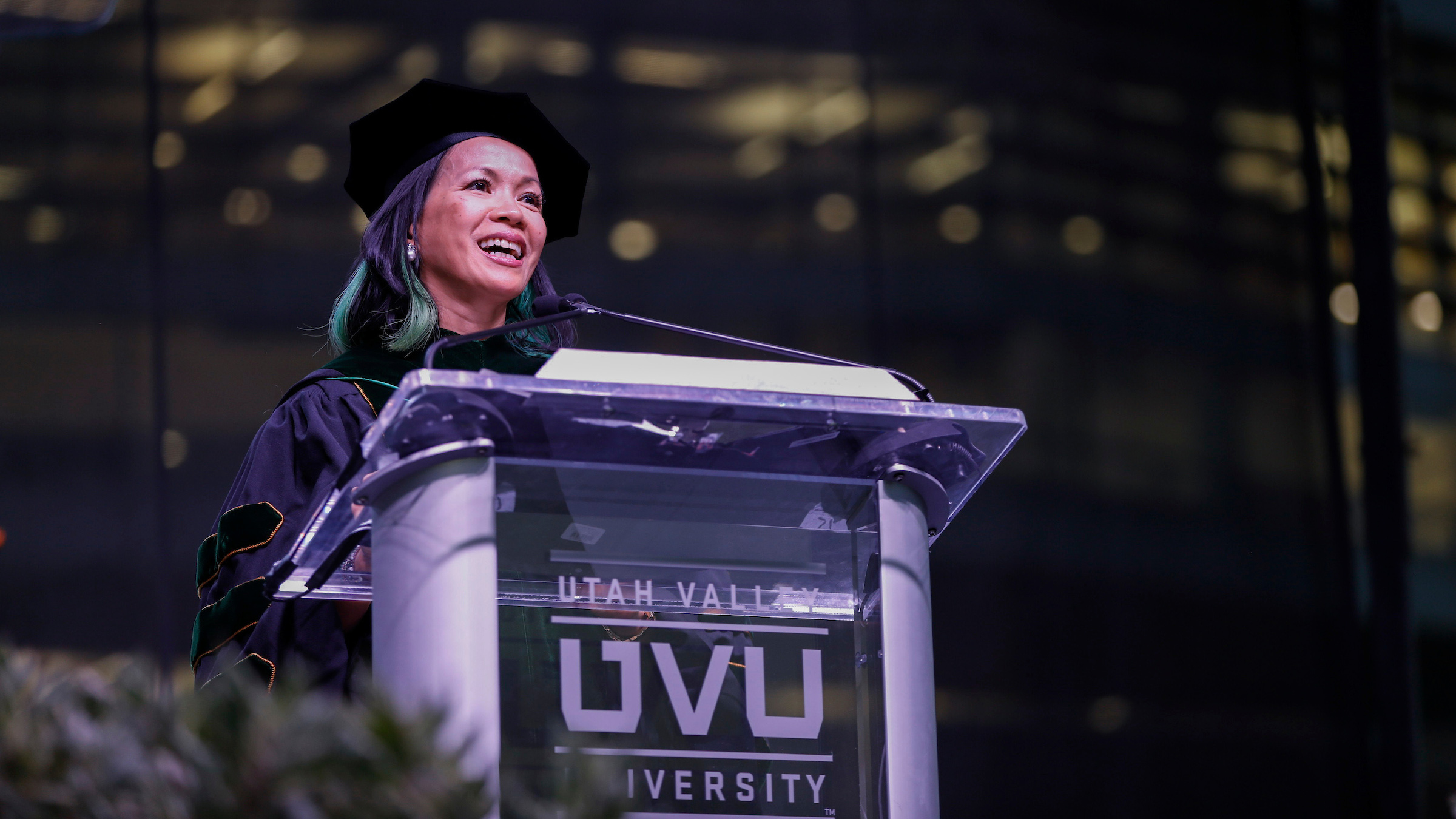 Necessity is said to be the mother of invention. Thanks to COVID-19, Utah Valley University's 79th commencement and convocations were marked in a unique way on Aug. 19, 2020.
Determined to find a way to celebrate their graduates' educational achievements, university leaders had to think quickly and outside the box to keep commencement and graduation alive — their solution was simply genius.
Eight simultaneous convocations (graduations) were planned in "drive-thru" style. Starting at 5 p.m., more than 1,000 UVU graduates lined up in parade-like fashion in their vehicles in campus parking lots organized by their respective colleges and schools.
Adhering to social-distancing guidelines and other precautions, graduates exited their vehicles one at a time, stepping onto a Wolverine-green carpet in front of a UVU backdrop to receive their diplomas from their deans while their names were read over a loudspeaker. Families and friends cheered from the cars as their graduates celebrated with their degrees in hand.
"My graduation went amazing. I wanted to celebrate my achievement, getting my bachelor's at age 41 in accounting," said graduate Amanda Craven. "My children are here and my dog. I think it must feel great for them." While commenting, one of Craven's children kept yelling, "I love you, Mom!" from the back of the pickup truck.
Jake Berry, a hospitality management graduate from San Francisco, said, "I graduate this semester, so I wanted to graduate right now. My mom and I came all the way from California. We drove 11 hours."
Berry said he was grateful UVU went to the effort to offer a special occasion. His mother shouted from the vehicles back seat, "I wouldn't miss it or the world."
A livestreamed outdoor "drive-in" commencement followed at 8:10 p.m. in the large parking lot west of the Fulton Library. Live music from the nationally acclaimed band "The National Parks" greeted graduates and their families and friends on multiple large screens and loudspeakers as they pulled into the parking lot. The band was followed by a flyover of green and white UVU-branded DA40 Diamond Star and Piper PA-44 airplanes from UVU's School of Aviation Sciences.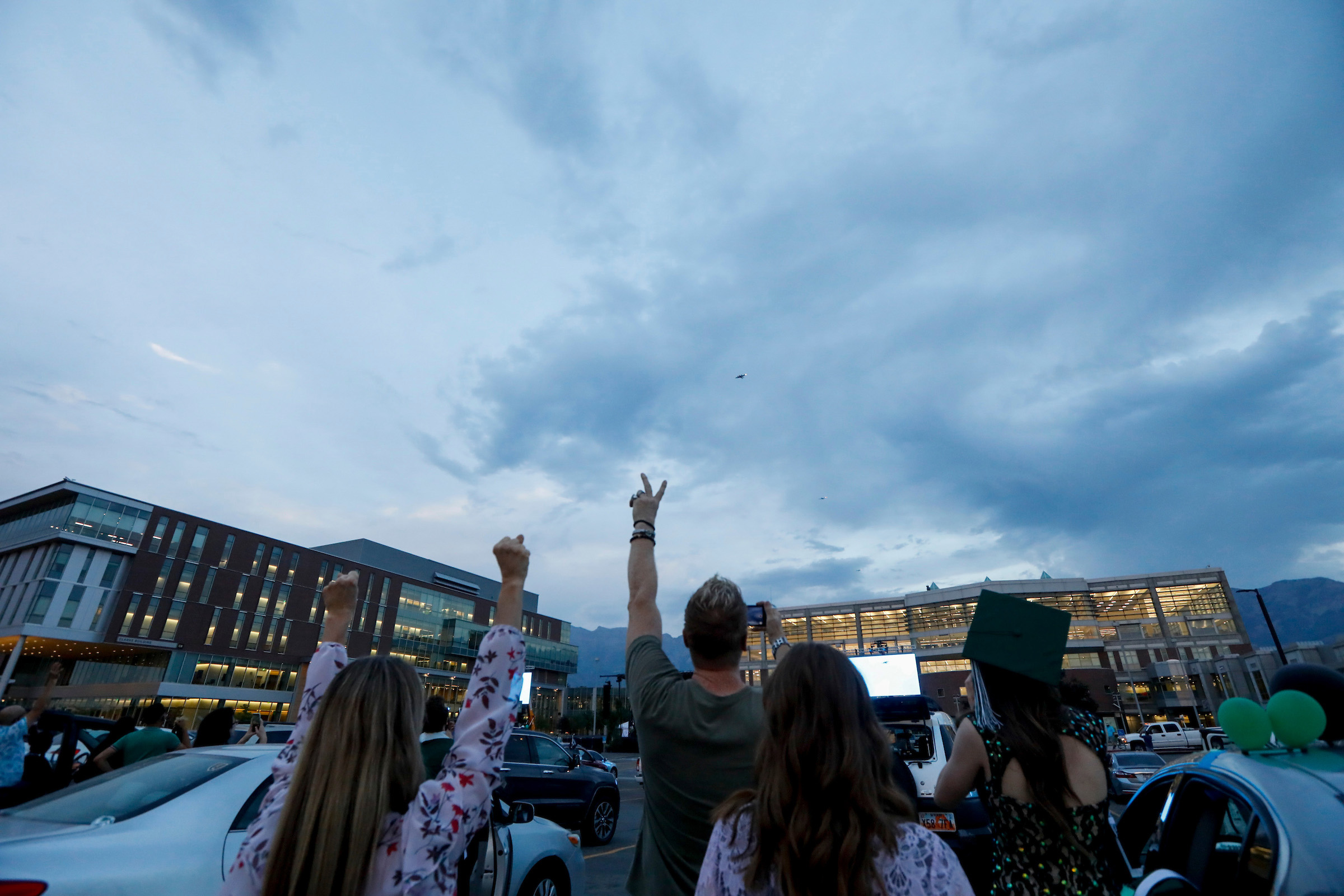 Utah Governor Gary Herbert offered his congratulations in a video message on the large screens. Cheers and honking horns were used to show appreciation instead of traditional clapping.  
President Astrid S. Tuminez took the stage to officially open the commencement exercises and welcomed Faculty Senate President Anne Arendt, who set the ceremonial mace, after which Carlie Beckert, a graduating senior from the School of the Arts, sang The Star-Spangled Banner.
President Tuminez welcomed distinguished guests and introduced a video highlighting the years of the students while there were at UVU. "Graduates, I hope that you will always fondly remember your green roots, the experiences that you had at UVU," she said. "What you learned here, the friends you made, and how all these things have shaped you and your life. You now have the opportunity to shape your future and ours."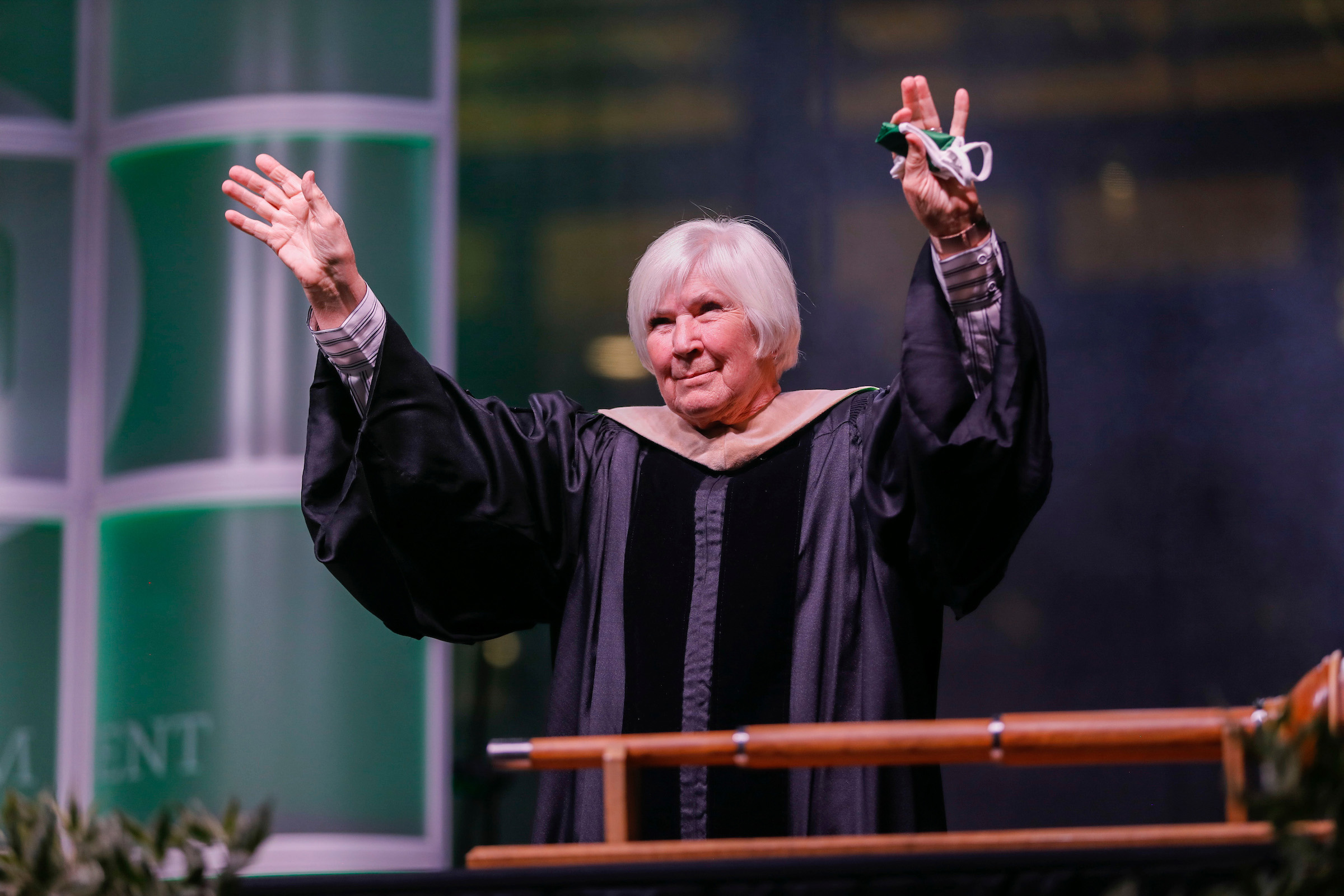 UVU Board of Trustees Chair Duff Thompson highlighted the honorary degree recipients — Daniel W. Campbell, business and education leader; Gail Miller, owner of the Larry H. Miller Group of Companies and chair of the Board of Directors of the Larry H. Miller Management Corporation; and David O. Ulrich, business leader and management consultant.
Miller was also the commencement keynote speaker. Miller began her speech by acknowledging the life-altering events brought on by the coronavirus. "It's been quite a year," she said, "and it's not over yet. This is the pattern of real life. Challenges fill our present, make us long for the past, and help shape our future."
Miller told graduates that their lives are educational journeys. "We're listening and learning about social justice and the opportunity to create needed change," she said. "It's important that you continue to listen, to question, to learn, and then, to act." She said everyone should learn something new every day, and to teach others what they know, to make the world a better place. She said, "Be a student, be a teacher, be a leader!"
Talking about respect, Miller told graduates whether they compete on a basketball court, debate public policy, or solve complicated societal issues, it is OK to disagree — without being disagreeable. Debate and differences of opinion are healthy and helpful — even encouraged.
But she said that we cannot as a society "ever afford to support racism, hate speech, intolerance, and bullying." As an example of pushing back against racism, Miller referenced the Utah Jazz's "Lead Together" campaign that was designed to help unite Utah communities — especially sports teams and fans — in practicing sportsmanship, respect, and kindness.
Following the keynote address, Dru Huffaker, president of the UVU Alumni Association Board, and UVU trustee officially welcomed graduates as members of the Utah Valley University Alumni Association. 
In her closing remarks, President Tuminez told graduates to pause, take a deep breath, and savor the moment.
She asked graduates to contemplate three words: celebrate, innovate, and contemplate.
Tuminez said the hallmark of a Wolverine is to be able to see what is positive in life, to know individual strengths, to laugh, dance, jump in the air, and to know how to celebrate. She said the ability to do these things will be needed for the rest of the graduates' lives.
She went on to recall when she was 19 years old, she wrote on a 3x5 card three things that would be important in her life: to be happy, to be useful, and to be charitable.
"I'm glad that I wrote these things down," she said. "Through good times and bad, through doubt and faith, through poverty and prosperity, through sadness and joy, that 3x5 card has anchored me to a solid foundation. I have been able to make good choices and understand trade-offs and sacrifices."
Fireworks lit up the night sky at the conclusion of the commencement ceremony.
For more information, go to: https://www.uvu.edu/graduation/ceremony/ceremony-info.html