P

lanning,

B

udgeting and

A

ssessment
What is PBA?
Utah Valley University utilizes an internally developed Planning, Budgeting, and Assessment (PBA) process to guide resource allocations. This annual PBA process connects the resource allocation decision making process with university and divisional assessment, planning, priorities, and initiatives. PBA is founded on the concept that "a budget is a map guiding an institution on its journey in pursuit of its mission." (College & University Budgeting, NACUBO) Resource allocations support UVU's mission, values, action commitments, and objectives. The PBA process promotes accountability, collaboration, communication, efficiency, equity and transparency.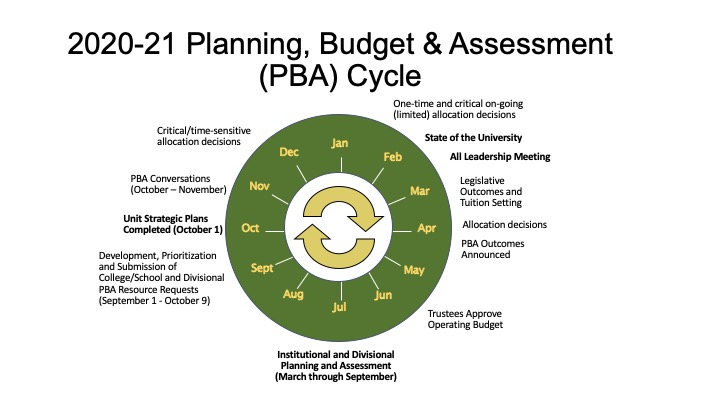 Purpose
UVU's Planning, Budget, and Assessment (PBA) process facilitates the alignment and prioritization of initiatives throughout the university in support of UVU's mission, values, action commitments, and objectives. The institution, as well as its various divisions, follows a planning model in which objectives are defined and progress is assessed through self-evaluations and SWOT analyses of the operating environment. Based on assessment, strategic initiatives are developed and prioritized in support of four-year strategic plans and annually identified University-wide areas of focus. The PBA conversations provide a public forum to promote collaboration, alignment, integration, and transparency in discussing initiatives, priorities, and the allocation of resources.
Conversations
Each Vice President has been allocated time and assigned a day/time for his/her PBA Conversation. Presentations are to include a brief overview of the College/School or Division mission and objectives from their four-year strategic plan. Leaders are encouraged to present only the highest priority strategies and PBA requests with particular attention to those that align with areas of focus. Please note:  there is no expectation that all submitted PBA resource requests be presented during the conversations. All submitted PBA resource requests, even those not presented during the PBA conversations, will be considered for possible funding. Vice Presidents must submit a PowerPoint or pdf file of presentation material to the Budget Office by the end of the day of their PBA Conversation for posting to the web.
Budget Requests
Requests for new resources and/or new salaried positions should be submitted through the PBA process regardless of funding source (with the exception of sponsored programs/grants).
PBA Coordination Committee
Loading Directory data....