The TYE Center sponsors a fall touring show, a spring touring show, school matinee performances of UVU main season shows, and special productions. We also offer bus grants, study guides, and sensory-friendly performances.
Touring Shows
Touring shows bring live theatre to schools in Utah Valley and beyond. Touring show performances start 1:00 pm and are $100 to bring the play to the school's performance space.
The Friday performances are well suited to home schoolers and schools that don't have a performance space. Contact Kynsie Kiggins at 801-863-KIDS (5437) or tyecenter@uvu.edu.
Individual tickets for Noorda Theatre performances can also be purchased online www.uvu.edu/thearts or by phone, 801-863-PLAY (7529).
School Matinees
School matinee performances of main season productions begin on Tuesday or Wednesday at 10a in the Noorda Center for the Performing Arts on the main campus of Utah Valley University in Orem. "Learning Stage" study guides are provided for students as they arrive. We offer free post-show discussions with the cast and production team upon request.
School matinees scheduled on request. Contact Kynsie Kiggins attyecenter@uvu.edu.
Bus Grants
Bus grants, up to $150 per school per show, are available to assist with the costs of bringing a school group to the Noorda Center for the Performing Arts to see a performance.
Sensory Friendly Performances
Sensory-friendly performances are designed to accommodate the needs of children with autism spectrum disorders.  Working with UVU's Nellesen Center for Autism, we will create preparatory materials for parents and families explaining what they can expect during the performance.  Adaptations to the performance include glow-sticks that the ushers raise to warn children of surprises, reduced sound and light levels, raised houselights, designated areas for children who need some space to move, and allowance for the use of electronic devices.
The following sensory friendly performances are currently scheduled for the 2017-2018 season:
Study Guides
The TYE Center produces study guides for each of the shows it produces or sponsors. Teaching Stage guides are sent to teachers who are hosting touring shows at their schools. Learning Stage issues are handed to students as they arrive for our school matinee performances. Sharing Stage issues are made available to university students for selected main season shows at UVU.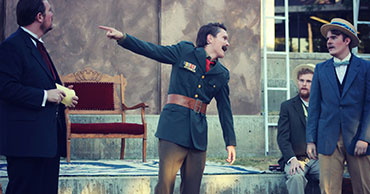 2018-2019
Our Current Season
I Never Saw Another Butterfly: Learning Stage
Much Ado About Nothing: Learning Stage
Mama Tomcat's Flying School: Teaching Stage
Tomato Plant Girl: Teaching Stage