Volunteer with the Alumni Association
Utah Valley University (UVU) is rapidly changing, becoming better every day. If you want to participate in writing the UVU story, there are many opportunities to volunteer your time and talent. By volunteering for the UVU Alumni Association, you are giving back to UVU. No matter your expertise, we have a volunteer opportunity for you.
Alumni Board Member
Attend and participate in both board and committee meetings to monitor and guide the Alumni Association's strategic direction. Act as a link between the community and UVU, not only representing the community to UVU, but also representing UVU to the community.
Committee Member
The UVU Alumni Association is always looking for volunteers to serve on our committees. The committees include marketing, UVU Magazine, events, legislative affairs, and scholarship and awards. As a committee member, you will offer experiential advice and guidance to the Alumni Association in those areas. You will attend periodic meetings to offer input and carry out assignments.
Chapter Leadership
By serving in chapter leadership, you can work with specific UVU schools and colleges to establish or maintain alumni chapters in their fields of study. You'll also help hold reunions or other activities with the help of a chapter and the Alumni Association  keep in touch with alumni and keep them involved with UVU.
Mentorship
Mentors offer support, encouragement, and  industry perspective to a student. You and your student mentee will discuss your mutual expectations and goals for the mentoring relationship. No promise of employment is made or sought through a mentoring relationship.
Alumni Ambassador
Alumni Ambassadors create opportunities in the community for potential students to find out more about UVU. Ambassadors offer their organizational skills and insights for those who consider studying here. You can help by visiting local high schools, hosting open houses, representing UVU at college nights, or being part of the parent program.
Student Internships
Students can intern for a semester with the Alumni Association through the UVU internship program. There are opportunities to intern in communications, photography, web design, hospitality, database management, and graphic design.
For more information about Alumni Association volunteer opportunities, visit UVU Alumni or contact:
Loading Directory data....
Volunteer at Campus Events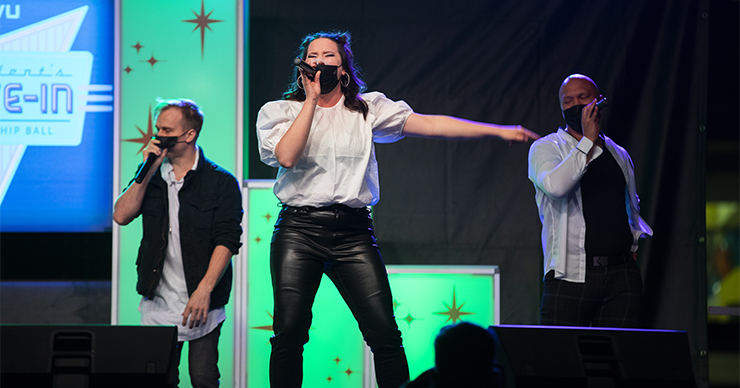 We rely on volunteers to help our events run smoothly. We would love for you to join us! Learn what goes on behind the scenes at our amazing events and interact with UVU donors, students, and the community.
Sign Up for Volunteer Opportunities
Volunteer with the Women's Success Center
The Women's Success Center has a wide variety of volunteer opportunities available, including service projects with Habitat for Humanity and Days for Girls. Learn more here.
See Volunteer Opportunities
For more information about volunteering for events, contact:
For more information about volunteering with the Women's Success Center, contact:
Loading Directory data....
Loading Directory data....
Give online
You may direct your gift to many areas in need throughout UVU, including these institutional priorities:
Mail a check
Make your check payable to:
UVU Foundation
Send it to:
800 University Parkway,
MS 111,
Orem, UT 84058
Stocks & bonds
Stock and bond gifts are welcomed if they are listed on an exchange daily, regularly traded in over-the-counter markets for which published quotations are available, or shares of a regularly reported mutual fund. For more information about making gifts of stocks or bonds, contact Institutional Advancement: