UVU Professor Creates Film Using Only Medium Shots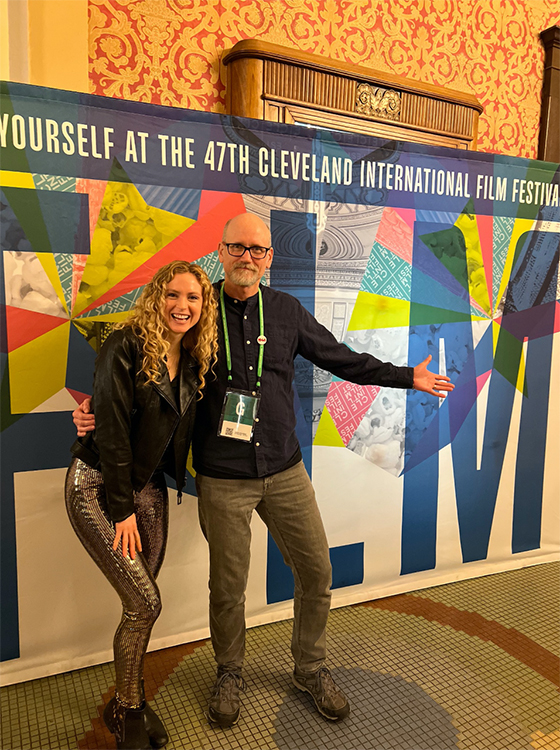 By: Jenna Berndt
In August of 2022, UVU associate professor in Digital Cinema Production, Duane Andersen, premiered his medium shot style film, 30 Meetings/30 Days at the prestigious Woods Hole Film Festival in Woods Hole, Massachusetts. 
The film follows a woman who was court-ordered to attend 30 AA meetings in 30 days—highlighting the difficult redemption process of recovery from addiction.  
When asked what the inspiration was behind the film, Andersen said, "It was really sort of an experimental approach. When I started thinking of a story that I could tell using medium shots, going through Alcoholics Anonymous and 12 step programs which is something I have experience with, seemed very natural and interesting. I sort of built it around that, but the original idea was purely aesthetic."
Not only did the use of a unique camera angle amplify the message, but the film also relied heavily on sound. With the help of Digital Audio professor, Owen Peterson, his expertise in audio production played a major role in heightening the audience's experience. In addition, Adjunct professor, Dallin Cerva was a huge contribution in the film's production as well. 
Since the film's debut in Woods Hole, Andersen's film has played at various film festivals: Zions Indie Film Festival, The Pittsburgh Short Film Festival, Sherman Oaks Film Festival, the Cleveland International Film Festival, and lastly, the Cordillera International Film Festival.
Along the way, Andersen's film has won a few awards. At the Cleveland International Film Festival–one of the country's oldest and respected film festivals, Andersen took home the "Ophelia Award", an audience award for a film that celebrates hope. At the Sherman Oaks Film Festival, the film found a lot of love where it won six awards: Best Film, Best Director, Best Screenplay, Best Actress, Best Performance by a cast, and Best Cinematography. Moreover, back in May, the film was selected by the Youtube channel Omeleto, a channel that releases a different short film each day, to become released publicly. Since the film's release, it has gotten over 27,000 views. 
Lastly, it doesn't stop there, Duane's script that he wrote for "30 Meetings/30 Days" will have the opportunity to be included in an Anthology of Short Scripts published by Bloomsbury and compiled by Austin Bunn of Cornell University next year. 
For those interested in watching Duane's film, please visit the link provided below: https://youtu.be/psj-P0ku-PY
And to learn more about UVU's Digital Cinema Production Program please visit: