UVU Professor Emily Hedrick Receives Grant for Cultural Preservation Project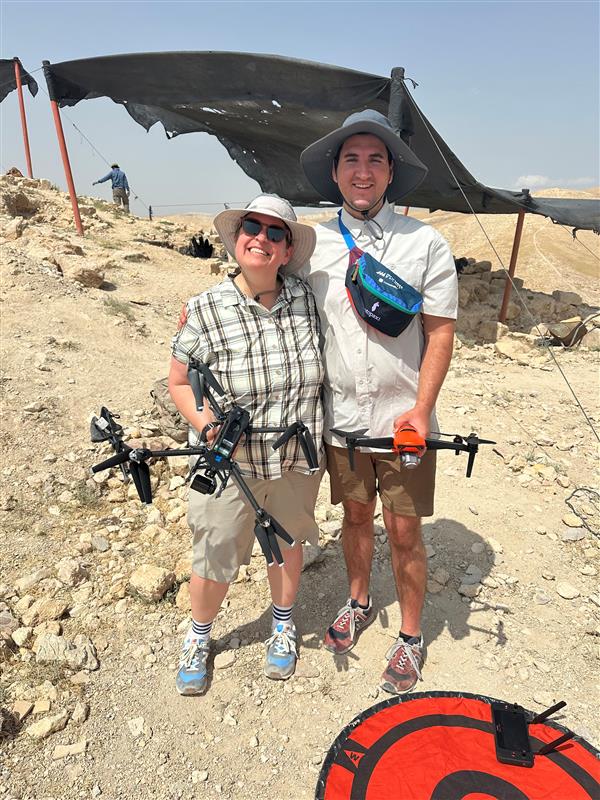 By: Jenna Berndt
Emily Hedrick, Assistant Digital Media Web Developer and Design Professor received the U.S. State Department, Ambassador's Grant for Cultural Preservation to work on a project documenting the ruins of Tiwanaku, Bolivia.
Tiwanaku is a pre-Columbian archeological site near Lake Titicaca. This particular location is a designated World Heritage site by the United Nations Educational, Scientific and Cultural Organization (UNESCO).
The main objectives for this project is to create an immersive website that can transport people there, digitally preserve the ruins and allow people to really get an understanding of the significance of the site. Since there is very little imaging and information on the site, Hedrick with her UVU counterpart for the cultural preservation, Dr. Aliki Milioti hopes to remedy that.
"We are going to be working with Simeon Warren [and his team], the Chief of Architecture and Engineering at the National Center For Preservation Technology and Training (NCPTT)," Hedrick said. "We will also have a crossed departmental group which includes UVU's Architecture, Digital Cinema, Digital Audio, Web Design and Development and English programs'."
Those participating in this project from the different programs will be split into two teams. The first team–the capture team–will go to the site in Tiwanaku to do digital preservation work and collect assets for the website. The second team is the group assigned to build the website in both English and Spanish. The overall timeline of the project is targeted to be complete within two years and to start as early as May 2024.
Some elements Hedrick hopes to include on the website are: virtual reality elements, walk-throughs to get a sense of scale, 3D scans so viewers can interact with the pyramid at the site and to highlight the interesting archways and statues.
Additionally, this project would not be possible without the advanced technology that Skydio–a U.S.-based drone company–has created. Typically, drones need satellites to fly, but Skydio's technology uses Artificial Intelligence, making it possible to fly drones underground without interference.
"It's been a really game changing tool for us to now be able to do whole sites," Hedrick said. "With the capabilities of the equipment we are able to not just do the outside, but we are able to do the inside scans as well. It is quite extraordinary to be able to do that."
When asked what her fascination was with the project, Hedrick said, "I put in my tenure portfolio that my goal is to be a Digital Indiana Jones. I want to go to these far-off places, capture it digitally, and preserve it in a way that people can engage with."
Moreover, Hedrick has been intrigued with the concept of digital preservation since her undergraduate program. With this project, she is able to work one step closer towards her goal of becoming a "Digital Indiana Jones".
Previous Preservation Project Emily Worked on in Israel