COVID-19 Modified Operations
The First-Year Experience Office will be operating remotely for the duration of the COVID-19 emergency. We will be happy to work with you virtually to support your needs Monday thru Friday 8:00 AM - 5:00 PM. For assistance please contact our staff using the information found on our Contact Us webpage.
First-Year Experience
Your first year of college can be a little intimidating. That's why we created FYE! Participating in FYE programs will help you make a smooth transition to UVU life.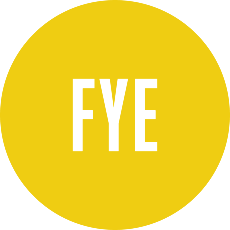 Look for the gold FYE on campus notifications and make sure you participate your freshman year!
All FYE Programs
Be sure to participate in all 7 programs or activities during your freshman year at UVU!
&nsbp;
1. Jumpstart Orientation
This can't-miss event will connect you to the people, resources, and services that will support you during your journey at UVU. You'll learn more about yourself and the important choices you can make to positively impact your university experience. All new freshmen are required to attend Jumpstart before classes begin.
Learn More
&nsbp;
2. Personalized Academic Advisement
Your first-year academic advisor will help you select classes and serve as a support throughout your transition to UVU. As a new student, you're encouraged to meet with your advisor before you register for classes and at least once each semester until you graduate. (note: some students are required to meet with their advisor before they can register for classes).
Learn More
&nsbp;
3. Freshman Reading Program
All new, incoming freshmen are able to receive a free copy of The Sun Does Shine. Book-related events are held all year long, including a book discussion with UVU President, Astrid S. Tuminez, and a visit from the author, Anthony Ray Hinton.
Learn More
&nsbp;
4. Freshman Convocation
You'll be warmly welcomed to the university community in a celebration guaranteed to open your eyes to the amazing opportunities that await you at UVU! All Freshmen, admitted either in summer or fall, need to attend. Your families are also invited to attend this commemorative event with you.
Learn More
&nsbp;
5. Student Leadership & Success
Want to sharpen your study skills? Take SLSS 1000. Don't know your major? Take SLSS 2100. What about developing your ability to lead yourself? Take SLSS 1200. Want to make a difference? Start taking classes towards the Leadership Certificate for Personal and Social Impact. Talk to your academic advisor about taking these courses during your first year at UVU.
Learn More
&nsbp;
6. Startsmart Emails
Each week during your first semester at UVU you will receive an email to your myUVU Gmail with helpful information including campus deadlines, resources, reminders, study tips, and more. Make sure you read them!
&nsbp;
7. Freshman Celebration
TBD Spring 2021 | 11:30am - 1:00pm | Center Stage
This end-of-the-year party celebrates your individual success, as well as the success of your freshman class as a whole. You deserve to party—you survived your first year! Besides, what college student ever turned down free food?