UVU Students Bring Home Five Gold Medals in SkillsUSA National Championship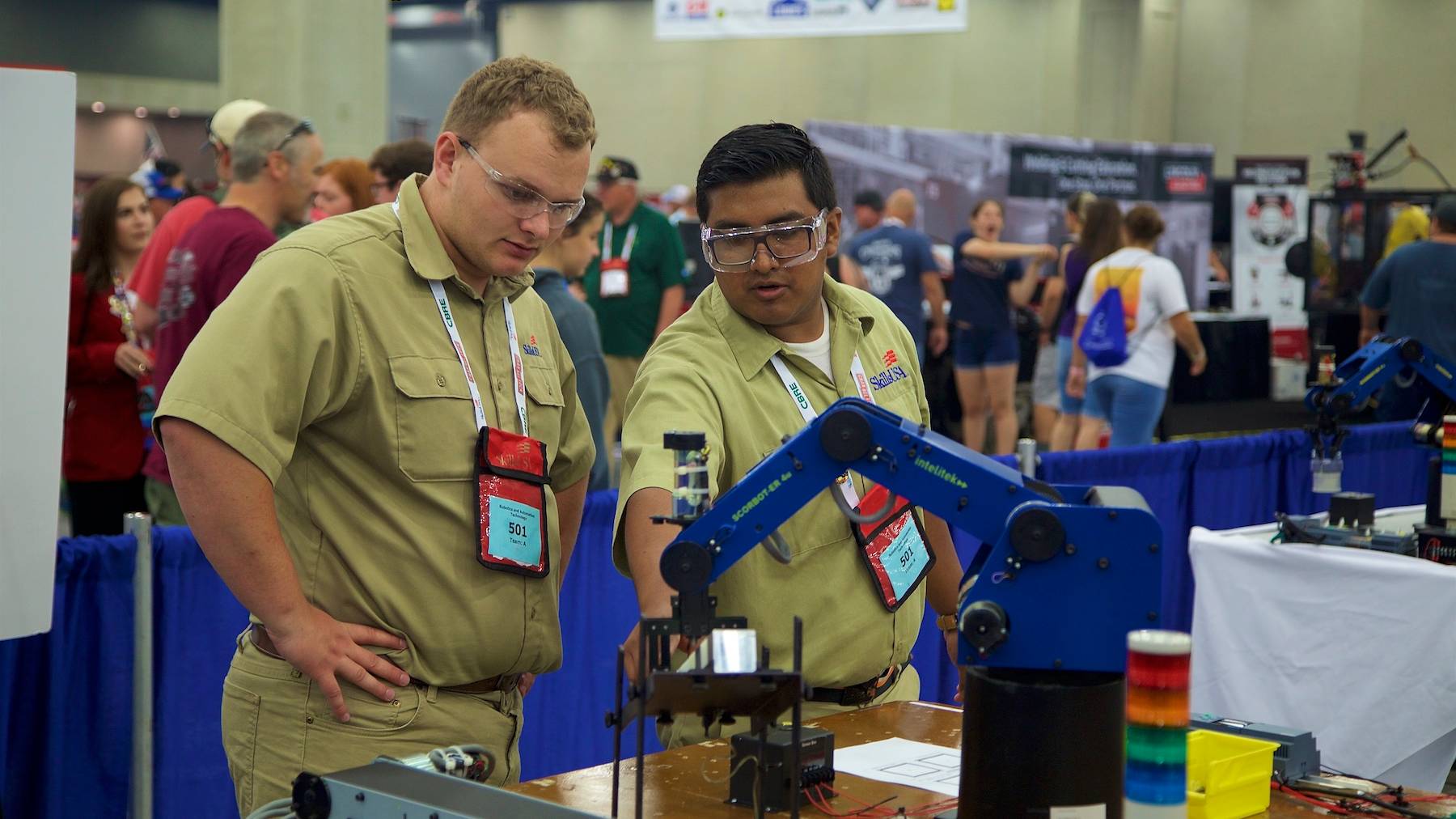 Nine Utah Valley University students won national championship gold medals at the 55th Annual SkillsUSA National Championships held June 25-28 in Louisville, Kentucky. UVU students competed in 22 categories and won medals in nine of those competitions. Based on the nine national medal categories won, UVU earned the ranking of #2 in the nation for all colleges and universities in the United States. For 19 consecutive years, UVU has been ranked among the top five in the nation.
Much like the Olympics, an overall ranking is determined by the total medal count earned during the national competition. Gold medals were awarded to Utah Valley students in Collision Damage Appraisal, Entrepreneurship (four golds), Firefighting, Photography, and Robotics & Automation Technology (two golds).
"This is the greatest thing that's happened in my UVU career," said Isaac Zamudio, gold medalist in Robotics & Automation Technology. "To put on my resume that I'm a national champion after only three semesters should hopefully open a ton of doors for me when it comes time to look for a job." 
For some of Utah Valley University's students, the 2019 competition was an opportunity to prove themselves again. Cayden Bailey, a gold medalist in Collision Appraisal & Total Loss Evaluation won a bronze medal last year. "Being a returning medal winner put even more pressure on me than I was expecting. The judges supposedly didn't know, but I sure felt they were scrutinizing me more than anyone else this time! But it is a great feeling to bring home back-to-back medals." 
UVU students won medals in nine different competitions (5 gold, 1 silver, 3 bronze). To bring this into perspective, there were 39 states that did not earn as many postsecondary national medals as UVU did as a single institution.
"Year after year, our students are proving that they are as good as, and arguably better than, any in Utah at applying their trades and skills under the pressure of real-job situations," said Darin Taylor, UVU SkillsUSA director. "This speaks volumes about the quality of students, faculty, and programs we have here at UVU. I could not be prouder to be associated with such a fine group of students."
Gold Medal Winners (National Champions):
Collision Damage Appraisal - Cayden Bailey
Entrepreneurship - Alessandra Camargo, Nick Camargo, McKoy Molyneaux, Karter Ockey
Firefighting - Griffin Conroy
Photography - Coco Berryessa
Robotics & Automation Technology - Taylor Hart, Isaac Zamudio
Silver Medal Winners (2nd nationally):
Audio/Radio Production - Griffin Hall, Brady Jones
Bronze Medal Winners (3rd nationally):
Criminal Justice - Chris Elias
First Aid-CPR - Thomas Wood
Industrial Motor Control - Josh DeGering
Other UVU Students in Top-10 Nationally:
4th place - Culinary Arts - Erin Jones
5th place - Mechatronics - Justin Hellewell, Jordan Whitaker
5th place - Medical Terminology - Gabriela Lizarbe
6th place - Automotive Refinishing Technology - Braden Clarke
6th place - Related Technical Math - Bryce Boyer
7th place - Commercial Baking - Shelby Thorpe
7th place - Technical Computer Applications - Robert Jones
8th place - Medical Math - Alyssa Anderson
9th place - Diesel Equipment Technology - Spencer Call
10th place - Power Equipment Technology - Cameron Lawson