The Role of the Family Science Intern
This program allows students to collaborate with the community in a real-world context, to increase their professional competence and confidence.
Teaching family life education classes serve as the capstone experience for the Family Science major. The major is aligned with the Certified Family Life Educator credential offered by the National Council on Family Relations. Students develop knowledge in ten different content areas and achieve key student learning outcomes in preparation for this experience. 
Prior to this internship, students complete FAMS 4500 Family Life Education Methodology course. They complete many relevant assignments such as a literature review, needs assessment, lesson guide, fact sheet,  even writing their own curriculum and practicing best teaching methods to a variety of audiences. However, this internship allows them to combine everything they have learned into a single, engaged, real-world environment. This Family Science internship is completed by more students at UVU than any other internship, by far.
Each night begins with a family dinner where a student intern sits with the family and encourages them to connect with one another as they discuss the events of the day. Families then attend individual classes based on their ages. Family Science interns teach curriculum that is evidenced-based and are supervised by other Family Science and Social Work interns and UVU faculty. Finally, the night ends with the family meeting in which they review the content from their classes, practice the skills they have learned, and receive homework assignments to complete as a family.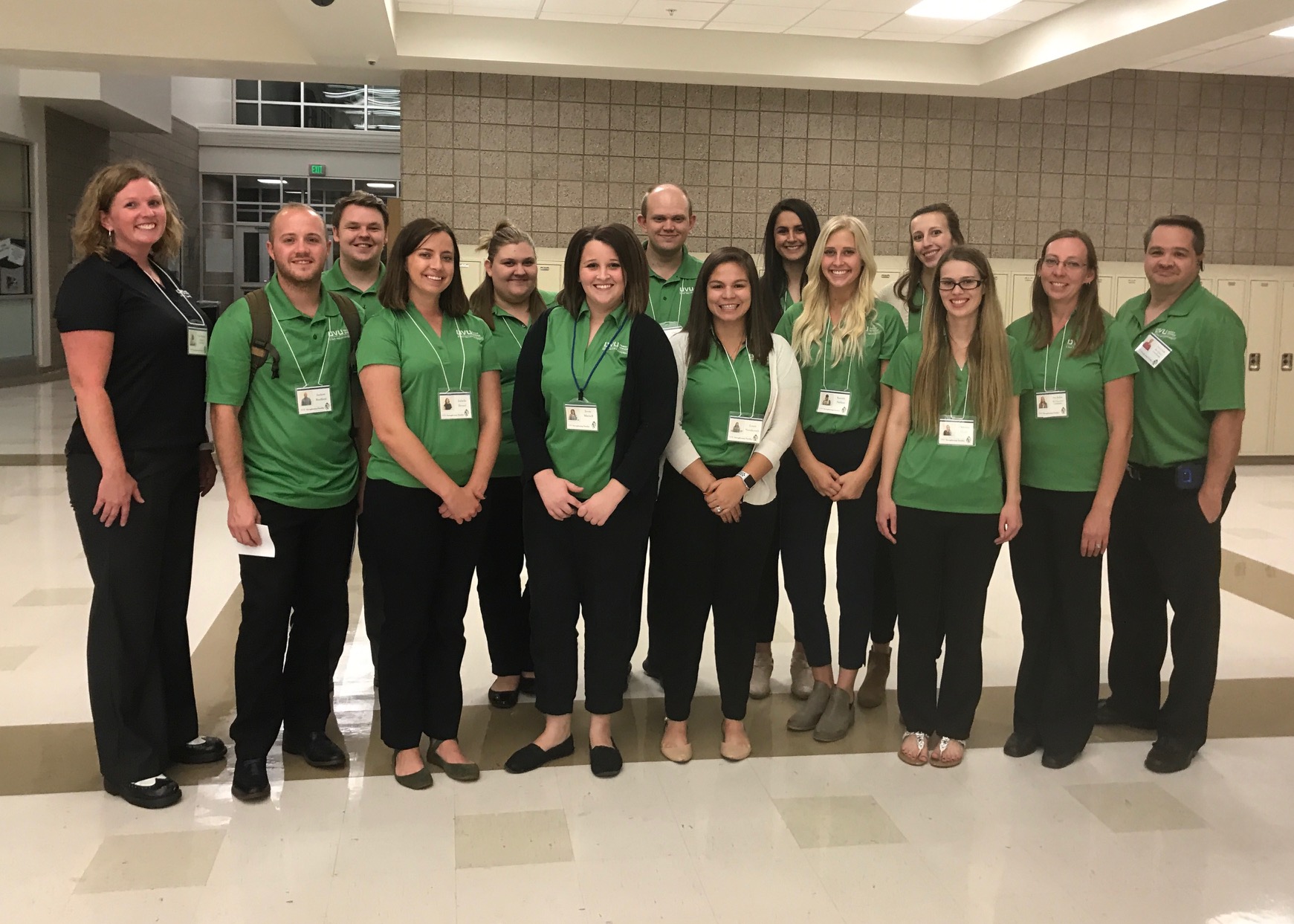 The Role of the MSW Intern
UVU MSW interns also work with the program as regional coordinators who are directly in charge of their site. This experience offers an opportunity to learn how to run a successful program under the mentorship of a UVU Clinical faculty member. The MSWs play an integral role in the oversight, management, and ethical practices of the program. MSW interns oversee coordinators for each of the sites, providing integral leadership, organization, and clinical supervision of the psychoeducational program.  Additionally, they help implement home visits with BSW and FAMS interns and provide clinical interventions based upon family needs. Key practice skills include:
Direct contact with the family in multiple settings
Practice supervision of undergraduate interns
Clinical interventions based on family needs
The Role of the BSW Intern
UVU BSW interns work with the program by providing leadership and family support. They play an integral role in the coordination, home visits, and case management of the program. BSW interns serve as co-coordinators for each of the sites gaining important skills in leadership, organization, and implementation of a psychoeducational program.  Additionally, they help implement home visits with the MSW interns to practice skills further and assess family needs. Key practice skills include:
Direct contact with the family in multiple settings
Case management of families, home visits, and clinical interactions
Oversight and implementation of the program
Helpful Links for Students
What is the dress code, and what pants are appropriate?
Business casual with dark pants or skirt (black, dark brown, or dark grey) no jeans or leggings. Pants or skirts need to be a solid color, with no prints. If you have received your SFP polo, you need to wear that every week along with your nametag on the lanyard.
Why can't I use the pages from the manual to teach from?
You get 1 1/2 hours each week to prepare the lessons, and that time includes reducing the lessons to a few key points that you will teach (separate from your co-teacher) onto index cards. By doing so, you will know the material well, so you don't have to read it and can teach more effectively. If you teach from the original lessons, you won't be able to count your prep time.
Where are the materials for my class, and what do I need to bring for class each week?
Not all materials are provided. Refer to the list of provided materials on the first page of every lesson. Provided materials are located in the site closet.  
What is my role as a family liaison?
Call the family weekly, sit with them at dinner and family class. Get to know them and bond with them. Remind them to come each week in your phone calls, to spend quality time with family members, and if able, to work on goals or homework from class. Go on home visit.
I'm a little hesitant about being a family liaison and doing a home visit. How do you make sure it's not awkward?
 Take time to get to know your family genuinely. Ask them questions, pay attention to their answers, and show excitement for the things they are excited about. Find out if they like a call or a text, and get out of your comfort zone to contact them in their preferred method of contact. It may seem a little weird at first, but you are their point of contact, and they will learn to trust you. Remember the details that they share with you and follow up on things that you promised you would follow up on. Just be confident in your role, and they will love you!
Who should be present in the home for home visits?
The home visit is for the entire family to participate in goal setting. However, there is no need to cancel or reschedule if not all members are available.
What is discussed during the home visit? Who takes the lead of the discussion? What is my role?
Discuss family goals, concerns the family has, how the program is working for them, etc.. The discussion is led by the Regional coordinator or social worker. The role of the family science intern/liaison is to contribute what you know about the family to help them determine goals.
Who do I talk to if my family is interested in therapy? Who will contact them?
If your family is interested in therapy, speak with the Regional coordinator/MSW at your site or the Clinical coordinator/BSW. An MSW will make contact at a later time for an appointment.
How do I record my hours and get them approved? Who am I supposed to share my google doc with?
Watch the explanation video for creating a Google doc and pay attention to who to send the link to. Do it as soon as you get the video, so you're not trying to recall all your hours. Watch the explanation videos for recording hours, and if you are still confused, contact your site educational coordinator.
What time do I need to arrive at my site each week?
The first few weeks are a little hectic, but keep in contact with your site supervisor, and they will let you know what time you need to be at the site. Generally for most interns, you need to be at your site by 5:30, dressed, and ready to go.
What does it mean to be a "family class coach"?
Site Educational Coordinators are also a "Family Class Coach." This helps them gain practical skills teaching families each week. As soon as dinner has finished, family members will gather (ages 6 and older) to have an introduction to that week's lesson by the Family Class Coach. You are still required to go on home visits. (You may or may not have your own family; depending on if your site is short-handed or not). Your Site Coordinator will let you know if you have a family or not.
What happens if my family cannot attend one week of the program?
If you know in advance of a week when your family will be unable to attend, speak with your site education coordinator about attending classes at another site a different night of the week. 

Who will be conducting the home visits?
MSW, BSW, family liaison, and sometimes service-learning volunteers.
Where do the Toddler Class Teachers come from? Are they under the same rules as the Interns?
The Toddler Class teachers are different from the interns. They are on assignment from the FAMS 3800 class and are completing 20 hours of Service Learning. They don't have the same dress code but should be in business casual. They need to be set up and ready to take the toddlers at the end of dinner, but they can come early to eat, socialize, and help serve food if they come early. They keep the toddlers in class until after Family Class is over. They clean up and leave immediately after and do not stay for debriefing.
Who is responsible for the Toddler Class Teachers?
If there is a Service-Learning Coordinator at the site, they supervise the Toddler/Preschool teachers. Otherwise, it's the Educational Site Coordinator. They will have them sign in and out for attendance and hours each week. They will check on them to see they are completing their class requirements and turn in a midterm and final report for them.
As an intern, how can I make up missed hours?
Sub at other sites, attend and help plan workshops, prepare for graduation, offer to help with special projects, but don't wait until the end of the semester to do this when there isn't much left.
How do I get the hours required for my internship credit?
1-credit UVU Family Science interns complete a minimum of 70 hours; other interns vary. There are specific documents called "Hourly Breakdown" that map out exactly how you will receive credit based on completing each of the required activities.
Each fall and spring semester, UVU Family Science interns offer a community-based family life education program consisting of a family dinner and class one night a week for 8 weeks, free of charge. The family attends a family class as well as individual class by age groups to personalize and deepen the discussion and skill-building activities. The evidenced-based curriculum teaches skills such as establishing healthy family roles, creating and enforcing family rules, healthy communication, building one-on-one relationships with each child, problem-solving, working as a team, and reinforcing values.
Who is in charge of the intern debrief meeting at the end of the night?
The primary regional coordinator
Who holds family liaisons accountable for their weekly family reports?