calendar items
(For a full list of all UVU Staff holidays, see the PACE calendar)
June 6-9
AIR conference in Phoenix, AZ (no staff meeting on June 6)
June 13
Collaboration day: IR staff meeting, Confluence Knowledge Base training, and Power BI collaboration during lunch break
June 20
UVU Staff Holiday - Juneteenth
June 27
Collaboration day:  sub-department meetings and Tableau collaboration/reporting from conference attendees during lunch break
July 4
UVU Staff Holiday - Independence Day
Juneteenth will be celebrated as the 3rd Monday in June. This will be a new campus closure day, and a new paid holiday for full-time staff. Visit the PACE Events webpageto view the staff holiday calendars.
need to know
PACE annual membership meeting

The PACE Annual Membership meeting will be held in person on June 21 from 2:00-4:00 pm in Center Stage in the Sorensen Student Center. Come meet your new PACE representatives and say thank you to those who have finished their term. Refreshments will be served.
information items
UVU Data migration
UVU is ending its contract with Box and migrating all data to MS OneDrive and SharePoint.
For Google Drive, Dropbox, the S Drive, and Box departmental shares, we will meet with departments prior to July to identify current department-level cloud storage usage to help consolidate university data where possible to OneDrive and SharePoint.
This migration is planned to start in July 2022, and it should be completed by the end of December 2022.
Link: https://uvu.edu/transformations/data-migration.html.
Internal audit - ethicspoint
EthicsPoint is a system that provides individuals the ability to anonymously report concerns. For example, unethical behavior, violations of law or policy, potential conflicts of interest, theft, etc. should be reported.
Reports can be made online at https://www.uvu.edu/audit/concerns or by phone at 877-228-5401.
Go passwordless
UVU is implementing a new Passwordless authentication option for faculty, staff, and students. Rather than typing a long, complex, hard-to-remember password and using DUO, you can approve a login from your phone. No password is needed. See https://uvu.edu/passwordless for details.
ISO: UVU Swag
If you have any UVU swag that you would like to donate, Douglas is looking for things to put in a care package for a relative who will be a UVU student this fall. If you have a shirt to donate, this person can wear a Medium or Large. Please bring donations to Leisa.
COVID-19 Info Resources for Staff
UVU moves from Pandemic to Endemic
UVU's vaccine and testing clinic are now closed.
Home test kits are still available at Student Health Services, Human Resources, and Campus Connection. These are distribution-only sites; you can find answers to questions on the CDC website or by contacting your healthcare provider. Vaccinations are also available through the Utah County Health Department and traditional providers.
repeating events
Dx Half-time
Every Wednesday at 11:45 is the Dx Half-Time meeting.  You can access the meeting in the OIT - Public Team (in Microsoft Teams) in the Half-Time channel (Hidden channel). This meeting is only 15 minutes long, and everyone in Dx is invited.
board game lunch
On Wednesdays, the conference room will be open from 12:00-1:00 pm for all those who want to play board games on their lunch break.
wolverine sightings
Want to say thanks to someone for a job well done? Send a Wolverine Sighting!
pace wants to hear from you!
Did you know that PACE has an anonymous suggestion box for comments, suggestions, or concerns for the PACE board at https://www.uvu.edu/pace/submit/suggestion.php? If you would like a personal response, please include your name.
Food Service Hours of Operation for summer 2022
Follow on Instagram:UVUDining           and Facebook:UVUDining Services
| | | | |
| --- | --- | --- | --- |
| Restaurants | M – Th | Friday | Saturday |
| Starbucks (SC) | 8:00 am–6:00 pm | 8:00 am–5:00 pm | Closed |
| Scoops (SC) | 8:00 am–6:00 pm | 8:00 am–5:00 pm | Closed |
| Scoops (CB) | 9:00 am–4:00 pm | 9:00 am–4:00 pm | Closed |
| Taco Bell (RL) | 8:00 am–4:00 pm | 8:00 am–3:00 pm | Closed |
| Mom Fulton's Cafe (FL) | 8:00 am–4:00 pm | 8:00 am–2:00 pm | Closed |
| Jamba Juice (RL) | Closed | Closed | Closed |
| Subway (RL) | Closed | Closed | Closed |
| Wendy's (SL) | 8:00 am–3:00 pm | 8:00 am–3:00 pm | Closed |
| Guru's Cafe (CB) | Closed | Closed | Closed |
| Sodalicious (KB) | 10:00 am-2:00 pm | 10:00 am-2:00 pm | Closed |
| Trades Cafe (GT) | Closed | Closed | Closed |
| CupBop (FL) | Closed | Closed | Closed |
| Food Trucks (FL) | None | None | None |
New Store/Reopening
Location
Estimated Completion
 
SC Construction
Student Center
June 2022
Chick-Fil-A
Student Center
Summer 2022
Panda Express
Student Center
Summer 2022
E.A.T.S.
Student Center
Summer 2022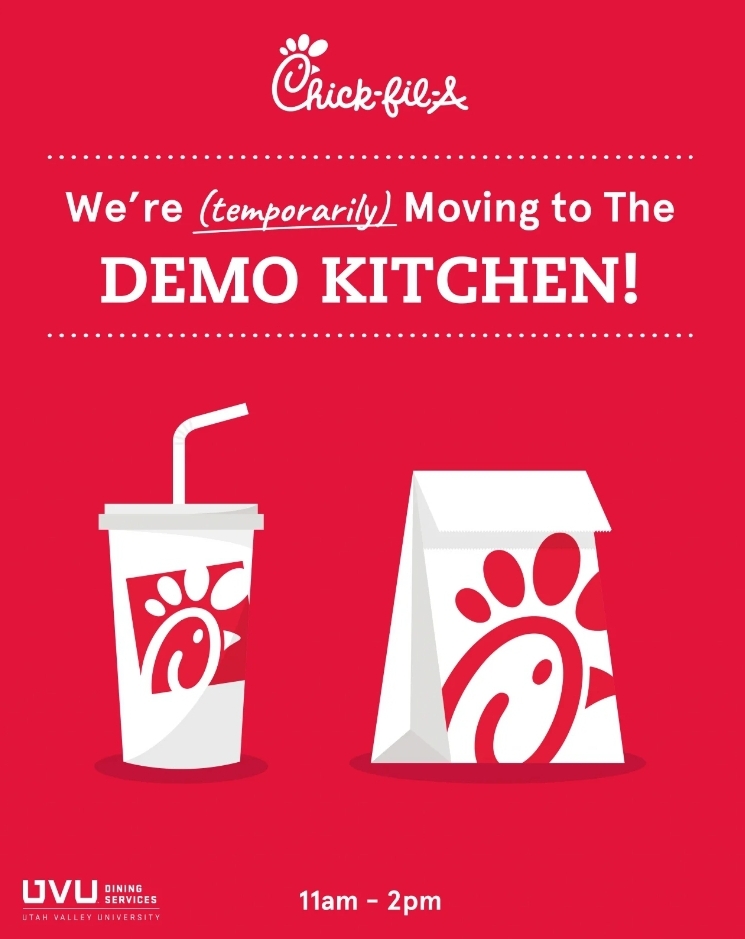 spotlight
Vacation pictures



Douglas usually takes 1-2 trips a year with his brothers. Here are some pictures from the Glen Canyon Dam, Newspaper Rock, and Grafton Ghost Town in Utah (where the bicycle scenes from Butch Cassidy and the Sundance Kid were filmed).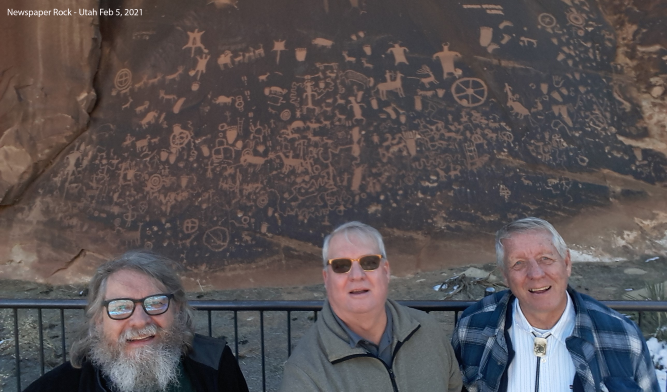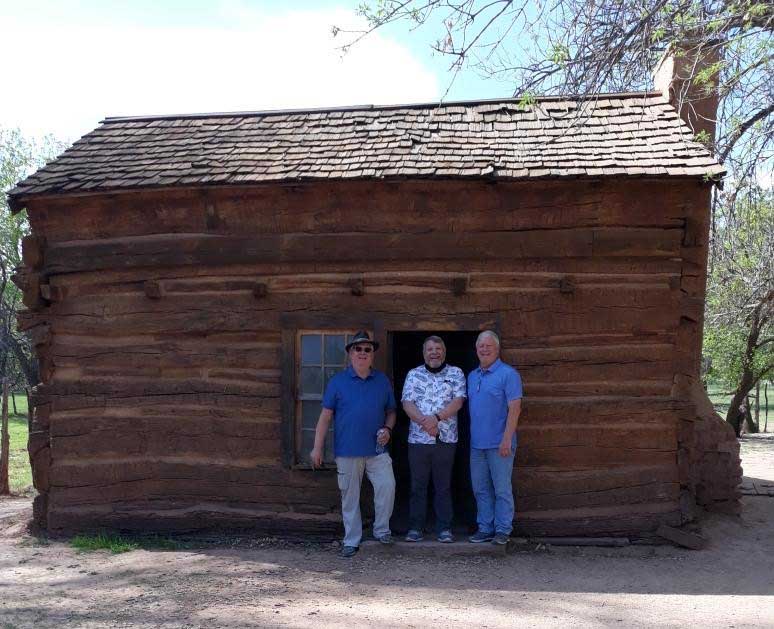 Construction photos