College of Humanities and Social Sciences
CHSS
Degrees To Anywhere
With over 5,200 students, seven departments, and 25+ majors, we offer our students a rigorous academic experience that helps them develop valuable and transferable career skills.
COVID-19 Modified Operations
March 31, 2020 Update

UVU will offer students the option--on a class-by-class basis--to receive credit or no credit in lieu of a traditional letter grade for spring 2020 classes that were converted to online or had other significant changes in course delivery or experience. Before choosing credit or no credit, it is imperative that students fully understand the potential negative consequences, which can be different based on major and other factors. Please visit https://www.uvu.edu/chss/crnc.html to learn more about the credit/no credit options for your major. Students will have until April 24 to decide whether to opt-in to credit/no credit grading for each class. 

------

The health and safety of our students, faculty, and staff are at the heart of all we do. This is especially true during the current pandemic. In response to announcements made by the Governor's Office and Utah Valley University, the College of Humanities and Social Sciences will be operating under modified conditions until further notice. 
As a result, courses taught within the College of Humanities and Social Sciences are being conducted online and none have been cancelled. For more information about individual classes, students are encouraged to log into Canvas. Instructors will be posting updates and details regarding individual classes there. All students have access to Canvas, but if there are any issues logging in – please contact the UVU Help Desk at 801-863-8888.
 
Offices within the College will be operating under modified conditions. Faculty and staff will be working remotely. All will have access to their email. Many have forwarded their phones. Don't hesitate to reach out if you have questions or concerns. If you have trouble contacting a faculty or staff member, please feel free to contact the Dean's office at 801-863-7435 and we will try to help facilitate contact.  
All of our CHSS advisors will be available Monday - Friday, 8 AM - 5 PM. Call 801-863-5717, visit uvu.edu/chss/advising.html or email your advisor directly to set up a phone or video appointment.

To check UVU's Current Condition visit uvu.info.
"We have learned more while attending the Stronger Families Program than we have in all of the other programs combined." -Carrie B.
The Stronger Families Program at Utah Valley University is nationally and internationally recognized and has improved parenting skills and family relationships, reduced problem behaviors, delinquency, and alcohol and drug abuse in children, and has improved social competencies and school performance. Dr. Grant Richards founded the program and works alongside current director Dr. Julie Nelson with trained UVU students and interns to implement the program in six locations within Alpine School District, directly benefiting families in our community. Please help us grow this program by donating today!
MAKE A GIFT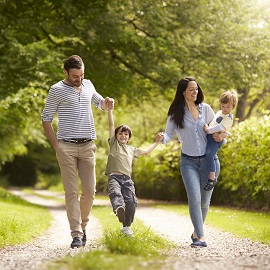 "The number one reason students don't graduate is due to financial barriers. It is imperative that we act to help students complete their degrees." -Dean Steven Clark
We invite you to support Utah Valley University student success with a gift to the Completion Scholarship: Easing the Financial Barrier to Graduation. These financial awards will help prevent students in their final year from dropping out due to critical financial burdens. The award will help students struggling financially to complete their degrees so they can move on to greater economic stability and personal success.
MAKE A GIFT