Engaged learning is a core theme of UVU, and it is central to the mission of the Field Station. Engaged learning is much more than interesting content. It provides students with hands-on experiences with what they're studying. It provides real-world context and applications for classroom knowledge.
The following are samples of groups that have visited the Field Station in the past. Submit a reservation request to bring your class to visit.
English Language Learning, UVU
(October 24-28, 2016)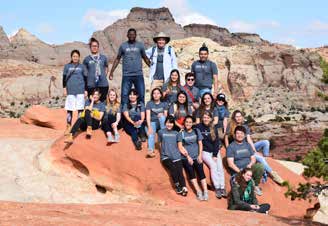 The English Language Learning Department (ELL) at UVU is a regular visitor to the field station. They bring their students to the field station for an immersive English experience focused on the Colorado Plateau. They brought several groups to the field station this year with each trip built around the language abilities of that particular group of students.
While at the field station, one of the groups was even interviewed live, on-air, for the Access Utah program on Utah Public Radio. Currently, an archive of the interview can be found at upr.org/ post/earth-day-thursdays-access-utah. In addition, author Stephen Trimble plans to include writing from UVU's ELL students in an upcoming anthology called The Capitol Reef Reader that he is compiling.
The ELL Level VI group visited twice, and trip leader Brian MacKay from the October visit summarized the trip as follows:
"During our trip to the Capitol Reef Field Station (CRFS), we used the language-learning approaches known as Content-based Instruction (CBI) and Project-based Learning (PBL) in order to more accurately reflect the kinds of assignments as well as the types of language that the students will need to be successful in their studies after ESL (English as a Second Language). This is to say that academic content available to us in the park and at CRFS was used to teach English for Academic Purposes (EAP).
"We worked through August and September in preparation for our October trip to the CRFS, guiding students through readings and activities to learn more about the Colorado Plateau before we visited. We also explored our lives in the Great Basin and ideas surrounding nature and how different world-views play out in conservation and development. Students worked on topics of their selection that demonstrated an economic and environmental impact for substantive projects that were enhanced by our experience visiting the CRFS.
"We were able to have a hands on experience with elements of geology such as sedimentary rock, interact with plants and animals that demonstrate elements of desert adaptations, and see firsthand evidence of ancient peoples and how they adapted to their environment. In short, the Level VI English Language Learning students immersed themselves in learning academic English contextualized in the unique setting of the field station."
Honors Colloquium, UVU
(October 28-30, 2016)
Allen Hill from UVU's Honors Program brought a group of students to the field station. He was accompanied by several faculty who instructed students in geology, environmental ethics, history of the West, and astronomy. He described their trip:
"Overall, I believe that the excursion was an extraordinary success. The faculty all seemed to get along with the students in a meaningful way and the students all seemed to get along with each other. Gina Gilson, the site manager, was also a gracious host and contributed in the students' awareness of their own consumption, leave-no-trace ethics, and the history of the park itself. We all cooked and ate together, explored the park on numerous hikes, and peppered the weekend with academic learning sessions and fun, discussion-based settings where the students could learn more about their professors and each other. It was a great time and I'm looking forward to the next opportunity."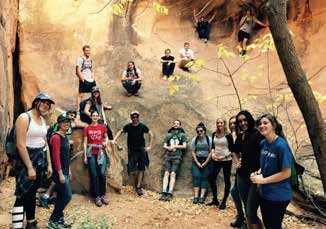 Spanish, UVU
(November 18-19, 2016)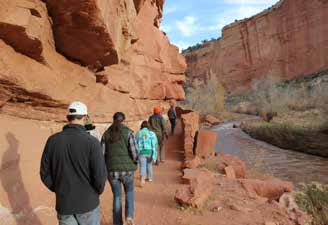 Jason Wilber led a Spanish 3030 class to the field station in November for an immersive language experience in the Colorado Plateau. They were able to hike, have a night sky program, explore around the field station, and speak a great deal of Spanish. Even Jason was able to learn some new vocabulary. After the trip, the students turned in persuasive essays and some of them reported in their essays that the trip had taught them about conservation and helped them see how important it is. Jason shared:
"Overall it was a wonderful experience, and the students thanked me greatly for giving them the chance to experience what they did. Thank you for the opportunity."
Discover Capitol Reef Winterim, Karl G. Maeser Preparatory Academy
(January 19-22, 2017)
UVU alumnus, Mark Ensign, remembers going on trips to the field station during courses he took while attending UVU. Now as a teacher at Karl G. Maeser Preparatory Academy, he took his own students back to the field station. Students were asked to think about the following questions: 1) How does life survive in an environment with little or no water?, 2) What can we learn from what our ancestors have left behind?, 3) Can humans realistically live a zero-footprint life?, and 4) What are ways that I can reduce my ecological impact? During their stay, they explored the historical, ecological, and geological aspects of the area.
Geomorphology, UVU
(March 31 - April 2, 2017)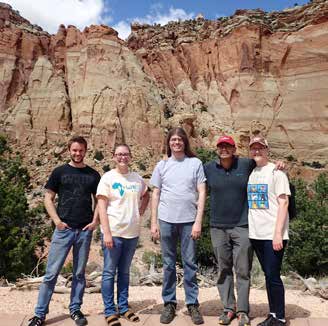 Dr. Nathan Toké from UVU led a group of students to the field station as part of a Spring 2017 Geomorphology course (GEO/ GEOG 3500). They came to observe the fluvial geomorphology and river terraces of Pleasant Creek, which runs near the field station. They were able to achieve all of the objectives for their trip, and Dr. Toké reported:
"After returning to UVU, three of the field trip students used the data from the trip to complete a term project about the geomorphology of Pleasant Creek. Clearly, this visit to the field station added a lot of value to their geomorphic education and some of the data collected may be utilized in the future as a part of a scientific paper on the geomorphology of Pleasant Creek!"
Parks, Recreation, & Tourism, University of Utah
(April 10 - 14, 2017)
The field station hosted visitors from the University of Utah's Parks, Recreation, and Tourism department for the first time. Trip organizer Chris Zajchowski summarized their trip:
"University of Utah students and faculty from Parks, Recreation, and Tourism (PRT) program were thrilled to visit the Capitol Reef Field Station from April 10th – 14th. From the initial orientation and hike in Pleasant Creek, all the way through star gazing and the final recycling activity, we were challenged by Field Station staff, Gina Gilson, to deeply engage with place and interact sustainably with this unique resource. At the culmination of our five-day experience, twenty-eight undergraduate students shared that this was the highlight of their entire semester. Once back in Salt Lake City, students continued to echo this sentiment, and shared they simply couldn't imagine this semester without a visit to the Capitol Reef National Park and the Utah Valley University Field Station."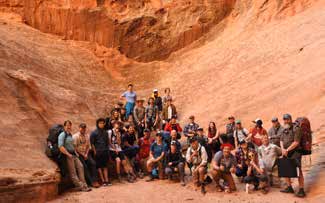 History, Weber State University
(March 31 - April 2, 2017)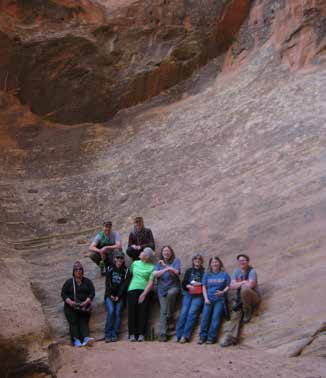 Kathryn MacKay from the Weber State University History Department brought a group of students to the field station as part of an experimental history class studying the American West. They came to better understand human occupation in the region prior to 1300, and to better understand national parks and their impacts. Kathryn reported:
"I had a vague notion that the field station would also be a prime location for participants to consider issues of sustainability and scarcity in the American West. The stay at the station went beyond my expectations in developing consciousness about water and resources. I find myself deliberately using less water and trying to create less trash! I know from talking to participants – many are doing the same.
"The field station – its setting, its physical space, its staff – proved a stunning way for participants to be more mindful of many of the issues in the American West. It was a way to get beyond the textbooks and classroom discussions and to be physically engaged in big questions about people and place."