Forensic Science
Be part of a team that works to bring justice to victims and their families.
COVID-19 Modified Operations
In support of Governor Gary Herbert's "Stay Safe, Stay Home" directive, the majority of buildings on UVU's Orem Campus are temporarily closed.

Nearly all services are now available through teleservices.

All UVU classes are being conducted online. Please log on to each of your courses via Canvas regularly, through myUVU.
Please schedule phone and/or online appointments with our Academic Advisors at this time.   
To check UVU's Current Condition visit uvu.info.
You've seen us on TV.
Now is your chance to see what it really takes to get the job done.
"State and local governments are expected to hire additional forensic science technicians to process their high case loads...Scientific and technological advances are expected to increase the...reliability, and usefulness of objective forensic information...As a result, forensic science technicians will be able to provide even greater value than before..."(Bureau of Labor and Statistics)
Solve meaningful problems that impact society and individuals.
Be the one who makes a difference and solves the case.
Forensic Laboratory
Designed to help students learn principles to perform scientific work conducted within a crime laboratory.

Provides experience necessary to perform laboratory demonstrations and identify evidence found at crime scenes.

Teaches the qualifications, professional practices and ethical skills needed to become a forensic scientist.
Learn More
Forensic Investigation
Provides an understanding of how to identify, process, collect and document various types of evidence.

Helps students acquire advanced skills in the disciplines of forensic photography, death investigation, fingerprint processing/examinations, impression evidence, bloodstain pattern analysis, crime scene reconstruction, firearms, and tool mark evidence.
Learn More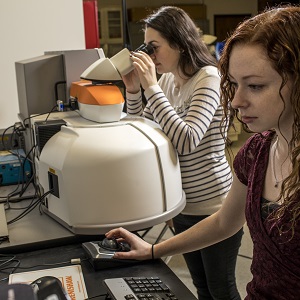 Crime Facilities
Our program includes a practical crime scene facility, a dedicated forensic laboratory with state of the art equipment, professors who currently work in the field, and more.

In the crime scene facility students are given the opportunity to create, analyze, and solve "crime." The forensic laboratory trains students in theoretical and practical principles of chemistry, biology, physics, mathematics, and other principles that are commonly conducted within a crime laboratory.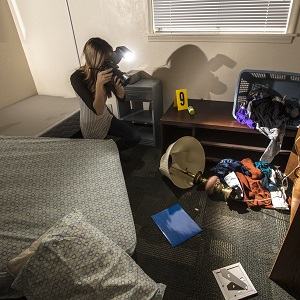 Have questions? We have answers.
If you'd like to learn more about our Forensic Science degree options, or what career options are available, or any other questions about Forensic Science--input the information below and we will quickly get back to you.