Dining Options
COVID-19 Modified Operations
*CAMPUS DINING HOURS OF OPERATIONS

As we work together to combat the spread of COVID-19, we have closed our seating areas, and all food and beverage will be takeout only.
For more information, visit the Return to Campus website.
Please note: Changes to style of service and hours of operation will adjust as we continue to assess the situation, and see customer demand.

Chick-Fil-A

Mon-Thurs:  8:00 a.m. - 7:00 p.m.

Fri:  8:00 a.m. - 5:00 p.m.

Sat:  CLOSED

Taco Bell

Mon-Fri:  8:00 a.m. - 4:00 p.m.

Sat:  CLOSED

Mom Fulton's Café

Mon-Fri:  8:00 a.m. - 4:00 p.m.

Sat:  11:00 a.m. - 3:00 p.m.

Scoops (CB)

Mon-Thurs:  7:30 a.m. - 5:00 p.m.

Fri:  7:30 a.m. - 4:00 p.m.

Sat:  CLOSED

Subway

Mon-Thurs:  9:30 a.m. - 5:30 p.m.

Fri:  10:00 a.m. - 3:00 p.m.

Sat:  CLOSED

 
 
 
 
 
 
 
 

 

 

 

*LOCATIONS THAT ARE CLOSED:

Guru's - J Dawgs  -  Pizza Hut  -  Green Line Café  -  Trades Café  -  Scoop (SC) - E.A.T.S. - Sodalicious - Roll Up Crepes - Costa Vida - Panda Express - Wendy's - Jamba Juice - CupBop

* 

All groups of 100 guests or less are now permitted to use any of our wonderful on-campus vendors without prior approval from Dining Services or Catering Services. Many of these venues are able to meet a wide variety of needs, including delivery, pick-up, buffet and plated service! Catering Services is still happy to provide service for small and large events, but now you have more great options to fit your needs.
 **

Groups of 101

or more are encouraged and required to use catering services.
Please note: Because of these new catering options, NO REQUESTS FOR OFF-CAMPUS FOOD WILL BE APPROVED. Please contact catering if you would like more information regarding your options.
To place an order for these venues, and to inquire about payment methods currently available, please contact the locations listed below:
Here is an amazing video made by UVU's "The Review" showcasing all of our locations!
Dining Options

Takeout

Seating available

Vegetarian options

Vegan options

Pizza

Deli

American

Asian

Snacks

Mexican

Coffee

Juice
Dining Options by Location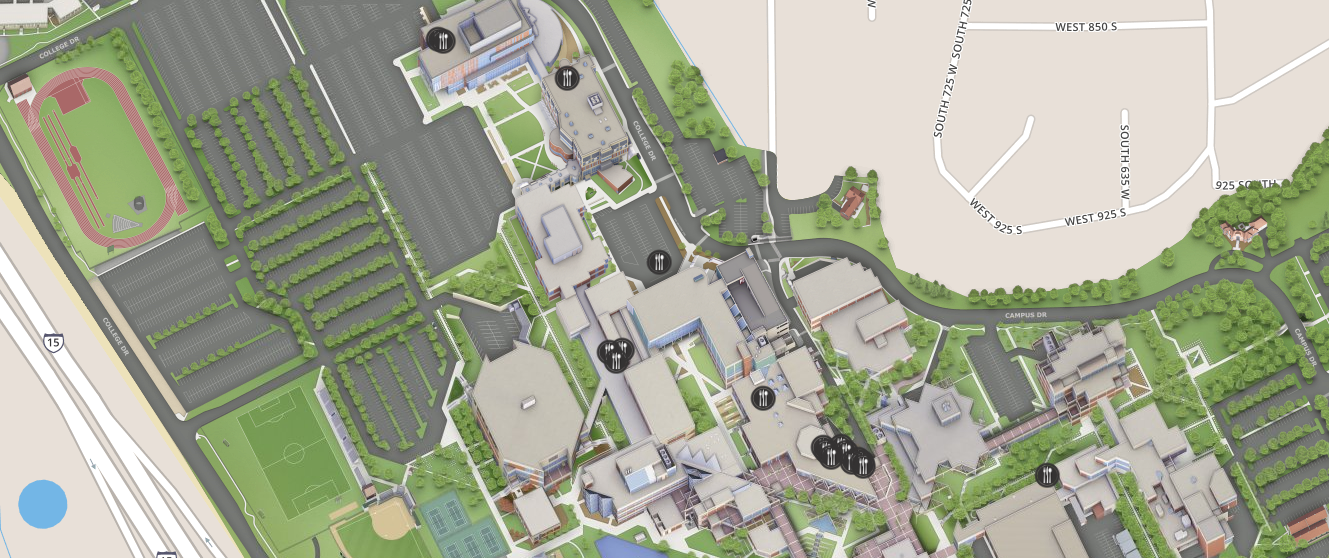 Need food for your on-campus event or meeting?  Please order through 
Catering
.