Campus Meal Plan
SAVE TIME AND MONEY
Enjoy a variety of snacks and full meals without cooking or cleaning.
Dine in a friendly, comfortable atmosphere close to classes.
Avoid losing time and your parking space by going off campus for meals.
Save 5% - 10% on every purchase from participating locations (listed below) on UVU campus.

Mom Fulton's Cafe

Chick-Fil-A

Taco Bell

Pizza Hut

Farr's Fresh

Trade's Cafe

Greenline Cafe

Receive special offers from Sorensen Student Center Restaurants.
Avoid ATM transaction costs.
Our Meal Plan offers great benefits for students, faculty, and staff!
Green Plan: 5% discount
Save 5% on EVERY food and beverage purchase, EVERY time you use your account on main campus.
Open an account with $25minimum (FLEX or FOOD ONLY accounts). Maximum deposit is $1300.00.
Once you have opened a Green account, you can increase it at any time for any amount (at Campus Connection or online).
Use at several retail locations on the main campus. (see above for participating locations)
Balance may be carried from semester to semester as long as the student is enrolled. Faculty/Staff balances will be carried as long as the individual remains employed at UVU. The college reserves the right to deactivate an account not used during a 120 day period. Reactivation will require a visit to UVU Campus Connection.
Gold Plan: 10% Discount
Save 10% on EVERY food and beverage purchase, EVERY time you use your account on campus.
Pay $300.00per semester (pay in monthly, per semester, or yearly installments). Must be in the FOOD ONLY account.
Payments may be charged automatically to major credit cards.
Use at most on-campus dining locations.
Balance carries over from semester to semester (must begin each semester with $300.00).
When you open a UV OneCard Gold account, a sticker will be put on your I.D. Card to turn it into your UV OneCard Gold account. When you open UV OneCard Green account, only the card is needed (No sticker).
Simply present your UV OneCard to the cashier at any of the participating dining locations on the UVU campus with sticker up.
The cash register reads your UV OneCard and checks your balance.
Your purchases are deducted from your UV OneCard Gold or Green account on an a-la-carte basis including applicable tax.
Your new balance is electronically displayed at the cash register and on the receipt.
Cash refunds are not made for returned merchandise. A credit will be made to your account within three business days from the time the merchandise is returned.
New cards are made at UVU Campus Connection by having 1/3 tuition fees paid or verification of financial aid or scholarships and providing a government photo identification. This identification may be a valid drivers license, State I.D., or similar type of official picture identification.
It is assumed that the person presenting the UV OneCard is the owner.
Lost or stolen UV OneCards can be canceled immediately at Campus Connection. Account balances cannot be protected when the card is lost or stolen until the card is reported lost or stolen to Campus Connection and invalidated. Only the balance at the time the card is reported lost or stolen and invalidated can be protected.
There is a replacement fee of $15 for lost, stolen, or damaged cards. There will be a charge for all faculty/staff/department cards of $15.
Future changes in terms and conditions regulating use of this card will apply to all cards in circulation and use at the future date, and will supersede the terms and conditions in effect at the time the card was acquired.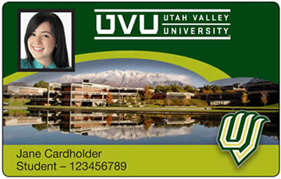 UVU DINING SERVICES
Mail Stop 166
800 West University Parkway
Orem, UT 84058
(801) 863-8664
For Dining Services comments or concerns please direct them to Ibrahim Tashman. Ibrahim.Tashman@uvu.edu
801-863-5594
UVU CAMPUS CONNECTION
Mail Stop 191
800 West University Parkway
Orem, UT 84058
(801) 863-8797
campusconnection@uvu.edu